Merkel Imposes Toughest German Restrictions Since Lockdown
(Bloomberg) -- Chancellor Angela Merkel will impose the toughest restrictions on Germany since a national lockdown in the spring, closing bars and restaurants in Europe's largest economy to regain control of the rapid spread of the coronavirus.
The one-month partial shutdown, which will go into effect on Monday, is designed to keep most businesses operating, Merkel said Wednesday after tense talks with the leaders of the country's 16 states. Officials will gather again in two weeks to assess the impact of the measures.
"Today is a difficult day, for policy makers as well," Merkel said at a press conference in Berlin as she called for a concerted national effort to fight the pandemic. "We know what we're demanding of the people."
With the public weary of pandemic measures and protests increasing, the government sought to ease pressure by making available up to 10 billion euros ($11.7 billion) in aid for companies affected by the measures, including reimbursing as much as 75% of lost sales in November.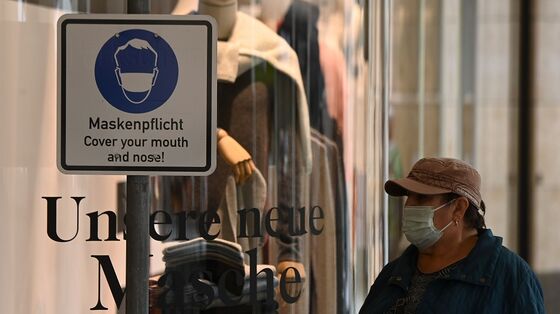 The plan calls for closing bars, restaurants and leisure facilities. The government is also urging citizens to keep social contacts to a minimum and avoid all non-essential travel. The measures are a sign of how European leaders are struggling to balance public-health issues with social and economic stability.
Bloomberg Economics estimates the measures, if limited to one month, will cut the expected pace of economic growth this quarter to about 0.5% from 1.1%. Stricter measures that closed schools would probably mean a contraction.
What Bloomberg Economics Says...

"The alternative to fresh curbs (doing nothing) would arguably be more economically costly. As infections increase, consumers voluntarily curtail their activity. That's the lesson from Sweden. The cost of an untamed outbreak would therefore be substantial.

--Jamie Rush. Read the full INSIGHT
Germany's benchmark DAX Index fell 4.2% and the Stoxx Europe 600 Index sank 3%, with auto and construction shares seeing the steepest declines. Haven assets, such as Treasuries and the yen, rose.
Landesbank Baden-Wuerttemberg lowered its forecast for the Germany economy, projecting a contraction of 6.5% this year compared to 6% previously, but noted the impact of the latest curbs will be less severe because fewer business are closed and companies are better prepared.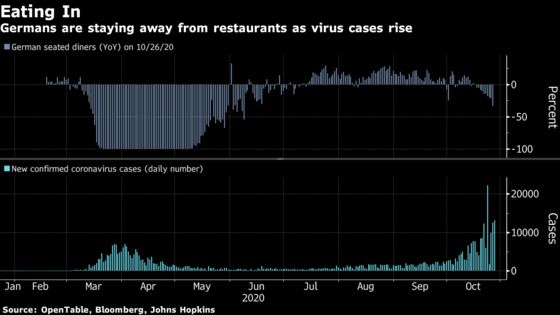 Germany is catching up with many other European countries in tightening restrictions on movement, as the disease spreads rapidly throughout the region -- the U.K., Italy, Spain and Greece reported record daily increases in cases on Wednesday. French President Emmanuel Macron will hold a televised address later to announce new initiatives to tackle the pandemic. Ireland already moved to shutter its economy for six weeks.
Merkel, who had vowed to avoid a repeat of the curbs that hammered the economy in the second quarter, had struggled to forge a consensus in recent weeks, with states with less severe outbreaks resisting harsher curbs. Political tensions were high before the meeting, which was moved forward by two days in a sign of increased urgency.
After failing to secure new measures two weeks ago, Merkel's proposal was adopted almost entirely after cases surged since then. The German leader said that 75% of new infections couldn't be tracked to their origin and hospitals risked being overwhelmed within weeks if trends continued.
But there were still signs of division. The state of Thuringia requested that German parliament be asked to declare a national health emergency and back the measures -- largely an effort to check the authority of Merkel's administration.
Germany's new restrictions:
Restaurants, bars, nightclubs and similar establishments will be closed
All leisure facilities, such as gyms, theaters, opera houses, concert venues, fairs, cinemas and amusement parks will be closed
People will only be allowed outside with members of their own household and one other and gatherings will be limited to 10 people; violations would carry penalties
Citizens urged to refrain from private travel and visits to relatives; hotel accommodation restricted to non-tourist purposes
Schools and daycare centers will stay open, as well as supermarkets and hairdressing salons, under existing hygiene regulations
The latest steps are less severe than the spring lockdown. Many shops will be able to stay open along with schools and company cafeterias. Germany's professional soccer league will be able to play games, but fans won't be allowed in stadiums.
"I'm thankful that we reached agreement here after long discussions," Merkel said. "We don't want to fall into a national health emergency."