Sinovac Shot Found Effective; No Deaths in England: Virus Update
(Bloomberg) -- Sinovac Biotech Ltd.'s vaccine was found effective in protecting people from hospitalization and death, according to a study conducted on Indonesian health workers.
The discrepancy between the most vaccinated countries and those lagging behind is growing starker.
England reported no deaths from Covid-19 in its latest daily update, and Germany's health minister expressed optimism about falling infection rates. Greece has set a goal to vaccinate residents of all of its islands by the end of June to help boost the country's image for tourists.
Meanwhile in Asia, Taiwan announced limits on crowds, following Singapore's move to restrict foreign workers, in a wave of new limits in countries trying to stamp out small outbreaks after months of keeping Covid-19 contained. Thailand Prime Minister Prayuth Chan-Ocha warned that local cases may increase over the next few weeks, and Vietnam's capital city banned large gatherings.
Subscribe to a daily update on the virus from Bloomberg's Prognosis team here. Click CVID on the terminal for global data on cases and deaths.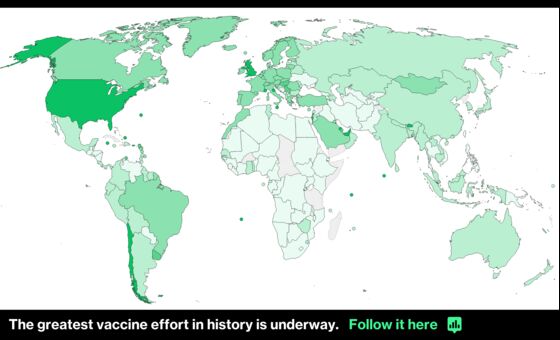 J&J Shot Benefits Outweigh Risks, CDC Says (2:33 p.m. NY)
U.S. health agencies have identified 23 cases of a rare and dangerous blood-clotting condition among people who have received Johnson & Johnson's Covid-19 vaccine, according to an update on the Centers of Disease Control and Prevention website.
As of May 4, more than 8.4 million doses of the J&J vaccine have been administered. Only 23 cases of so-called thrombosis with thrombocytopenia syndrome have been identified, underscoring that the known and potential benefits of the vaccine outweigh its potential risks, the CDC said.
"Nearly all reports of this serious condition have been in adult women younger than 50 years old," according to the website, which was updated on Tuesday. "For all women, this is a rare adverse event. For women 50 years and older and men of all ages, this adverse event is even more rare."
China's Sinovac Shot Found Effective in Study (5:03 p.m. NY)
Sinovac Biotech Ltd.'s vaccine is wiping out Covid-19 among health workers in Indonesia, an encouraging sign for the dozens of developing countries reliant on the controversial Chinese shot, which performed far worse than western vaccines in clinical trials.
Indonesia tracked 25,374 health workers in capital city Jakarta for 28 days after they received their second dose and found that the vaccine protected 100% of them from death and 96% from hospitalization as soon as seven days after, said Health Minister Budi Gunadi Sadikin in an interview on Tuesday. The workers were tracked until late February.
"We see a very, very drastic drop," in hospitalizations and deaths among medical workers, Sadikin said. It's not known what strain of the coronavirus Sinovac's shot worked against in Indonesia, but the country hasn't flagged any major outbreaks driven by variants of concern.
Netherlands to Lift Some Restrictions (2:15 p.m. NY)
The Netherlands will reopen gyms, zoos and amusement parks from May 19 if the number of Covid-19 infections and hospital admissions continues to decline.
The government will decide on Monday whether it needs to use a "stop button" to halt the easing of restrictions, Prime Minister Mark Rutte said Tuesday. From May 15, travel to countries with a low infection rate will be possible again, and a color-coded system will be used to provide travel advice.
The Dutch health service on Tuesday reported 47,108 Covid-19 cases over the past seven days, down from 52,987 the previous week. Hospital admissions declined to 1,379 in the past week, from 1,763 in the prior week.
Uber, Lyft to Offer Free Rides to Vaccine Sites (1 p.m. NY)
The White House announced new efforts to vaccinate Americans, including an expansion of free rides from Uber Technologies Inc.and Lyft Inc. to get shots and a partnership with community colleges to administer vaccines.
Lyft and Uber will offer free rides through July 4 to anyone going to get vaccinated in the U.S., the White House said on Tuesday. It's an expansion of programs they were already providing to some low-income users in cooperation with pharmacies and nonprofits.
UnitedHealth CEO Sees Covid Impact Fading (11:05 a.m. NY)
UnitedHealth Group Inc. expects much of the negative impact from Covid-19 to fade next year, Chief Executive Officer Andrew Witty said Tuesday.
"Our Plan A assumption is that Covid impacts start to recede in 2022," Witty said in an appearance at the Bank of America Securities 2021 Virtual Health Care Conference.
U.S. health insurers mostly reported robust earnings for the first quarter yet were conservative with guidance for the rest of 2021, citing uncertainty amid the pandemic. Health insurers saw medical costs drop during Covid as people shunned regular doctors' visits and elective surgeries in the early stage of the the pandemic.
Brazil Halts Astra Shots for Pregnant Women (9:35 a.m. NY)
Brazil's health regulator recommended officials stop giving AstraZeneca Plc's Covid-19 shots to pregnant women as authorities investigate the reported death of a woman in Rio de Janeiro who had received the vaccine.
Anvisa, as the regulator is known, said that the use of the shot on pregnant women should be "immediately suspended," according to a statement on its website late Monday.
Scotland to Ease Restrictions (7:43 a.m. NY)
Scots will be able to drink alcohol indoors at pubs and restaurants from next week and meet more people in their homes after a reduction in new cases, First Minister Nicola Sturgeon said.
The general success of the vaccination rollout means some restrictions are being lifted ahead of schedule, she told reporters in Edinburgh. Cinemas, theaters and casinos will be able to reopen from Monday, and the government is also reviewing rules on physical distancing.
Rules may be relaxed further at the next review in three weeks, Sturgeon said.
Greece Aims to Vaccinate All by End-June (7:20 a.m. NY)
Greece aims to fully vaccinate permanent residents of all islands by the end of June, Prime Minister Kyriakos Mitsotakis said in a meeting with local officials. The country wants to support island communities and economies, while also sending a positive signal for the image of Greek tourism, Mitsotakis said.
EU Seeks Court Order for Astra Doses (7:14 a.m. NY)
The European Union is asking a Belgian court to order AstraZeneca Plc to deliver 90 million doses to the bloc, European Commission spokesman Stefan De Keersmaecker told reporters in Brussels.
The move is part of the EU's legal action against the company, which the bloc insists has violated its contract by failing to deliver doses under an Advanced Purchase Agreement.
Malaysia to Follow Unified Protocol (6:41 a.m. NY)
Malaysia will follow a standardized protocol nationwide to make it easier for people to comply with social-distancing procedures, Defense Minister Ismail Sabri Yaakob told reporters on Tuesday. The decision comes a day after Prime Minister Muhyiddin Yassin extended the restrictions on movements nationwide to rein in a fresh wave that has left some hospitals low on beds.
Hanoi Bans Gatherings of 10 or More (6:15 a.m. NY)
Hanoi banned gatherings of more than 10 people in public places and requested the suspension of non-essential meetings and events, according to a post on the health ministry's website. The Vietnamese capital city, which is asking residents to leave home for essential reasons only, closed parks after a new outbreak centered in North Vietnam began on April 27.
Japan Discussing More Moderna Doses (6:07 a.m. NY)
The Japanese government is in discussions with Moderna for an additional 50 million doses of its vaccine, said Christophe Weber, CEO of Takeda Pharmaceutical Co., which is handling regulatory approval and distribution of the shot in Japan. The deal would bring Japan's total Moderna doses to 100 million. Weber said he expects the vaccine to be approved in Japan this month.
England Reports Zero Covid Deaths (4:04 p.m. HK)
England reported no deaths from Covid-19 in its latest daily update, a milestone that highlights the effectiveness of the U.K.'s vaccine program. Sunday was the first day without any recorded deaths in England since July. More than 112,000 people have died since the pandemic began more than a year ago.