California Infections Rise; N.Y. Restaurant Curfew: Virus Update
(Bloomberg) -- New York state ordered bars and restaurants with liquor licenses to close at 10 p.m. as officials in the pandemic's original U.S. epicenter struggle to prevent a second wave. California's positivity rate climbed to a two-month high, while hospitalizations across the U.S. rose to a record.
A deadly resurgence continued in Europe, with the U.K. becoming the first country in the region to surpass 50,000 deaths. Germany reported its highest daily fatalities since mid-April, and a state premier warned that Christmas markets and religious services may be in jeopardy with the current rate of infection.
On the vaccine front, Brazil reversed its decision to suspend Sinovac Biotech Ltd.'s trials amid criticism the decision was politicized. The developer of Russia's flagship shot said it shows a 92% efficacy rate in preventing infections, days after Pfizer Inc. reported a similar breakthrough for its rival vaccine.
Subscribe to a daily update on the virus from Bloomberg's Prognosis team here. Click CVID on the terminal for global data on coronavirus cases and deaths.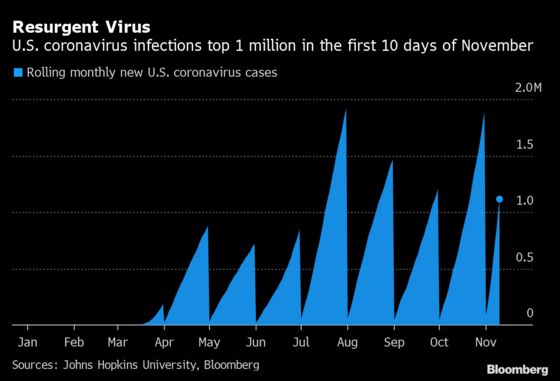 California Positivity Rate at Two-Month High (4:15 p.m. NY)
California's average rate of positive tests over the past 14 days climbed to a two-month high of 3.8%, according to state health-department data. That's up from a low of 2.5% in mid-October.
The most-populous state reported 7,464 new cases Wednesday, the second-highest daily count since the summer, and is nearing 1 million total infections. The virus resurgence has led several counties to move backward in California's tiered reopening system, with health officials warning of even more rollbacks if trends continue.
N.Y. Orders Bars, Restaurants to Close at 10 p.m. (1:52 p.m. NY)
New York will order bars, restaurants and gyms closed at 10 p.m. and limit indoor gatherings to 10 people, Governor Andrew Cuomo said.
These measures "are appropriate at this point in time in anticipation of what we see as a potential spread," Cuomo said Wednesday during a call with reporters. "If these measures are not sufficient to stem the spread, we will turn the valve more."
Cuomo said he is hoping to avoid a full lockdown. Bars, restaurants, gyms and small parties are contributors to the problem, he said.
New York reported 4,820 additional virus cases, the most since April. The rate of positive tests has climbed to 2.9%. The state has 1,628 people hospitalized for Covid, twice as many as a month ago.
Covid-19 Infections May be Milder in Africa (1:30 p.m. NY)
Coronavirus infections may be more widespread and less severe than expected across Africa, according to researchers who determined the extent of the outbreak in Kenya based on blood donations.
The first infection in Kenya was diagnosed on March 12, and cases were expected to soar as they did across Europe and the U.S. By the end of July, however, there were just 20,636 people known to be infected and 341 deaths attributed to the novel pathogen. The pattern fits what is seen across Africa, which constitutes 17% of the global population but accounts for just 5% of Covid-19 cases. (In the U.S., there are nearly 150,000 cases being reported each day.)
The new study published in the journal Science found that 4.3% of Kenyans who donated blood between April and June had antibodies to the virus, with significantly higher rates in cities such as Mombasa and Nairobi. With a population of nearly 53 million, the results suggest 2 million or more people may have been infected, far more than have been diagnosed.
The findings support the idea that Covid-19 may be weaker in Kenya and other African countries, perhaps because their populations are younger and less vulnerable or because of other mechanisms of immunity to the virus, the researchers said.
Spain Death Toll Tops 40,000 (12:45 p.m. NY)
The number of Spaniards who have died from Covid-19 has exceeded the 40,000 mark, the country's health ministry said Wednesday. A total of 40,105 people have now succumbed to the virus, 349 more than yesterday's total. Cases diagnosed over the previous 24 hours rose to 8,943 from 7,552 on Tuesday, the ministry said.
BioNTech Will Build Vaccine Production Capacity Throughout 2021 (12:44 p.m. NY)
Building production capacity to supply the world with a potential vaccine for Covid-19 will be a long effort over the course of next year, according to BioNTech SE, the German company working with Pfizer Inc. on the project.
"We'll be scaling up as we bring more factories on-line," Sean Marett, the company's chief commercial officer, said in an interview with Bloomberg TV. How much of the added capacity comes online in the second half and depends on how quickly those factories are set up, he said.
U.K. Death Toll Tops 50,000 (11:46 a.m. NY)
More than 50,000 people have died from Covid-19 in the U.K., making it the first country in Europe to cross the grim milestone.
Much of the U.K. is still struggling to slow the spread of the disease and the number of deaths has been increasing steadily. The U.K. reported 595 people have died from the disease on Wednesday within 28 days of a positive test, higher than the seven day rolling average of 360, according to data compiled by Bloomberg.
Greece Imposes Night Curfew (11:35 a.m. NY)
Greece reported 43 deaths from the coronavirus, the highest daily increase since the beginning of the pandemic, bringing the total number to 909 in the nation of around 11 million people. The country, which has been in lockdown since Nov. 7, will also now be subject to a night-time curfew from 9 p.m. to 5 a.m. starting Nov. 13, Greek Deputy Citizen Protection Minister Nikos Hardalias said. During curfew, people can leave their homes only for work purposes, health emergencies or short walks with pets, he said. The occupancy rate for beds in intensive care units for the whole country is 71%.
First Quarter Seen for Europe Vaccinations (10:40 a.m. NY)
Europeans could begin to be vaccinated against Covid-19 in the first quarter of 2021 as a best-case scenario, the bloc's health commissioner, Stella Kyriakides, said in an interview with Bloomberg Television. The European medicines agency is ready to conduct a rollout review to avoid delays and is expecting Pfizer to summit its trial information for approval befor year-end. The bloc recently signed an agreement with the pharma company for a 300 million-dose order, including an option to execute another 100 million option doses.
NYC Rate Approaches Safety Threshold (10:05 a.m. NY)
New York City's seven-day average of people testing positive for Covid-19 is approaching the 3% public health safety threshold that would force a citywide shutdown of in-class instruction.
The rate has climbed to 2.52% from 1.94% in a week. New York school parents are in the midst of deciding whether to switch from full-time remote learning to a blended program that include part-time in-class instruction. The deadline is Nov. 15.
"This is our LAST chance to stop a second wave," Mayor Bill de Blasio said in a Twitter message reporting the numbers. "We can do it, but we have to act NOW."
New cases on a seven-day average climbed to 817, from 628 a week earlier.
Greece's Foreign Minister Enters Quarantine (9:46 a.m. NY)
Greek Foreign Minister Nikolaos Dendias entered into a precautionary quarantine after he came in contact with a confirmed case, the ministry said in an emailed statement. Dendias welcomed Egyptian President Abdel-Fattah El-Sisi, who arrived in Athens Tuesday night.
Even With Vaccine, Test Are Needed: Roche CEO (9:41 a.m. NY)
Roche Holding AG will continue to expand production capacity for coronavirus diagnostic tests, even with potential vaccines on the horizon, Chief Executive Officer Severin Schwan said.
"We believe that in addition to the vaccines, which are essential, other measures will be necessary," Schwan said at an event for Zurich journalists. Demand for tests will remain very high, he said.
Switzerland Boosts Vaccine Budget (9:13 a.m. NY)
The Swiss government increased its budget for Covid-19 vaccines by 100 million francs to 400 million francs ($436 million) to ensure wiggle room for more procurement. The country, which has resisted a second lockdown despite dealing with one of the highest infection rates in western Europe, expects to perform first vaccinations in the first half of 2021. Switzerland is in talks with further manufacturers of promising vaccine candidates that the government didn't name.
Swiss Interior Minister Alain Berset said the government has reserved about 3 million doses of the vaccine from Pfizer and BioNTech SE.
Texas Cases Exceed 1 Million in Worsening Second Wave (9:06 a.m. NY)
Texas's Covid-19 caseload topped 1 million as the second most-populous U.S. state contends with some of the worst local outbreaks of the pandemic's latest wave.
Texas cases reached 1,010,364, according to Johns Hopkins University's Coronavirus Resource Center. The Lone Star state has surpassed California's tally, despite having just three-fourths the population. Almost 20,000 Texans have perished from the virus.
OPEC Cuts Demand Estimate Again Amid New Lockdowns (8:13 a.m. NY)
OPEC once again cut estimates for the amount of crude it will need to provide in the coming year as the return of measures to contain the global pandemic hits fuel use.
The revision illustrates why the group's de facto leader, Saudi Arabia, has said that the Organization of Petroleum Exporting Countries and its allies may adjust plans to restore supply when they meet later this month. The virus's effects will "linger" next year even with the announcement of a vaccine breakthrough, the group said.
Pay a Tax for Working From Home, Deutsche Bank Says (7 a.m. NY)
Earning a living remotely is a privilege you should be paying for, according to Deutsche Bank AG strategists. They propose a 5% levy for those who work from home on a regular basis and not because of a government lockdown mandate.
Such a measure could raise $48 billion a year in the U.S. and about 16 billion euros ($18.8 billion) in Germany, they say, to fund subsidies for low-income earners and essential workers who are unable to work remotely.
EU Seeks to Build a 'Health Union' (6:49 a.m. NY)
The European Union's executive arm proposed beefing up the bloc's health agencies, as the pandemic overwhelms the continent's hospitals and leaves countries struggling with supply shortages.
EU Health Commissioner Stella Kyriakides unveiled draft legislation to give more clout to the European Centre for Disease Prevention and Control and the European Medicines Agency. The European Commission will also propose the creation of a biomedical development and production authority modeled after the U.S. Biomedical Advanced Research and Development Authority.
The measures aim to guard against a patchwork of national responses to any future health scares in the 27-country bloc. Under the proposed rules, the EU will be able to declare a bloc-wide public health emergency and adopt common measures.
Iran, Romania Daily Deaths Hit Record (6:45 a.m. NY)
Iran reported record numbers for both coronavirus deaths and new infections, with 462 fatalities and 11,780 cases in the past 24 hours, the latest Health Ministry data showed.
Romania also reported a daily record of fatalities. The country has had 8,389 deaths since the start of the pandemic, the highest toll in the European Union's eastern wing, after an additional 203 were reported in the last 24 hours.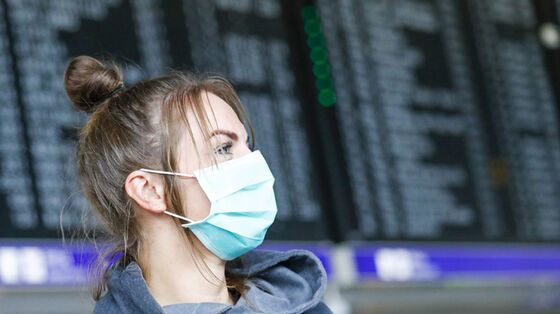 Covid Firings Lead to Wave of Bias Claims From Parents (6 a.m. NY)
Parents who've lost their jobs during the pandemic are driving a surge of litigation, alleging their employers discriminated against them for taking care of their kids when schools closed.
Since March, working parents have filed at least 40 lawsuits accusing employers of illegally denying parental leave or subjecting them to other forms of discrimination, according to tallies by the law firm Barnes & Thornburg and the Center for WorkLife Law at the University of California's Hastings College of the Law. Most of the suits have been brought by women, who are leaving the workforce in record numbers this year.