U.K.'s Boris Johnson Staying in Hospital for 'Observation'
(Bloomberg) -- Prime Minister Boris Johnson is remaining in hospital for "observation" after struggling to recover from coronavirus, his spokesman said on Monday, as the country braces for the outbreak to peak.
The premier has a persistent cough and fever and has been undergoing tests, but had a "comfortable" night and continues to work on his government papers, Johnson's official spokesman James Slack told reporters on Monday.
"Last night, on the advice of my doctor, I went into hospital for some routine tests as I'm still experiencing coronavirus symptoms," Johnson said on Twitter on Monday. "I'm in good spirits and keeping in touch with my team, as we work together to fight this virus and keep everyone safe."
Johnson's illness deals a blow to the U.K. as the country prepares for the worst of the pandemic to hit. Almost 5,000 people have died from Covid-19 in the U.K. so far and, according to government advisers and scientists, the peak is likely in the next 7-10 days.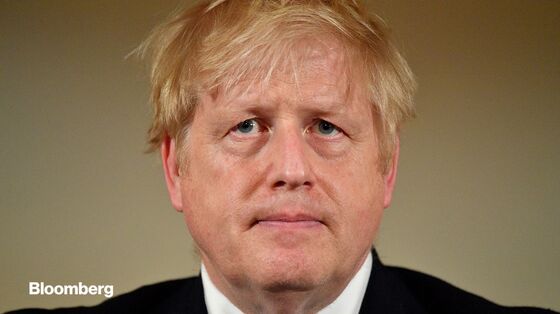 Europe's worst-hit countries reported declines in deaths, with the latest data from Spain, Italy and France suggesting measures that have halted economies and forced people to stay home are having an effect. But while the rise in fatalities also slowed in the U.K., Britain is behind other nations in the infections curve and is struggling to ramp up testing.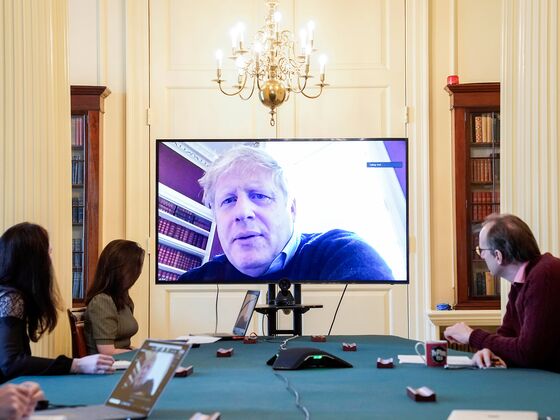 While Johnson, 55, remains technically in charge, he stayed in hospital overnight and will not be able to chair the critical daily meeting to coordinate the government's response on Monday, according to an official. That thrusts the responsibility into the hands of Foreign Secretary Dominic Raab, who is Johnson's de facto deputy.
U.S. President Donald Trump sent well wishes to Johnson during his daily press briefing on Sunday, saying "all Americans are praying for him."
"He's a friend of mine, he's a great gentleman and a great leader," Trump said. "But I'm hopeful and sure that he's going to be fine - he's a strong man, a strong person."
The premier's illness was initially described as mild, and there is no sign that it's getting worse. Instead, his doctor advised that he should be admitted to the hospital for "precautionary" tests because symptoms, including a fever, have not cleared up. He remains in St Thomas's Hospital, a National Health Service facility close to Westminster, on Monday.
Johnson's personal health problems add to the sense of confusion surrounding the U.K.'s response. His administration has struggled to prove it is on top of the pandemic, and faced criticism from health specialists and the national media.
Unlike in some other countries the U.K. has not conducted widespread testing to gather reliable data on infections, instead advising anyone with symptoms of a cough or a fever to self-isolate at home.
Medical experts including at the World Health Organization, and some of Johnson's own Conservative colleagues, have questioned the government's record on testing. He had already been criticized for taking too long to impose limits on socializing.
The virus outbreak has forced several top officials to isolate in recent weeks, including the health secretary, the chief medical officer for England, and Johnson's most senior and influential adviser, Dominic Cummings.
On March 23, Johnson ordered a lockdown, with schools, non-essential shops and public venues closing, and people only allowed out of their homes if they can't work from home, or for other vital needs.
Police have been given sweeping powers to enforce the rules, while the government said on Sunday it will release many as 4,000 low-risk prisoners from jails in England and Wales to curb the spread of the virus.
Health Secretary Matt Hancock criticized what he described as a "minority" of people who are ignoring the social-distancing rules to sunbathe or gather in parks, and said the government would not hesitate to ban all outdoor exercise if necessary.
"I don't want to have to take that action, of course I don't, but we have already demonstrated that we are prepared to take the action that's necessary to get this virus under control," Hancock said. "Let's not have a minority spoiling it for everybody." Later, he added that stricter measures were not "imminent."
In Scotland, Chief Medical Officer Catherine Calderwood resigned after she visited her second home 45 miles (72 kilometers) from Edinburgh, in breach of her own guidelines.
Indeed, there have been internal divisions over the U.K. government's tactics. Officials from Johnson's office clashed last week with colleagues in Hancock's department over whether the government should commit to a target of carrying out 100,000 tests per day by the end of April.
Hancock eventually went ahead with the plan, despite objections, a person familiar with the matter said, speaking on condition of anonymity.