U.S. Cases Top 15 Million; U.K. Vaccinations Begin: Virus Update
(Bloomberg) -- U.S. regulators gave early indications they may grant emergency-use authorization to Pfizer Inc.'s vaccine, calling the shot highly effective with no safety issues. The news came on a day when the number of infections in the U.S. topped 15 million.
Britain became the first country to start administering the vaccine to its population, kicking off the western world's Covid immunization campaign. Prime Minister Boris Johnson warned people to keep their "discipline" during the rollout, noting that cases are starting to rise in London. Germany plans to vaccinate as many as 8 million people in the first quarter of 2021.
A different vaccine developed by the University of Oxford and AstraZeneca Plc provided protection against severe Covid-19 in a peer-reviewed study, though more analysis will be needed to see how well it works in older people.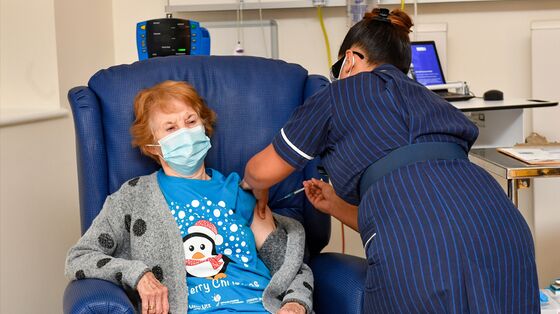 Subscribe to a daily update on the virus from Bloomberg's Prognosis team here. Click CVID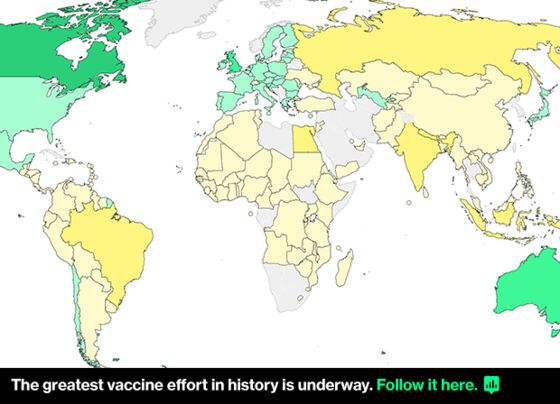 U.S. Looks to AstraZeneca, J&J (5 p.m. NY)
The U.S. government's plan to vaccinate most Americans by next summer rests heavily on two Covid-19 shots that U.S. regulators won't get a chance to rule on until early in 2021.
AstraZeneca Plc and Johnson & Johnson together would provide 150 million to 200 million shots in the first quarter, said Moncef Slaoui, chief scientific officer of Operation Warp Speed. This could immunize 110 million to 150 million people, if the doses are evenly split between J&J's single-dose vaccine and Astra's two-dose regimen.
CVS, Walgreens Seek Pharmacists (3:30 p.m. NY)
CVS Health Corp. and Walgreens Boots Alliance Inc. are aggressively recruiting pharmacists, pharmacy technicians and nurses to administer Covid-19 vaccines in long-term care facilities, just days before the drugstore giants are expected to play a key role in a large immunization effort.
Representatives from the two companies are making in-person and virtual pitches to independent pharmacists, according to National Community Pharmacists Association Chief Executive Officer Douglas Hoey. The outreach has surprised the group's members because it suggests the chains don't have enough people to run the massive effort, he said.
Netherlands 'Really Not Going Well' (1:45 p.m. NY)
The Netherlands extended a partial lockdown for the holiday season, with Prime Minister Mark Rutte warning that stricter measures may be announced before Christmas if numbers don't come down. "It is really not going well," Rutte said at a press conference in The Hague on Tuesday.
Health Minister Hugo de Jonge cautioned that people should remain vigilant rather than adopting a "we-are-almost-there" attitude in regard to the first vaccines expected to show up in early January.
The number of cases in the Netherlands rose again in the past seven days, a worrying increase after declines in recent weeks, the health agency RIVM said earlier on Tuesday. In the latest week, 43,103 new patients were confirmed, a jump of more than 9,000.
Switzerland May Close Shops, Restaurants (1 p.m. NY)
Switzerland's federal government plans to work with cantons, or states, to unify restrictions to fight the coronavirus pandemic. The proposed new measures, including reducing opening hours for shops and restaurants, would take effect from Dec. 12 and last until Jan. 20. Measures could be tightened further on Dec. 18, when restaurants and shops might shut altogether, if case loads don't come down.
The country of about 8.5 million on Tuesday reported 4,262 new infections, up 12% from a week ago.
In contrast to its neighbors, the Swiss federal government has thus far shied away from imposing a second round of lockdowns even though case loads were much higher than in Germany. Instead, it has asked cantons to manage the situation as they see fit.
Connecticut Case Rate Tops Nation (12:25 p.m. NY)
Connecticut has the most new Covid-19 cases per capita, after reporting an additional 8,129 positive test results on Monday.
The state had 2,280 new cases per million people on Monday, the highest rate in the nation, according to the Covid Tracking Project. The next highest is Kansas, with 1,967 per million.
More Than 1 Million Americans Expected to Fly (11:55 a.m. NY)
Americans are expected to continue with their travel plans for the Christmas holiday with more than a million air passengers anticipated for the balance of December and into January for the holiday, David Pekoske, administrator of the Transportation Security Administration, said during an aviation event Tuesday.
Americans plan to travel despite Center for Disease Control advice to stay at home and celebrate with the people they live with.
Anthony Fauci, the U.S. government's top infectious-disease expert, said that the Christmas holiday season could pose greater risks than Thanksgiving when it comes to spreading the coronavirus, and urged Americans to double down on measures such as wearing masks, avoiding crowds and social distancing.
Despite Pekoske's forecast, passenger traffic has fallen steadily since Thanksgiving as the country faces a surge in new infections. In the past seven days through Monday, airlines carried only 33.5% of passengers compared with the equivalent week in 2019, or an average of about 725,000 a day. The passenger numbers are the lowest seven-day average since late September, according to TSA data.
NYC Tells Restaurants to Expect Curbs (11:10 a.m. NY)
New York City restaurant owners should expect more restrictions "in a matter of days," Mayor Bill de Blasio said Tuesday at a virus briefing.
Governor Andrew Cuomo had said on Monday that indoor dining could shut in the city as soon as Dec. 14 if hospitalizations don't stabilize. The city's rate of hospitalizations remained at a seven-day average of 2.3 per 100,000 for a second day, above a goal of staying below 2. That rate has been on the incline for several days, and is up from 1.5 per 100,000 on Nov. 23.
De Blasio said city and state officials are in constant talks about the data. The city has about 19% of hospital capacity available, compared with 23% statewide, according to state data.
"We've gone through a really tough stretch here in the last several weeks," de Blasio said. "We've got to stop this increase we've been seeing. I think there is urgency here."
Vaccine's Effect on Transmission Still Unknown (10:35 a.m. NY)
Pfizer Inc.'s Covid-19 vaccine prevents symptomatic cases of the virus, but it's not clear if the shot keeps the disease from being transmitted, U.S. Food and Drug Administration staff found in a report issued Tuesday.
The conclusion highlights a major unknown about vaccine candidates that persists ahead of an ambitious U.S. rollout of millions of shots: How effective they'll be in stemming the spread of coronavirus at a population level.
The answer to that question carries important implications for the continued use of public-health measures including masks and social distancing, even among those who have been immunized.
Cases Starting to Rise in London, Johnson Says (9:09 a.m. NY)
U.K. Prime Minister Boris Johnson warned London is facing a rise in Covid-19 infections as he urged the public to stick to the pandemic rules. The government is due to review the restrictions on Dec. 16 and could impose tighter curbs on regions where cases are rising.
In London, cases are "starting to climb again in spite of all the efforts we've made," Johnson said in a video released on Twitter. It is "vital" people keep their "discipline" as the vaccine is rolled out at the same time, he said.
Zurich to Close Casinos, Sex Clubs (8:57 a.m. NY)
The Swiss canton of Zurich will close casinos, sex clubs and saunas from Dec. 10 in an effort to curb infections. It will also close restaurants an hour earlier and limit public gatherings to 10 people -- going beyond the federal government's threshold of 15 people. The measures last until Jan. 10.
Infection rates in Zurich have recently been among the highest in Switzerland. "The situation in hospitals remains tense," the local government said in a statement, adding that a new high in hospitalized Covid-19 patients was reached Monday.
Dutch Weekly Cases Rise in Past Week (8:44 a.m. NY)
The number of cases in the Netherlands rose in the past seven days, a "worrying" increase after declines in recent weeks, the health agency RIVM said. In the latest week, 43,103 new patients were confirmed, a jump of more than 9,000.
Pfizer, BioNTech's Vaccine Meets FDA's Requirements (7:54 a.m. NY)
The vaccine developed by Pfizer and BioNTech meets the requirements for an emergency-use authorization set out by the U.S. Food and Drug Administration, according to a 92-page staff report analyzing the companies' clinical development program.
The shot appears safe and effective, including among people who had previously been infected, according to the report. Side effects appear mild and are more common in younger people.
The report offers a first look at the U.S. review of the vaccine ahead of a public meeting Thursday of outside advisers to the agency. The FDA could clear the shot shortly after the meeting, with as many as 6.4 million doses immediately available to kick off a vast immunization effort designed to end a pandemic that has killed more than 283,000 Americans.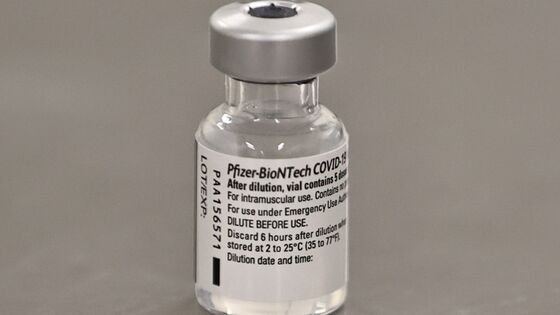 Switzerland-Italy to Halt Train Connections From Dec. 10 (7:52 a.m. NY)
Switzerland and Italy are interrupting rail services between the two countries from Dec. 10 until further notice, according to a statement from the Swiss railway operator SBB. The decision follows a decree by the Italian government. The countries are trying to stem infection levels ahead of the Christmas period.
Amazon, Barnes & Noble Searches Promote Anti-Vaxxer Books (7 a.m. NY)
Searches for the word vaccine on Amazon.com Inc., Barnes & Noble Inc. and French retailer Fnac consistently turn up books and essays questioning the efficacy and safety of virus inoculations — an ominous sign as governments around the world prepare to roll out shots.
Two of the top five books in "vaccine" search results on Amazon.com promote anti-inoculation theories.
Indian Producer to Start Final-Stage Vaccine Trial by April (6:28 a.m. NY)
Biological E., an Indian vaccine producer, expects to start phase three human trials of its Covid-19 candidate by April, Executive Vice President Vikram Paradkar told an online conference on Tuesday. Paradkar said the company will probably seek emergency authorization by the second quarter of 2021 and eventually supply 1.5 billion doses globally.
Germany Seeks to Vaccinate 8 Million in First Quarter (6:10 a.m. NY)
Germany plans to vaccinate as many as 8 million people in the first quarter of 2021, including potentially 2.5 million in January, Health Minister Jens Spahn told a parliamentary committee Tuesday. There may be enough doses in the second or third quarter to allow anyone to get a shot.
A soft shutdown in all of Germany has so far failed to bring contagion rates down to manageable levels, and some states are pushing through tougher measures. The eastern state of Saxony, which has the nation's highest rate of infection, plans to close all non-essential shops from next week.
Finance Minister Olaf Scholz laid out an agenda on Tuesday that sees Europe's largest economy continuing to spend aggressively beyond the immediate fallout of the coronavirus.
Firebrand Calls for Spacesuits (6 a.m. NY)
A ultra-nationalist politician said deputies of Russia's lower house of parliament, the State Duma, should be issued spacesuits given the lack of social distancing during sessions.
Vladimir Zhirinovsky, the septuagenarian leader of the Liberal Democratic Party of Russia, said the nearly 400 lawmakers who attended a plenary meeting on Tuesday were undermining sanitary measures, Ria Novosti reported. Almost a third of deputies have had the virus and 15 are hospitalized, Duma Speaker Vyacheslav Volodin said Tuesday, according to the report.