Novak Djokovic Tests Positive for Covid-19 
(Bloomberg) -- Novak Djokovic isn't just a tennis legend, he's also revered back in Serbia. The fact he tested positive for Covid-19 after an exhibition tour in the Balkans is a blow to his country's national pride and its efforts to keep the disease under control.
The announcement follows Sunday's abrupt end to the Adria Tour after players including Grigor Dimitrov of Bulgaria -- a semifinalist in the 2019 U.S. Open -- and Borna Coric of Croatia tested positive for coronavirus. While the tournament was permitted under looser virus restrictions, it raised eyebrows as some participants flouted social distancing and attended nightclubs.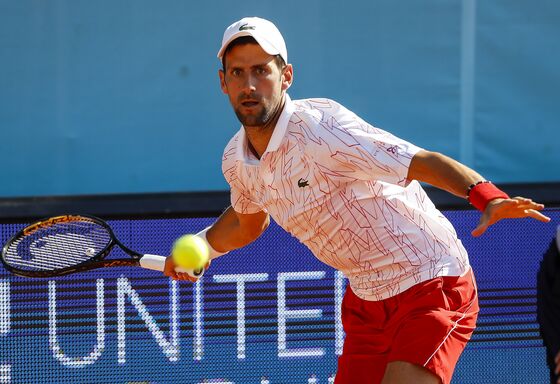 "I'm extremely sorry for each individual case of infection," Djokovic said in a statement emailed by his public-relations company. "I hope it won't complicate anyone's health situation and that everyone will be fine. Our tournament meant to unite and share a message of solidarity and compassion throughout the region."
The world knows him as the top-ranking tennis champion but the outbreak among the sport's elite risks denting Djokovic's image as the region's poster child. While proud of his homeland, Djokovic has been a rare bridge for many Balkan states, with many -- including Serbia -- still struggling to recover from the bloody wars of the 1990s.
Serbia-born NBA player Nikola Jokic is also infected and is in self-isolation, state broadcaster RTS reported. He and Djokovic attended a sports event in Belgrade last week, without wearing masks or gloves.
Nick Kyrgios, the second-highest-ranked Australian player, joined other sportsmen in rebuking the Adria tournament on Twitter.
"Boneheaded decision to go ahead with 'the exhibition,"' he said. "That's what happens when you disregard all protocols. This is not a joke."
The incident comes mere days after an important election in Serbia, which imposed one of Europe's strictest lockdowns, and had delayed the vote to contain the pandemic.
When it finally took place on Sunday, with President Aleksandar Vucic's party scoring a thumping win, there was a sense that the country and region had turned a new chapter. Vucic campaigned also on his track record of containing the virus. Now, that assessment seems premature with many nations on edge, waiting for a second outbreak.
The reality that's emerging is that social-distancing rules were often ignored during campaigning, such as when a deputy prime minister dived off a stage into a crowd of supporters. Serbia has reported 13,092 cases of coronavirus and 263 deaths.
In neighboring Croatia, Premier Andrej Plenkovic, who briefly met Djokovic at the tournament last week, said there was no reason to postpone general elections planned for July 5, according to a statement on the government's website.
"I know exactly what I'm doing," said Plenkovic, who tested negative on Monday and dismissed calls to self-isolate. "I don't bring myself into danger, nor numerous others who are in contact with me."
Media criticized the tennis event -- and Djokovic himself -- for embracing few virus restrictions and for holding parties in Belgrade alongside the tournament, where matches were held in Serbia and Croatia before dates in Bosnia and Herzegovina were canceled.
Djokovic said that while he's displaying no symptoms of the virus, he'll self-isolate for 14 days and be tested again in five days. His wife, Jelena, also tested positive while their children's tests were negative.