Dentistry at 'Virtual Standstill' and 2021 Isn't Safe Either
(Bloomberg) -- The American Dental Association warned that the ongoing Covid-19 pandemic's unprecedented impact is likely to slash dental spending into 2021, a stark warning that contrasts with some optimism of a quick recovery.
More than 80% of dental practices reported that patient volume for the week of April 6 was less than 5% of normal, findings from the ADA showed. The organization estimates Covid-19 could lead to a two-thirds reduction in U.S. dental spending for the year, with 2021 expected to face a 32% reduction. That would be worse than investors have feared, according to Evercore ISI analysts.
The ongoing plunge in spending, followed by a slower rebound, could harm companies that make and sell equipment to dentists, such as Henry Schein Inc., Patterson Companies Inc., and Dentsply Sirona Inc., and orthodontics, like Align Technology Inc.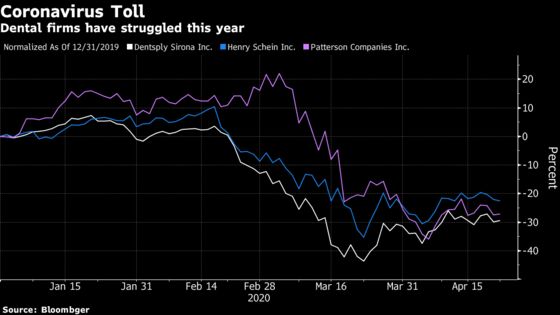 The fact that more than 80% of practices have seen such large declines "points to a more severe short-term impact than many investors have been anticipating," Evercore ISI analyst Elizabeth Anderson wrote in a note to clients. The biggest difference compared to recent reports is the "assumption about the slower re-ramp of practice volumes in 2020 and 2021," she continued.
The caution from both the ADA and Evercore ISI was echoed by Blueshift Research findings that were published this morning, cautioning against clear-aligner manufacturers Align Technology and SmileDirectClub Inc. The firm's report said "demand for clear aligners is nonexistent" with no new patients at either company's practices and shops.
Blueshift warned that when "dental practices reopen, demand for clear aligners will be slow to return to previous levels and the longer the closure, the longer the recovery."
"Even when restrictions on elective procedures are lifted, the availability of personal protective equipment for dentists could be a major constraining factor in the re-opening of dental offices," the ADA report said. The association said it remains unclear how rationing of supplies to health-care professionals will unfold.
A report from Wolfe Research earlier this month suggested that the rebound for dental demand in the face of a recession is that of a "V" shape, indicating a quick rebound in demand, compared to a "U" shape for some other industries.
For investors looking to see the impact of the coronavirus across the dental industry, Align Technology results due next week will offer a peek at the ongoing dynamics. Updates from bellwethers Henry Schein and Dentsply Sirona aren't expected until early May.