U.S. to Miss Biden's Target; Moderna Doses for EU: Virus Update
(Bloomberg) -- The White House acknowledged that the U.S. will likely fall just short of President Joe Biden's goal of getting 70% of U.S. adults a first Covid-19 shot by the July 4 holiday.
A string of countries across Africa, Asia and other regions have run out of vaccines or are on the brink of doing so, months after receiving first shipments from a global program meant to equitably distribute the lifesaving shots.
Infections surged to a record in South Africa's industrial hub of Gauteng, which includes Johannesburg and Pretoria. Moscow moved to ban unvaccinated guests from restaurants and cafes. Abu Dhabi is offering shots to tourists, a move that may help attract visitors from countries that have supply constraints.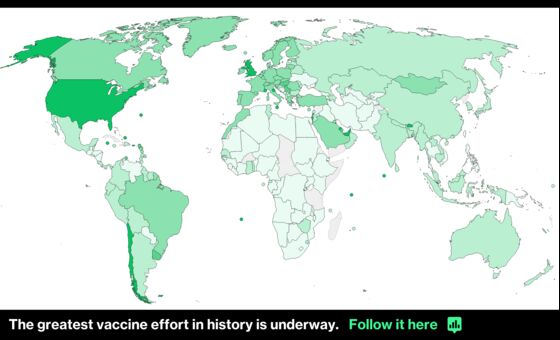 Maldives Further Eases Curbs (1:45 p.m. NY)
The Maldives, an Indian Ocean nation reliant on tourism, cut curfew time for a second consecutive week, as the number of new daily coronavirus cases slide further. Total active cases have declined to 4,569 from 8,155 a week ago, according to the Health Protection Agency.
U.S. to Miss Biden Shot Target (1:40 p.m. NY)
The White House acknowledged that the U.S. will likely fall short of President Joe Biden's goal of getting 70% of U.S. adults a first Covid-19 shot by the July 4 holiday.
Jeffrey Zients, the head of the White House Covid-19 response team, said the administration had hit its 70 percent vaccination target among Americans ages 30 and older, and is poised to reach that threshold for those 27 and older by Independence Day. It will take a few extra weeks to hit the 70% mark for everyone 18 and older, Zients said.
The pace of shots in the U.S. has fallen off by about two-thirds since April, with about 1.1 million doses now administered per day, according to the Bloomberg Vaccine Tracker. At that rate, it will take another five months for 75% of the population to be vaccinated.
Facebook Pressed on Misinformation (11:05 a.m. NY)
Three Democratic senators asked Facebook Inc. Chief Executive Officer Mark Zuckerberg how the company is fulfilling its pledge to remove Covid-19 vaccine misinformation from its platform and sought company data on the effort. Senators Bob Menendez, Mark Warner and Mazie Hirono sent a letter dated Monday asking Zuckerberg to detail how many users viewed vaccine-related misinformation. The lawmakers said that about 275,000 Facebook users are members of anti-vaccine groups. Facebook was told to respond by July 5.
Scotland Delays Lifting Restrictions (11 a.m. NY)
Scotland postponed the lifting of more coronavirus restrictions because of a jump in cases, and First Minister Nicola Sturgeon said it's vital the country ensures infections don't get ahead of vaccinations.
The government in Edinburgh will now look at easing them on July 19, in line with the U.K. government's revised timetable, to allow more people to get shots. Scotland recorded a 40% increase in cases over the past week.
Moscow Restaurants to Ban Unvaccinated (9:23 a.m. NY)
Moscow moved to ban unvaccinated guests from restaurants and cafes while the city's hospital system works at capacity amid a record number of infections.
Starting Monday, people will need to show a QR code that proves they have been vaccinated, recovered from Covid-19 within the last six months or received a negative PCR test in the last three days, Mayor Sergei Sobyanin said on his blog.
More than 2 million residents in the city of 12.7 million have received at least one dose, and demand for vaccines has risen as much as fivefold since a citywide order requiring many workers to get inoculated, the mayor said. Still, the vaccine push will take up to three months to get results, forcing the city to institute new restrictions, according to Sobyanin.
More Moderna Doses for EU (9:22 a.m. NY)
The European Commission purchased an additional 150 million doses of Moderna's vaccine, bringing its confirmed order commitment to 460 million doses, according to a statement from the company. Under the terms of the agreement -- which includes the ability to buy other Covid-19 vaccine candidates from Moderna's pipeline -- delivery of the company's updated variant booster candidate will begin in 2022, subject to regulatory approval, the statement said.
The additional doses "could be used for primary vaccination, including of children, or possibly as a booster if that becomes necessary," said Stephane Bancel, Moderna's chief executive officer.
Earlier, European Union Health Commissioner Stella Kyriakides said the bloc had reached a new deal to provide vaccines for 2022 and 2023. The EU will acquire a portfolio of different shots to secure immunity against mutations, she said after a meeting with Greek Prime Minister Kyriakos Mitsotakis in Athens.
S. Africa Unions to Support Vaccine Refusers (9:06 a.m. NY)
At least two South African labor unions have vowed to support workers who are threatened with dismissal if they refuse to be vaccinated. That follows a directive by the Department of Employment and Labour earlier this month that made provision for employers to implement a mandatory vaccination policy.
Union Solidarity said it will take employers to court who dismiss workers because of their choice not to be vaccinated, while the South African Parastatal and Tertiary Institutions Union said employers can't issue a "one-size-fits-all" policy about shots.
Merkel Gets Moderna After Astra Shot: DPA (9:04 a.m. NY)
German Chancellor Angela Merkel has received a second Covid vaccine dose, DPA reported, citing her spokesman. Merkel, 66, was given a Moderna shot a few days ago, mixing vaccines after first receiving AstraZeneca on April 16.
India Cites 22 Cases of Delta Mutation (9 a.m. NY)
India has found 22 cases of a mutation of the delta variant in the states of Maharashtra -- home to the financial capital, Mumbai -- Madhya Pradesh and Kerala, federal Health Secretary Rajesh Bhushan said.
The delta variant was the primary cause of India's devastating second wave that swamped hospitals and crematoriums in April and May.
Uganda Olympic Team Members Quarantined (8:39 a.m. NY)
Eight members of the Ugandan Olympic team have been quarantined in Japan after a coach tested positive, AFP News Agency reported.
Cuba Says Its Vaccine Is 92% Effective (8:24 a.m. NY)
Cuba's homemade three-shot vaccine, known as Abdala, is 92% effective against Covid-19, President Miguel Diaz-Canel said.
The government didn't provide any further details. The drug has been undergoing clinical trials since March. On Saturday, Cuba said another vaccine developed on the island nation, called Soberana 02, had proven to be 62% effective against the virus when two doses were administered.
China to Keep Border Curbs for a Year: DJ (7:44 a.m. NY)
China plans to keep coronavirus-related restrictions on its border for at least another year amid concerns about new variants and hosting large events, Dow Jones reported, citing people familiar with the matter.
Denmark Makes Astra Donation to Kenya (7:14 a.m. NY)
Kenya received 358,700 AstraZeneca vaccines to boost its second-dose round of inoculations that was threatened by a shortage when India halted exports of Covishield, the brand mostly used in African nations through the Covax initiative. The batch is the first bilateral vaccine donation by Denmark.
Russian Army Vaccinations (7:10 a.m. NY)
The Russian military has vaccinated over 900,000 people, including 85% of the country's armed forces, Tass reported Tuesday, citing Deputy Defense Minister Timur Ivanov. The military's vaccination drive contrasts with the slow pace in the rest of Russia, where only 12% of the population has received at least one shot.
Variant Spurs France to Urge More Shots (6:38 a.m. NY)
The spread of the delta variant in Europe has prompted French authorities to urge people to get vaccinated as soon as possible, citing U.K. data that show inoculations at least help prevent serious illness.
At a briefing, officials from the health ministry said the target in France is to have 40 million first injections administered and 35 million completed vaccinations by the end of August, representing three-quarters of all adults for the first shot and two-thirds for both. Though there are signs of a slowdown in vaccinations, the ministry still forecasts an average of 4 million injections a week until the end of August.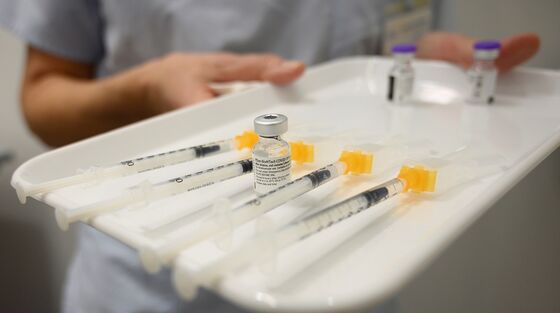 Abu Dhabi Offers Shots for Tourists (5:37 a.m. NY)
Abu Dhabi is offering vaccines from Pfizer Inc. and China's Sinopharm to tourists, a move that may help attract visitors from countries that have supply constraints.
The vaccines are only available for holders of a visa issued by Abu Dhabi or holders of passports eligible for visa on arrival, according to the sheikhdom's health care provider, Seha.
Ghana Records Delta Variant (5 a.m. NY)
Ghana has recorded a "few" cases of the delta variant, Joy FM reported, citing Gordon Awendare, the head of the West African Centre for Cell Biology of Infectious Pathogens. The country should tighten controls at its airports, the Accra-based radio broadcaster cited Awendare as saying.