Virus Spread Rate Gauge at Record in South Africa Epicenter
(Bloomberg) -- The reproductive number, a measure of how fast the coronavirus spreads, has surged to a record in Gauteng, the center of South Africa's omicron variant outbreak.
The reproductive number rose to 2.33 in Gauteng, Michelle Groome, head of health surveillance for the National Institute for Communicable Diseases, said on an online presentation on Friday. That means each infected person on average infects another 2.33. In the Western Cape, which includes the tourism hub of Cape Town, the number has reached 2, Keith Cloete, the provincial head of health, said on Thursday.  
"It is over 1 in all of the provinces," Groome said. It is "very very high in Gauteng, over two. This is the highest that we have ever seen it since the start of the pandemic," she said.
The data is the latest indicator of how quickly the virus has taken hold in South Africa follow the onset of omicron, which was first detected last month. The seven-day rolling average of new infections has jumped to 4,840, from less than 300 two weeks ago. The National Institute for Communicable Diseases reported 11,535 new cases on Thursday, a 35% jump from the day before, and that the test positivity rate had surged to 22.4%, from 16.5%.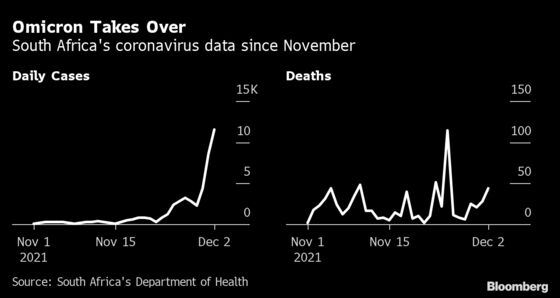 The rand dropped as much a 0.6% against the dollar on Friday, in part due to concerns over that the government may impose new restrictions to slow the virus's spread. The government will meet in the next week to decide whether new curbs were necessary, Health Minister Joe Phaahla told the briefing.  
Waasila Jassat, public health specialist at NICD said there had been a noticeable increase of severe cases among small children during the current virus wave.
"We've always seen children not being heavily affected by the Covid pandemic in the past, and there weren't many hospital admissions, but now there has been a particularly sharp rise in those under the age of 5," she said. "Certainly there is the possibility that there is a difference with this wave and variant with it being more transmissible and possibly that kids can be more susceptible." 
By late Thursday, there were 2,904 coronavirus patients in South African hospitals, with 274 admitted in the prior 24 hour period. The vast majority of those whose vaccination status was known hadn't been inoculated, and more women had been admitted than men, its data showed. 
"We have always seen more female cases and admissions throughout all three waves of the pandemic," Jassat said. "It might be about them being in front-line services and being exposed more" or that they are more likely to test or go to hospital if they get sick, she said. 
Groome and Jassat both reiterated that it was premature to conclude that omicron caused less severe illness than other strains and that there should be more clarity in the next week or two.
"Severity is always low in the early and late part of the wave," Jassat said. "Mortality in previous waves was highest as the wave progressed and particularly at the peak of the wave. Even if we are seeing slightly less severity at the moment, it is too early to say that it is a characteristic of this variant."