U.S. Cases Rise 1.5%; Americans Defer Medical Care: Virus Update
(Bloomberg) -- A third of U.S. adults, about 94 million people, have delayed or avoided getting medical care during the outbreak, the Census Bureau estimates. A report from a London college estimates 4.1% of the U.S. population is infected.
The Treasury secretary signaled a need for more U.S. economic stimulus. Major job losses mounted as more than 2 million Americans applied for unemployment benefits last week. The FDA put out a list of 27 antibody tests that can no longer be sold in the U.S. for lack of proper vetting.
President Donald Trump toured a Ford factory that was converted to make ventilators without a mask, though he had one with the presidential seal on it that he said he'd worn on another part of the tour. New York canceled in-class summer school. Starbucks is seeing a rebound in sales at coffee shops. Facebook lets some employees work from home permanently.
Subscribe to a daily update on the virus from Bloomberg's Prognosis team here. Click VRUS on the terminal for news and data on the coronavirus. See this week's top stories from QuickTake here.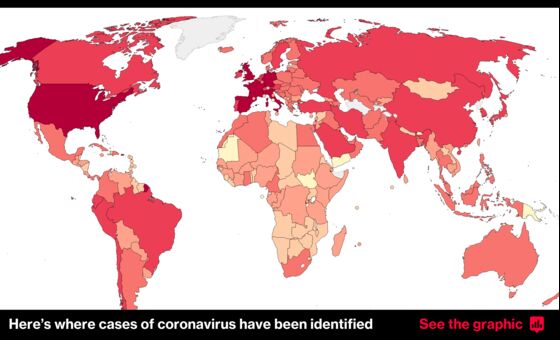 U.S. Flags to Fly Half-Mast (6:59 a.m. HK)
President Donald Trump ordered flags on federal buildings and monuments to fly at half-mast for three days in memory of Americans who have died from the virus. The U.S. death toll reached 94,566 late Thursday.
Earlier in the day, House Speaker Nancy Pelosi and Senate Democratic leader Chuck Schumer wrote to Trump, asking "that you order flags to be flown at half staff on all public buildings in our country on the sad day of reckoning when we reach 100,000 deaths."
NY Transit Seeks Fed Aid (5:25 p.m. NY)
The nation's largest transit system, New York's Metropolitan Transportation Authority, is asking the U.S. Federal Reserve to let it borrow directly from a new $500 billion lending program. While the MTA has twice this month sold long-term debt, the pandemic has challenged its ability to borrow in the short term, Pat Foye, chief executive officer, said in a letter to Fed Chairman Jerome Powell.
"Investors have shown confidence in MTA's long-term prospects but remain concerned about near-term risks," Foye wrote. The MTA estimates its deficit for 2020 may be as much as $8.5 billion. It's seeking $3.9 billion of federal funds to help cover lost revenue.
CDC to Guide on Opening Churches, Trump Says (5:15 p.m. NY)
The U.S. Centers for Disease Control and Prevention plans to put out guidance for reopening churches "very soon," President Donald Trump said while touring a Ford Motor Co. plant in Michigan. "We want to get our churches back," he said, suggesting it could come as soon as Thursday.
Recommendations for restarting activities by religious organizations weren't part of CDC suggestions for opening workplaces, schools and restaurants released over the weekend. The White House and CDC have clashed over providing guidance to religious groups because the Trump administration didn't want to restrict them, the Washington Post reported on Thursday.
Texas Lifts Air Travel Restrictions (5 p.m. NY)
Texas Governor Greg Abbott terminated a mandatory 14-day self-isolation order for incoming airline travelers. The executive order scraps restrictions issued in April mandating self-isolation for those arriving from California, Connecticut, New York, New Jersey, Washington state, Atlanta, Chicago, Detroit and Miami.
The new directive is part of Abbott's plan to reopen the economy as it enters a new phase of reopening that will allow restaurants to operate at 50% capacity and reopening of bars at 25% capacity, beginning Friday.
Cases rose 1.8% to 52,268, below the seven-day average of 2.8%, according to Texas health department data. Hospitalizations dropped 6.2% to 1,680, with more than 6,000 ventilators available in reserve.
Abbott Defends Test Accuracy (4:45 p.m. NY)
Abbott Laboratories said an ongoing study showed that its ID NOW Covid-19 test had a high rate of accuracy, as the company attempts to counter a claim by outside doctors that the test may return too many false negatives.
Partial data from the company-funded study showed that it accurately detected the virus 94.7% of the time, and correctly gave negative results 98.6% of the time, Abbott said in a statement. The study, which is ongoing, analyzed samples from 256 patients and compared the results to a test developed by the U.S. Centers for Disease Control.
FDA Says 27 Antibody Tests Barred (4:20 p.m. NY)
The US Food and Drug Administration said on Thursday that 27 antibody tests will no longer be distributed in the U.S., part of a previously-announced crackdown on the tests.
Antibody tests look for markers in the blood that indicate exposure to the novel coronavirus. However unlike diagnostic tests, they can't determine whether a patient has an active Covid-19 infection. The FDA's previous policy allowed hundreds of antibody tests to be sold without its oversight, prompting criticism of the tests' accuracy.
The 27 tests either had "significant problems" identified with them or their manufacturer didn't seek authorization, according to the FDA. Nine antibody tests were voluntarily withdrawn, including one from BioMedomics, Inc., the FDA said. It also said that there will likely be updates to the list with more tests being barred.
In a statement, FDA Commissioner Stephen Hahn called it an important step "taken to ensure that Americans have access to trustworthy tests."
U.S. Cases Rise 1.5% (4 p.m. NY)
Coronavirus cases in the U.S. increased 1.5% as compared with the same time yesterday to 1.56 million, according to data collected by Johns Hopkins University and Bloomberg News. That's higher than Wednesday's growth rate of 1.3% and in line with the 1.6% average over the past seven days. Deaths rose 1.3% to 93,863.
New York cases rose 0.6% to 356,458, in line with the average increase over the past seven days, according to data from the state's health department.
Florida reported 48,675 cases, up 2.5% from a day earlier, the biggest daily increase since at least May 4, when Governor Ron DeSantis started reopening the state. Deaths reached 2,144, an increase of 2.3%.
California cases rose 2.5% to 86,197 while deaths increased 3.1% to 3,542, according to the state's website.
UN Pushes to Reopen NYC Headquarters (2:10 p.m. NY)
Germany and Russia urged the United Nations to partially reopen its New York City headquarters as the secretary general proposes to scale back the annual General Assembly meeting in September.
Germany, which will hold the presidency of the UN Security Council in July, wants to "discuss a possible return to real meetings" while reducing staff on hand and sticking to social-distancing guidelines, Ambassador Christoph Heusgen wrote in a letter to Secretary-General Antonio Guterres seen by Bloomberg News.
Guterres has taken a cautious approach to reopening the headquarters tower along the East River.
Report Says 4.1% of U.S. Infected (2:06 p.m. NY)
A new report from the Imperial College London estimates that 4.1% of the U.S. has been infected by the novel coronavirus, with a wide variation between states. In New York, the world's epicenter, the researchers estimate that 16.6% of the population has already been infected.
The researchers conducted their first state-by-state analysis of the U.S., modeling the number of people infected, the number of those who are currently infectious and the average number of secondary infections caused by individuals with Covid-19. The report warns that certain regions, such as the South and Midwest, may be more susceptible to a resurgence of transmission in coming months.
"The epidemic is not under control in much of the U.S.," say the researchers. "We find no evidence that any state is approaching herd immunity or that its epidemic is close to over."
Puerto Rico Lifting Limits (1:40 p.m. NY)
Puerto Rico Governor Wanda Vazquez said she's reopening many sectors of the economy starting next week, provided establishments follow certain restrictions. Barber shops, salons and malls can also reopen. Vazquez is maintaining a 7 p.m. curfew through June 15, but there are exceptions for restaurants that provide delivery services. The island shut all non-essential businesses, banned public gatherings and declared a nighttime curfew on March 16.
Facebook to Push Remote Hiring (1:25 p.m. NY)
Facebook Inc., which closed its headquaters in March as the outbreak spread, plans to hire workers in areas where it lacks an office, and will let some current employees work from home permanently.
Chief Executive Officer Mark Zuckerberg said Facebook will "aggressively open up remote hiring," particularly for engineers. Remote workers could be as much as 50% of Facebook's workforce in the next five to 10 years, he said.
Facebook closed its Menlo Park, California, offices more than two months ago and let employees work from home through the end of 2020.
Business Lobby Backs State Aid (1:20 p.m. NY)
The powerful U.S. Chamber of Commerce business lobby is backing some aid to state and local governments to ease economic devastation from the pandemic.
The call by the group typically allied with Republicans contrasts with resistance from GOP lawmakers, who fear more aid could delay reopenings. They want to wait to see how governments use the funds already appropriated.
Neil Bradley, the group's chief policy officer, said a case can be made for assistance, but he pushed back on Democratic plans to give state and local governments more than $1 trillion.
N.Y. Drops In-Class Summer School (1:15 p.m. NY)
New York Governor Andrew Cuomo canceled in-class summer school amid concerns about the rising number of children with a coronavirus-related illness.
State officials also are re-examining whether to open day camps this summer in light of the inflammatory disease that's thought to be related to Covid-19, Cuomo said at his daily briefing. New York is investigating 157 cases of the illness, Cuomo said.
It's "still too early" to make a determination on whether schools and colleges will be able to open for in-person classes in September, Cuomo said. The state will issue guidance for schools in June.
China Rejects Paying Virus Damages (1 p.m. NY)
China will never pay legal demands tied to the pandemic, the National People's Congress spokesman Zhang Yesui said in Beijing when asked about proposed U.S. bills to seek compensation. Accusations against China are "groundless" and violate laws and principles of international relations, he said.
Republican Senators Martha McSally of Arizona and Marsha Blackburn of Tennessee last month introduced a bill that would let Americans sue China in U.S. courts for compensation tied to the outbreak. The bill is in committee.
U.K. Buys Roche, Abbott Antibody Tests (12:30 p.m. NY)
The U.K. will buy 10 million antibody tests from Roche Holding AG and Abbott Laboratories in a boost for Prime Minister Boris Johnson as he tries to ease Britain back to normality.
The tests will be "crucial" to aid understanding of the spread of the disease, Health Secretary Matt Hancock said at a press conference. Tests will be rolled out in a "phased way" next week, he said.
He said a government survey found 17% of people in London had coronavirus antibodies, along with 5% of people elsewhere in the country. Roche's test, cleared by a U.K. health authority this month, had previously won praise in Germany and the U.S. for its reliability.
Italy Reports 662 New Cases (12:15 p.m. NY)
Italy reported the fewest new cases in three days, as the government prepares to start free serological tests on 150,000 volunteers from May 25 before further easing a national lockdown. Civil protection authorities reported 642 cases Thursday, compared with 665 a day earlier. Total cases reched 228,006. Fatalities fell to 156 from 161 on Wednesday, and now total 32,486.
Staten Island Ferry Service Expands (11:51 a.m. NY)
New York City will increase Staten Island Ferry rush-hour service with boats every 30 minutes each way instead of one per hour as ridership increases, Mayor Bill de Blasio said. The added service will run between 5 a.m. and 9 a.m., and from 3:30 p.m. to 7:30 p.m.
Service between Staten Island and Manhattan plummeted 90% in mid-March when the Covid-19 outbreak forced a statewide lockdown of non-essential businesses. Recently boats have carried 600 commuters, compared with 400 to 500 during the pandemic's peak, the mayor said during a Thursday news briefing. Added service will allow for people to keep safe distances from each other, de Blasio said.
Mnuchin Signals Need for More Stimulus (11:50 a.m. NY)
Treasury Secretary Steven Mnuchin said there is a "strong likelihood" Congress will need to pass more stimulus legislation as the nation struggles to recover from the outbreak but that such assistance isn't immediately needed.
"We're going to step back for a few weeks and think very carefully if we need to spend more money and how we're going to do that," he said at an online event hosted by The Hill newspaper. He said he had spoken to House Speaker Nancy Pelosi last week about next steps on stimulus.
Republicans who lead the Senate have so far rejected acting on the Democrats' $3 trillion relief package that passed the House on a party-line vote last week.
Florida Sees Biggest Uptick Since Reopening (11:45 a.m. NY)
Florida reported 48,675 Covid-19 cases on Thursday, up 2.5% from a day earlier, the biggest daily increase since at least May 4, when Governor Ron DeSantis started reopening the state. That compared with an average increase of 1.6% in the previous seven days. Deaths among Florida residents reached 2,144, an increase of 2.3%.
U.S. Census: Millions Put Off Medical Care (11:27 a.m. NY)
More than 76 million American adults didn't get needed medical care for conditions unrelated to Covid-19 in the past month, new U.S. Census data show. The estimate from the new Household Pulse Survey is the clearest picture yet of how pandemic-related shutdowns led to a staggering drop in people seeking medical care, cratering revenue for doctors and hospitals. Almost 94 million adults, more than one-third of the adult population, delayed care during the pandemic, the Census estimates.
The survey also found high rates of mental-health problems. About 116 million Americans reported feelings of being down, depressed or hopeless on at least some days of the week prior to the survey. About 147 million, or more than 40% of the population, reported symptoms of anxiety. Health experts and medical providers are increasingly concerned about the long-term consequences of the shutdowns.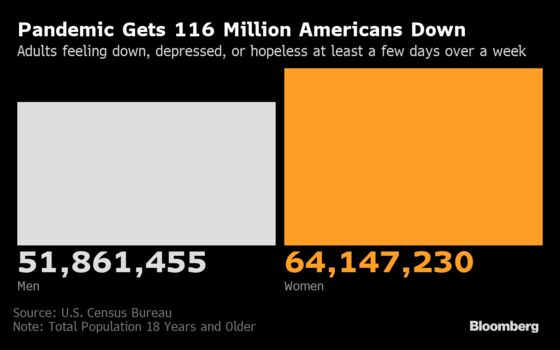 Tanzania Adopts 'Herd Immunity' (10:45 a.m. NY)
Tanzanian President John Magufuli ordered a phased reopening of schools and resumption of foreign tourist flights starting next week, touting the "herd immunity" strategy that has been rejected by other nations. Sporting events can restart in June.

"If you lock people inside, their immunity falls by 30%, according to the literature that I have seen," Magufuli, an opponent of lockdowns, said in a televised speech, flanked my government officials without face coverings. The strategy allows for more than 60% of the population to gain some resistance to the virus by becoming infected, then recovering. The government also scrapped plans to build a 1,000-bed medical center as hospitalizations fell sharply.
Singapore last week rejected herd immunity as a strategy, with one official calling it "too big a price for us to pay."
Starbucks Regains U.S. Store Sales (10 a.m. NY)
Starbucks has regained about 60% to 65% of prior-year comparable U.S. store sales in the past week, Chief Executive Officer Kevin Johnson said. In China, he said comparable-store sales are about 80% of the year-earlier level.
The coffee giant is being watched as a barometer of consumers' willingness to leave home and spend after the intense lockdown measures that brought much of the economy to a standstill.
TSA Changes Airport Screening (9:55 a.m. NY)
U.S. airport security screeners will no longer touch or handle passenger IDs or boarding passes at checkpoints, the Transportation Security Administration said. In a statement, the TSA said travelers now will show their passes to the officer for a visual inspection, a step to reduce physical contact. Lines may extend further, as TSA increases the distance between travelers to six feet (1.8 meters), according to the statement.
Victoria's Secret to Close Stores (9:40 a.m. NY)
Victoria's Secret said it will close 251 stores in North America by year-end. That's roughly 23% of its store fleet. More store closures could happen in the coming years, Victoria's Secret interim Chief Executive Officer Stuart Burgdoerfer said on a call with analysts on Thursday.