California Moves Toward Reopening With Virus Stabilizing
(Bloomberg) -- California, the first U.S. state to shut down its economy over the coronavirus, will start loosening its lockdown Friday, with Governor Gavin Newsom expressing optimism that the outbreak had reached a turning point.
The first phase of eased measures will allow for stores to sell books, clothes, flowers and other items through curbside pickup, Newsom said Monday. Bowing to pressure from rural areas, he said individual counties could relax stay-at-home rules even further, if they are effectively able to track and trace infections.
The steps toward reopening the world's fifth-largest economy sent a positive signal that the pandemic is stabilizing, helping to push U.S. stocks higher. California, home of some of America's first confirmed infections, has seen its hospitalizations flatten out and has so far avoided the more dire crises seen in areas such as New York and New Jersey. Newsom said Monday the state had sufficiently slowed the virus's spread to allow for more commercial activity.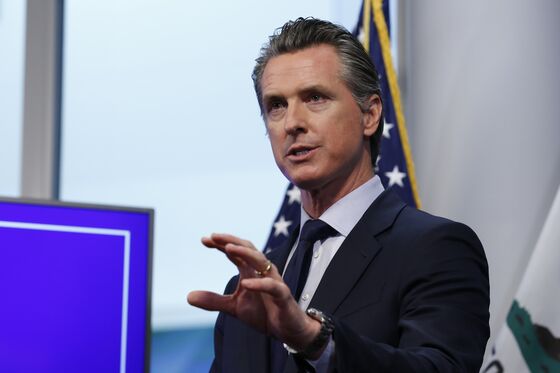 "We are definitely at a point, a sort of hinge moment in this pandemic," Newsom said during his daily virus update with reporters. "This is an optimistic day."
California reported 39 more deaths Monday, the lowest daily tally in three weeks. Confirmed cases rose 2.5% to 54,937, fewer than in states such as New York, Massachusetts and Illinois that have far smaller populations.
Although Newsom cast the changes as signs of progress, he has faced intense pressure to relax the state's stay-at-home orders, both from protesters and local governments. One sparsely populated county, Modoc, started allowing businesses to reopen Friday, with local officials saying the county did not have a single confirmed infection. Two other rural counties followed suit Monday, in a challenge to the state's restrictions.
Newsom's decision last week to close Orange County beaches after a heatwave filled them with sunbathers also angered local officials, one of whom called it an abuse of power.
Newsom has for weeks argued that restarting the economy too soon would risk triggering another spike in infections, even as he sketched out in increasing detail how and when California might allow businesses to reopen. The first modest steps, to be outlined more fully Thursday, still won't allow shops or restaurants to resume their normal operations.
"It's happening for only one reason -- the data says it can happen," Newsom said.
Individual counties, however, will still be allowed to impose more stringent limits on commercial activity if they choose. The San Francisco Bay area, for example, has extended restrictive measures until the end of the month.