U.S. Cases Pass 12 Million; California Hits Record: Virus Update
California reported record infections for the second consecutive day as total U.S. cases surpassed 12 million. New Jersey also broke a record, passing 300,000 cases.
The U.S. Centers for Disease Control and Prevention escalated its warning against traveling on cruise ships to the highest level. Cases and deaths slowed in the U.K. and Italy.
President Donald Trump stayed quiet on sharing U.S.-made vaccines as leaders of the world's richest countries pushed for equality in the race to vaccinate people against the coronavirus.
Subscribe to a daily update on the virus from Bloomberg's Prognosis team here. Click CVID on the terminal for global data on coronavirus cases and deaths.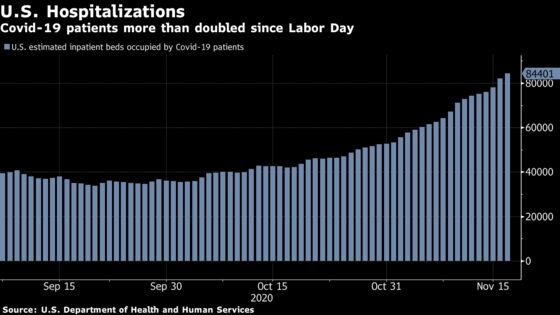 CDC Advises Against Cruise Ship Travel (5:08 p.m. NY)
The U.S. Centers for Disease Control and Prevention has escalated its warning for cruise travel to the highest level and continued to recommend avoiding any trips on cruise ships worldwide.
The agency raised its warning to Level 4 from Level 3, citing "very high" risk of Covid-19 on cruise ships. Passengers are at increased risk of person-to-person spread of Covid-19 and should get tested and stay home for at least seven days after travel, according to its website.
"For most travelers, cruise ship travel is voluntary and should be rescheduled for a future date," the CDC said.
New York Daily Cases Approach 6,000 (4:47 p.m. NY)
New York reported 5,972 cases, the fifth straight day over 5,000 and the most since April, when the state was the nation's early epicenter of the virus. While cases have risen rapidly in the last several weeks, the state's overall positive test rate is 2.9%. That is among the lowest in the nation.
Governor Andrew Cuomo has set restrictions on a growing list of "micro-clusters" around New York City and upstate, with positive rates as high as 10%. Overall positivity of those clusters is 4.3%, he said in a press release.
California Reports Record Cases Again (4:05 p.m. NY)
California added 15,442 new coronavirus cases, hitting a new high as the state's nighttime curfew kicks in Saturday night.
The new cases topped Friday's record of 13,005 infections, bringing the total to almost 1.1 million. The number of deaths increased by 86 to 18,643, state data showed. The increased patient load left California's hospitals with just 1,921 intensive-case unit beds available, near the low in July.
A 10 p.m. to 5 a.m. curfew will be imposed in most counties for a month to ease the rate of infection.
Portugal to Limit Travel Over Next Two Weeks (2:49 p.m. NY)
Portugal will limit movement between municipalities on Nov. 28-Dec. 1 and Dec. 5-8, two periods that include weekends and national holidays on each following Tuesday.
The number of daily new infections continues to be "worrying," even if the pace of growth has decelerated, Prime Minister Antonio Costa said at a press conference in Lisbon.
France's Pace of New Cases Lowest in Month (2:44 p.m. NY)
France's virus cases rose by 17,881 to 2.13 million on Saturday, with the pace of new infections continuing the slowdown of the past two weeks. The seven-day average of new cases fell to 24,636 cases, the lowest in a month and less than half the pace two weeks ago.
The rate of positive tests fell to 14.8%, down 0.2% points from a day earlier and falling from more than 20% in the first week of November. Deaths linked to the virus increased by 253 to 48,518. The seven-day average fell to 610 deaths, compared with a first-wave peak of more than 900 daily deaths in early April.
South Dakota Fatalities Continue Ascent (2:23 p.m. NY)
South Dakota has reported 352 fatalities so far in November, slightly less than just half the state's total for the entire pandemic. Another 36 deaths were recorded Saturday, the same as the day before, in a state that has imposed no restrictions on the virus's spread even as it became among the nation's hardest hit. Rapid City, the second largest city, is embroiled in political fight over whether to pass a mask mandate.
Trump Stays Mum on Sharing Vaccines (1:14 p.m. NY)
Leaders of the world's richest countries pushed for equality in the race to vaccinate people against the coronavirus, while President Donald Trump stayed quiet on sharing U.S.-made vaccines with other nations.
The battle to counter the pandemic dominated the first day of a virtual summit of Group of 20 nations on Saturday, hosted by Saudi Arabia.
NYC Still Above Rate for Closed Schools (1:01 p.m. NY)
New York City's positive Covid-19 test rate remains above the 3% threshold that led to a shutdown of in-person schools on Nov. 19.
The latest seven-day average is 3.11%. The city reported a seven-day average of 1,345 new cases, the highest since May. At the height of the city's outbreak earlier this year, more than 6,300 people were diagnosed with Covid-19 in one day.
Schools are shut for at least two weeks. Indoor dining and other nonessential, "high-risk" businesses may be shut in early December if the city's positivity continues to increase, Governor Andrew Cuomo said on Nov. 20.
New Jersey Hits Record, Passes 300,000 Cases (12:51 p.m. NY)
New Jersey reported a record 4,679 new coronavirus cases, bringing its total to more than 300,000 since the start of the outbreak in March.
The state has reported more than 60,000 cases this month amid a resurgence. Hospitalizations have more than doubled since Nov. 1, to 2,552 as of Nov. 20. New Jersey has 486 patients in intensive care, up from 212 on Nov. 1.
Of 21 counties, Essex County in northern New Jersey had the most new cases, 536. But the resurgence is statewide. Camden County, in the southern part of the state, had the second-most new cases, 435.
Greece Reports Death Record for Second Day (12:40 p.m. NY)
Greece reported 108 more deaths, a second straight record increase, and intensive-care units in Greek hospitals are 82% occupied. Plans to begin a gradual lifting of nation-wide lockdown restrictions on Dec. 1 are no longer realistic, government spokesman Stelios Petsas said Friday.
New U.K. Cases Below 20,000 (11:23 a.m. NY)
The U.K. reported fewer than 20,000 new cases for the second time this week. Another 19,875 infections were reported on Saturday, below the average of 22,287 over the previous seven days. Cases have risen 50% this month to almost 1.5 million. The 341 deaths compare with the daily average of 426 this week.
Italy Cases, Deaths Slow (11:12 a.m. NY)
Italy reported 34,767 new cases Saturday, down from 37,242 a day earlier. Daily deaths fell to 692 from 699 on Friday.
The Rome government sought parliamentary approval for 8 billion euros of extra deficit this year, as Prime Minister Giuseppe Conte battles to shield the fragile economy from a coronavirus resurgence.
A cabinet meeting chaired by Conte approved the request to parliament late Friday night. The government also signed off on a third package of aid, worth 1.95 billion euros for 2020, chiefly for shops and businesses hit by a soft lockdown in regions including Lombardy around Milan.
Spain to Start Vaccinations in January (9:10 a.m. NY)
Spain's campaign to vaccinate its population against Covid-19 will begin in January and will be voluntary, El Confidencial reported, citing Health Minister Salvador Illa.
Spain expects to vaccinate about half its people by May, Illa said. The government plans to reveal further details of its vaccination strategy on Nov. 24.
U.S. Death Rate Continues to Rise (8:21 a.m. NY)
The U.S. reported 1,870 fatalities on Friday, in a week in which the death rate rapidly rose, according to data compiled by Johns Hopkins University and Bloomberg.
The daily average over the last week is now 1,440, compared with 1,177 the week before. That's the highest level since last spring, when the outbreak in New York and the northeast pushed fatalities to a daily peak of more than 2,600 in late April.
Poland Reopens Malls, Keeps Schools Shut (6:30 a.m. NY)
Poland will allow shopping malls to reopen, while keeping restaurants, cinemas and schools closed as Prime Minister Mateusz Morawiecki asked for patience until a vaccine arrives.
Poland introduced a near-full lockdown earlier this month after infections surged in October, with daily deaths climbing to a record 637 earlier this week. Schools will remain closed until at least mid-January, while gyms, cinemas, theaters and restaurants won't reopen before Dec. 27.
Morawiecki asked Poles to stay at home for Christmas, adding that the government is working on legal ways to limit travel during that period.
Hong Kong and Singapore Delay Travel Bubble (5:30 p.m. HK)
Hong Kong and Singapore will postpone the world's first quarantine-free travel bubble for two weeks after a surge in infections in Hong Kong. That's a setback for their flagship airlines and tourism businesses looking to kickstart a recovery.
Under the current agreement between the two financial hubs, the arrangement is suspended for two weeks if the seven-day moving average of unlinked cases rises to five in either city. The average rose to 3.9 on Saturday from 2.1 a day earlier. The details of the formal re-introduction of the plan will be announced early next month, according to Edward Yau, Hong Kong's secretary for commerce and economic development.
U.K. to Ease Restrictions Over Holidays (5 p.m. HK)
The government is preparing to relax the U.K. lockdown to allow "several" families to form a bubble for up to a week over the Christmas period, the Telegraph said on Saturday. The so-called winter plan will outline replacement measures to the current lockdown and will be announced as soon as Monday, the newspaper reported.
Separately, a British hospitality organization warned that the government cutting the job retention bonus will cost the industry 2.1 billion pounds ($2.8 billion) and lead to job cuts, the Telegraph said. U.K. Chancellor of the Exchequer Rishi Sunak will unveil the government's spending plans for the next year on Wednesday.
Prime Minister Boris Johnson tweeted on Saturday that he's still self-isolating and working from his Downing Street office.
Iran Offers More Support as Lockdown Starts (5 p.m. HK)
The Iranian government will make monthly payments to almost 30 million people over the next four months to support the economy during the coronavirus outbreak, President Hassan Rouhani said. Iran started a two-week lockdown on Saturday, reducing economic activity to essential services and businesses in many areas.
Hungary Posts Record Deaths as Infections Plateau (4:50 p.m. HK)
Hungary reported a record 121 deaths from the coronavirus on Saturday, though the number of hospitalized patients and new infections showed signs of leveling off. Hungarian authorities have been bracing for a further deterioration in the pandemic through mid-December.
WHO Special Envoy Criticizes Response in Europe (4:40 p.m. HK)
Europe, and Switzerland in particular, have failed to learn the lessons from the first wave of the virus, said David Nabarro, the World Health Organization's special envoy on Covid-19 preparedness and response. While Asian countries maintained restrictions after lowering infections, the response in Europe was incomplete and governments missed the opportunity to strengthen infrastructure during the summer when the first wave was brought under control, Nabarro told Swiss newspaper Schweiz am Wochenende.
Without further action now, Europe will experience a third wave early next year, said Nabarro, adding that surveillance of individuals self-isolating needs to be done by the government. It's too serious to be left to individuals, he said.
Russia Posts Record Number of Covid-19 Deaths (4:30 p.m. HK)
Russia had 467 deaths from Covid-19 in the past day, a new daily record, the government's virus response center said Saturday. That means 35,778 people have died from the disease, although more comprehensive mortality data suggests the toll was already over 55,000 by the end of September.
There were also 24,822 new coronavirus cases in Russia, which was also a daily record for the nation with the fifth-most cases globally. While the Kremlin has imposed new restrictions as the virus flared up in recent weeks, it has so far resisted a broad lockdown such as those imposed in some European countries.
Health Minister Says Belgium Could Get Vaccines Around New Year (3:50 p.m. HK)
Belgian Health Minister Frank Vandenbroucke told VTM Nieuws on Friday that it's possible the country could get its first Covid vaccines at the start of the new year, according to De Tijd newspaper.
"If that works out it will be very good news for us," Vandenbroucke said, adding that the quantities wouldn't be very large yet.
Germany Adds 23,000 New Cases as Infections Top 900,000 (3:40 p.m. HK)
Germany added nearly 23,000 new coronavirus infections as of Saturday morning, lifting the total above 900,000.
The regions of Bavaria, Berlin, Bremen, Hesse, North Rhine-Westphalia and Saxony have posted the highest infection rates recently and the number of Covid-19 patients in intensive care has "risen sharply" since mid-October, the Berlin-based Robert Koch Institute said.
Germany is already in a partial lockdown that has closed museums, bars and restaurants but kept schools and most shops open. That may be extended well into next month as Europe's biggest economy seeks to regain control over the spread of the coronavirus before people head home for the holidays, Bloomberg News reported on Friday.
CanSino Says Spiking Infections Are Speeding Up Its Vaccine Test (2:43 p.m. HK)
CanSino Biologics Inc. said surging infections around the world will allow it to quickly reach an interim milestone to analyze the efficacy of its single-shot vaccine.
The Chinese company is testing its vaccine in Pakistan, Mexico, Argentina, Chile and Russia, Zhu Tao, the company's chief scientific officer, said at a forum in Zhuhai. CanSino needs 50 Covid-19 cases for an interim analysis and expects to quickly get them, he said. China's military has approved CanSino's shot for use among its personnel.
Hong Kong Adds 45 Virus Cases, Highest in 3 Months (12:55 p.m.)
Hong Kong added 45 new coronavirus cases Saturday, the highest daily toll in three months, news site HKO1 reported, after the city imposed new social restrictions as it braced for an expected new wave.
Hong Kong reported 26 new infections Friday, 21 of which were locally transmitted, with nine from an untraceable source. The government has also detected over 40 preliminary cases awaiting confirmation.
The government suspended classes for primary school levels 1 to 3 from Nov. 23 for two weeks, after shutting kindergartens and nurseries a week ago due to outbreaks of upper respiratory tract infection. No students or school staff have tested positive for Covid-19 yet, said officials.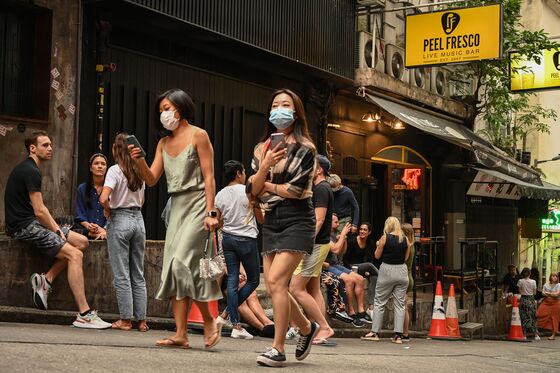 U.S. Coronavirus Cases Surge by More than 195,000 (11:21 a.m. HK)
The U.S. recorded 195,690 new coronavirus infections on Friday as California and Ohio were among states to post new highs.
More than 11.9 million people in the U.S. have now been infected, according to data compiled by Bloomberg from sources including Johns Hopkins University. The U.S. has posted daily cases above 100,000 for more than two straight weeks.