Lockdown or Not, Cases Soar From Mexico to Argentina
(Bloomberg) -- Brazilian coronavirus cases topped 2 million, and Mexico overtook Chile to become one of Latin America's biggest hot spots.
Mexico now has the seventh-highest number of Covid-19 cases in the world, reporting a total of 324,041, though health experts say infections there are probably many times greater than the official tally shows. Backing that up is a death toll that stands at 37,574, or 10% of all confirmed cases. Brazil, Latin America's other economic powerhouse, has reported roughly 77,000 fatalities and cases that have doubled in the past month.
Mexico's and Brazil's presidents have resisted large scale social-distancing measures, arguing they'd never work anyway in a region where millions of poor need to work in order to eat. Peru and Argentina, which took a different tack and locked down early, initially managed to keep the contagion at bay -- only to see the pandemic explode in recent weeks. Both nations are adding almost 4,000 new cases daily.
Argentina's president, Alberto Fernandez, is set to announce new guidelines for the next phase of the country's Covid-19 lockdown on Friday. There's some expectation measures will be eased in the greater Buenos Aires after three weeks of strict lockdown.
Across Latin America, coronavirus cases no top 3.6 million and almost 155,000 have died.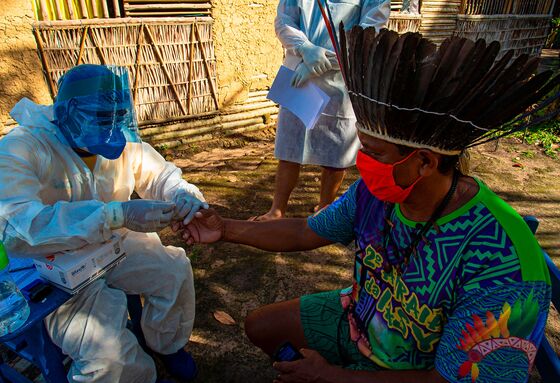 Elsewhere in Latin America:
Riskier Latin American corporations will find it more difficult to tap international debt markets in the second half as the pace of bond issuance slows after a blitz of sales in recent months, according to BNP Paribas's head of debt capital markets for the region.
An uneven global recovery from the coronavirus pandemic and concern over the prospects for second waves of infections are weighing on the outlook across commodities markets, according to Rio Tinto Group. Chile is the world's biggest copper producer, and Brazil is a top iron-ore miner.
| Country | Confirmed Cases | Deaths |
| --- | --- | --- |
| Brazil | | 76,688 |
| Peru | 341,586 | 12,615 |
| Mexico | 324,041 | 37,574 |
| Chile | 323,698 | 7,290 |
| Colombia | 165,169 | 6,164 |
| Argetina | 114,783 | 2,112 |
| Ecuador | 71,365 | 5,207 |
| Bolivia | 54,156 | 1,984 |
| Panama | 50,373 | 1,000 |
| Dominican Republic | 48,743 | 941 |
| Guatemala | 32,939 | 1,404 |
| Honduras | 30,867 | 835 |
| | | |