Inside the New Plan to Make Paris '100% Cyclable'
(Bloomberg) -- This week, Paris announced a major upgrade of its cycling infrastructure that could make it one of the most bike-friendly major cities in the world.
Between now and 2026, the city announced, Paris will gain 180 kilometers (112 miles) of new permanent segregated bike lanes. As part of the city's new Bike Plan, the number of bike parking spots will more than triple, with 180,000 more added to the current total of 60,000. The city will pay particular attention to bike lanes and infrastructure around the connection points between the neighboring suburbs and the city to create better integration across the wider metro area.
The measures, funded by a 250 million euro ($291 million) budget, show not just the city's investment in cycling, but also how its increasing popularity has created pressure for improvements. In a swing intensified by the spike in active travel during the pandemic, Paris now sees almost 1 million bike journeys daily.
The plan also addresses some of the growing pains that can come along with this rapid shift. The proposal contains an acknowledgement that some Parisians have found the recent rapid increase in bikes on the road a little hard to handle. As well as infrastructure improvements, the city has promised to put pedestrian safety first, increasing police controls in riders and publicizing the rules of the road.
Not all of the lanes coming in Paris's bike upgrade will be entirely new. While 130 kilometers of the paths announced this week will add to the cycle system's overall footprint, 52 kilometers will turn temporary lanes added during the pandemic into permanent ones.
The city's new plan has several goals. One is to create enough lanes to ensure that most bike journeys of more than one kilometer can be carried out on segregated paths. Another is to better integrate the different bike networks across the metro area. In particular, the new lanes should improve conditions at the "gates" of Paris — the busy, multilane junctions where traffic feeds into the city from the Boulevard Périphérique beltway — making them safer and less forbiddingly fortress-like for cyclists arriving from the suburbs. Finding a place to stow your bike should also become easier. The city is promising to kit out streets with 30,000 new metal arches to chain your bike to — 1,000 of them dedicated to cargo bikes — as well as 50,000 secure, monitored spaces. Another 50,000 parking spots will be added in private spaces such as parking structures or co-housing projects.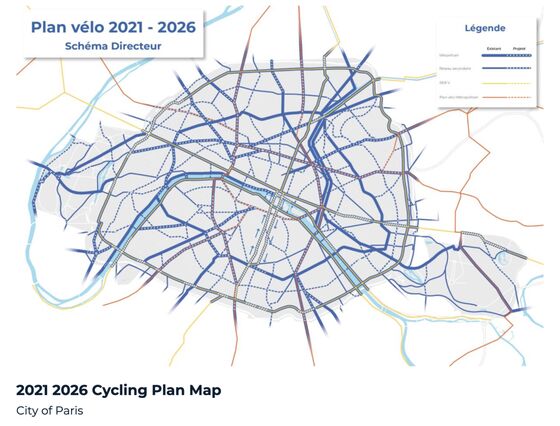 For bike enthusiasts, these plans might sound like manna. But Paris's current bike infrastructure still falls a little short of its sparkling image international internationally. Much space for bikes is still shared with cars, or separated from motor traffic solely by paint markings rather than physical barriers that offer more safety from collisions. From this perspective, the improvements could be seen less as a further improvement of excellent facilities than as a belated correction of infrastructure that has so far fallen short of its promise. What's more, increases in bike and scooter use have been cited as a major factor in relatively poor scores for walkability due to limited sidewalk space — and the two-wheeled traffic is starting to antagonize some locals. 
As the New York Times noted recently, cycling in Paris can still feel like something of a wild frontier, with some cyclists playing the rules of the road by ear alone, and at times clashing with pedestrians unaccustomed to the new ubiquity and volume of bikes. Given the consistent frequency of reckless and unsafe car driving in Paris (and France in general) over the years, it might seem far-fetched to suggest that only now, with more cyclists on the road, are the city's streets descending in "anarchy," as the Times headline described it. The plan nonetheless acknowledges the need to develop clearer separations between rider and pedestrian space to foster a more orderly cycling culture.
"The priority is the safety of all users of public space," the city's release says, "starting with those who are the most vulnerable: pedestrians." To this end, the city says it will step up police checks on cyclists, and develop and disseminate a "street code" of rules for all street users to observe. Meanwhile, for cyclists, the city will seek to make turns safer for cyclists on road space shared with cars, by creating more bike locks — spaces at junctions where only bikes are allowed to pause before turning. The city is also trying to get future generations of Parisians on board, by investing in bicycle training for children.
These extra measures may not be enough to appease pedestrians unaccustomed to the high number of bikes on the road, or suburbanites frustrated as they see some of their options for parking within the city ceded to bike space. They still show that when the administration of Mayor Anne Hidalgo committed to trying to make the city "100% cyclable," they meant it.