The Crypto Ambitions of New York's Next Mayor — and What Could Stop Him
(Bloomberg) -- New York City Mayor-elect Eric Adams is already excelling at one major aspect of the job — cheerleading — at least as far as cryptocurrency is concerned. 
Since his Nov. 2 victory, Adams has been selling New York as a crypto-friendly hub. The Brooklyn borough president and former cop has the support of crypto heavyweight Mike Novogratz of Galaxy Digital. He has opened up a jokey competition with fellow crypto-enthusiast and Miami Mayor Francis Suarez; suggested schools teach cryptocurrency and its technology; pledged to explore a mechanism to allow New Yorkers to be paid in virtual currencies; and even vowed to take his own first three paychecks as mayor in Bitcoin. 
"This is a clear signal from me that I am not playing. We have become too afraid as a city we have become a culture of 'no.' We turn down everything," Adams, 61, said in remarks to reporters last week while attending a conference in Puerto Rico. "This used to be a city where we led from the front." 
Adams's public embrace of crypto and his promise to make the most populous U.S. city the center of the industry has generated plenty of excitement and even landed New York its own token. And in some ways, he will have a lot of control over what the city's government looks like. Adams could appoint an aide and call them "crypto czar," create a mayor's office of crypto currency or task a deputy mayor with promoting the industry, said John Kaehny, executive director of Reinvent Albany, a government accountability group. His power is limited beyond that. The state government sets the rules for the industry, the city's largest investment funds are out of his hands and changing payment processes require signoff from the City Council.
"He can certainly cheerlead for crypto a great deal and that's probably great for crypto but in terms of actually implementing things the chances are very very little to none," Kaehny said. "There are many, many practical obstacles."
During his run, Adams told Bloomberg News he wants to move the city onto an electronic cyber wallet instead of payroll checks and direct deposit, which would streamline payments for city workers and social benefit recipients while allowing the city to better track these monies. Still, Adams has provided few details on how he plans to make these kind of things work. Evan Thies, a spokesperson for Adams, said the mayor-elect has no further comment on his crypto plans beyond what he has said publicly and will have polices and initiatives to announce closer to the start of his administration in January. His transition team includes Goldman Sachs Group Inc. Chief Financial Officer Stephen Scherr as well as Steven Choi, who runs the Novogratz-backed group One for Democracy. 
Courting the crypto industry dovetails with Adams's desire to present the city as open for business. New York already has one of the largest shares of crypto specialist jobs in the U.S., but the industry hasn't yet settled on a single hub and other cities, such as Miami, Austin and Denver, are increasingly attracting talent.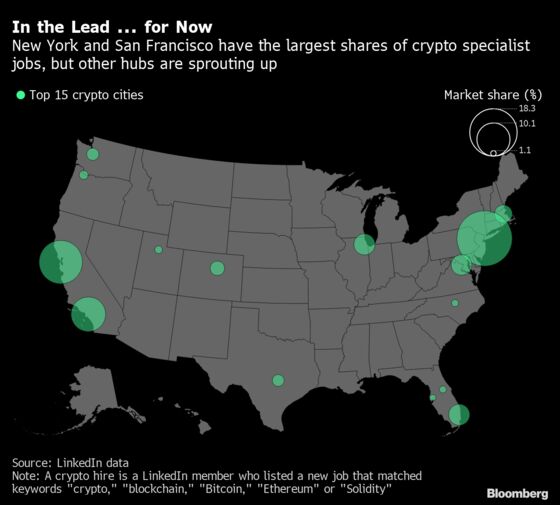 One of the the incoming mayor's biggest obstacles to making it easier for crypto companies to do business is a regulatory regime that's one of the strictest in the U.S. It's also one over which he'll have no power, given the state's control over virtual currency rules. 
New York state requires industry participants, like exchanges and custodians, obtain a Bitlicense. That licensing process asks for financial disclosure, anti-money laundering compliance and cybersecurity compliance, among other requirements. Since the rules were implemented in 2015, roughly 30 companies have obtained a license or charter under the regime. 
"New York state is perceived as one of the tougher states to establish a virtual currency business," said Jeff Neuburger, a partner at Proskauer Rose LLP and head of the firm's blockchain group. "It's a fairly rigorous process for somebody to get a Bitlicense." 
New York has room to maneuver within the constructs of the state law and the licensing process doesn't apply to investors or businesses that decide to accept virtual currency as payment, Neuburger said. However, it can't loosen or make any run around that process. 
In addition to the state laws, New York state Attorney General Letitia James has used her office to pursue virtual currency companies. James, who is running for governor in 2022, took action in February to bar Bitfinex and Tether from operating in the state for overstating their reserves, while fining the companies $18.5 million. A month later, she issued a warning to investors about the risks of the market, urging extreme caution for those who do participate, while also warning industry participants to register with her office. 
That combination makes things tough for Adams and his ambitions for the city, said Mark Yusko of Morgan Creek Capital Management. "You don't want your AGs to be negative crypto if you want to be a crypto city," he said. 
Despite the lack of details, industry participants are excited for a mayor who embraces the industry. A cryptocurrency project called CityCoins was searching for a second city to launch a token after unveiling MiamiCoin in August. It chose New York over Austin, Texas, after Adams spoke last week. The city-specific coin, which has produced more than $20 million for Miami so far, began mining in New York on Wednesday. 
Wall Street — despite its sometimes public indifference, and even disdain, of the industry — is unlikely to be a major obstacle, said Justin Saslaw, a partner at Social Capital LP, a venture capital and private equity investment firm that invests in crypto. 
"Wall Street isn't going to put up a fight against the mayor," Saslaw, who worked on a blockchain strategy group at Goldman in 2015, said. "Goldman, JPMorgan, Citi are three of the most active corporate venture capital participants in the crypto industry." 
At a basic level, positioning New York as a hub would bring jobs in a growing industry and economic activity to a city that Adams has pledged to revive. And it comes at the same time that Wall Street may be shrinking its footprint in the city. 
"It would mean an influx of talent, the potential for an influx of tax revenue," Morgan Creek's Yusko said. "It won't be easy because there are structural and logistical headwinds. But it's not impossible."