China Sets Weaker-Than-Expected Yuan Fix, Adds More Cash
(Bloomberg) -- China's central bank set the reference rate for the yuan at a weaker-than-expected level as the currency's surge threatens to derail growth in the world's second-largest economy. It also boosted short-term liquidity.
The People's Bank of China set its daily fixing at 6.4069 per dollar, weaker than the average estimate of 6.4042 in a Bloomberg survey of analysts and traders. The move signals Beijing's discomfort with a stronger exchange rate as it seeks to maintain the competitiveness of the nation's exports after the currency rallied on Tuesday by the most since January. 
In the money markets, the PBOC boosted the injection of short-term cash to 100 billion yuan ($15.6 billion), after adding 10 billion yuan per day in the past nine sessions. The central bank cited an increase in tax payments and government bond issuance for the cash infusion.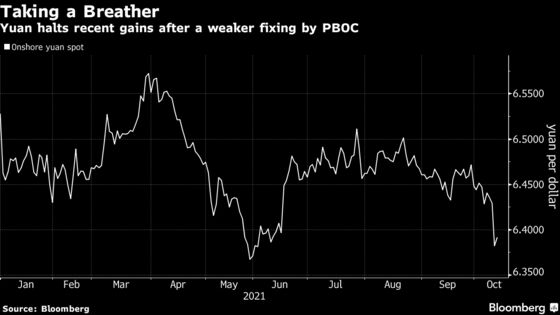 "The net injection sends a clear signal that there is no change in the monetary policy tone and liquidity will not tighten," said Zhou Hao, senior economist at Commerzbank AG. Also, "it could curb a rapid appreciation of the yuan."
The onshore yuan dropped 0.1% to 6.3910. It had risen 0.7% on Tuesday to lead gains in Asia and it's the region's best performer so far this year. A Bloomberg index tracking the yuan's move versus 24 peers touched the highest since January 2016 in the previous session. China's 10-year bond yield fell one basis point to 3% after the liquidity injection. 
Mixed data and conflicting comments from Chinese officials are fueling debate among analysts on the prospect of monetary easing. China's economy slowed in the third quarter but factory-gate prices rose by 10.7% last month. 
A top PBOC official refrained from mentioning the possibility of a cut in the reserve requirement ratio last week, prompting traders to pare easing bets. A front-page article in the central bank's own paper said Wednesday that expectations for RRR cut have eased. That's after a government adviser said Tuesday that the central bank has room to cut the amount of cash banks have to hold in reserve this quarter.
"On balance we believe liquidity provisions will be there, but with uncertainty on the timing and exact tools to be deployed, investors may choose to stay cautious," said Frances Cheung, rates strategist at Oversea-Chinese Banking Corp. "An RRR cut remains the ideal outcome from the market perspective".
Still, China's existing accommodative stance appears to be at odds with other global central banks like the Federal Reserve and Bank of England that are are coming under pressure to exit the pandemic-era stimulus due to rising inflation. Their policy divergence with China is expected to further weigh on the yuan.