China Markets Bonds; Property Sector Shrinks: Evergrande Update
(Bloomberg) -- China Evergrande Group's onshore real-estate unit paid interest due Tuesday on a yuan bond, according to Reuters, as the beleaguered property developer continued to grapple with a debt crisis that's threatening the outlook for Asia's biggest economy.
The reported payment came as China prepared to sell a global dollar bond. The Ministry of Finance said in September it expects to raise $4 billion from the offering in Hong Kong. That's a third less than the $6 billion it raised in each of the past two years and the least since 2018, according to data compiled by Bloomberg.
Tighter restrictions on the property market have curbed construction activity and squeezed financing to the sector, weighing on growth. The nation's property and construction industries shrank in the third quarter for the first time since the start of the pandemic in early 2020, weighed down by a slump in real estate.
China's central bank said risks posed to the domestic economy by Evergrande can be contained. The property firm's trouble "casts a little bit of concern," People's Bank of China Governor Yi Gang said at a virtual meeting of the Group of 30 on Sunday.
Fears of contagion from the Evergrande saga have intensified after a surprise default by Fantasia Holdings Group Co. and a warning from Sinic Holdings Group Co. that its default was imminent. Chinese yields are likely to decline over the next couple of years due to slowing growth and anticipated easing from the PBOC, according to Oliver Allen, a London-based markets economist at Capital Economics.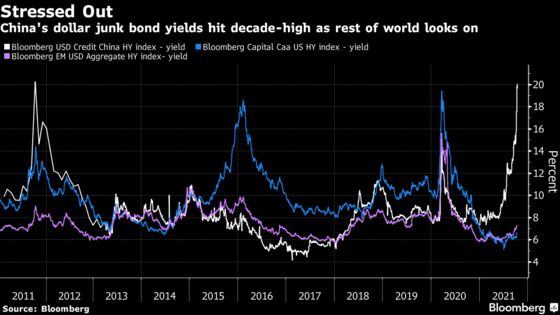 Evergrande Unit Is Scheduled to Pay Yuan Bond Interest Due Tues.
Hong Kong Regulator Starts Probe of China Evergrande Accounting
Unit Has Remit Funds for Payment: Reuters (2:41 p.m. HK)
Evergrande's main unit Hengda Real Estate Group has paid interest due Tuesday on a yuan bond, Reuters reported, citing four people with knowledge of the matter.
The coupon on Hengda Real Estate Group's 5.8% 2025 local bond is 121.8 million yuan ($19 million), according to data compiled by Bloomberg. Hengda has remitted funds to pay the coupon, according to the report. 
Evergrande didn't immediately respond to a request seeking comment.
Evergrande Asset Disposal May Need State Help: BI (2 p.m. HK)
Evergrande's disposal of its mainland China property projects for cash, as with its reported sale of a Hong Kong project, may need state-owned enterprises' assistance, given liquidity concerns, according to a report from Bloomberg Intelligence.
Evergrande has sold its stake in a residential project in Hong Kong to partner VMS Group, Hong Kong Economic Times reported, citing market talk.
The Vertex residential project in Cheung Sha Wan still has about 190 units remaining after selling 224 flats. HKET estimates the stake sold by Evergrande, including the 30,000-sq-ft shopping mall and 30 parking spots, has a market value of HK$2.4 billion ($309 million).
China Dollar Junk Bonds Rise Despite Downgrades (11:06 a.m. HK)
Chinese high-yield dollar bonds were climbing a further 1 to 2 cents on the dollar Tuesday morning, according to credit traders. The gains came even after property firms, which dominate that sector of lower-rated notes, were hit by a spate of credit rating downgrades.
Kaisa Group, Guangzhou R&F Properties, Golden Wheel Tiandi and Yango Group had their ratings cut Monday.
China's Property Sector Shrinks for First Time Since Pandemic (10:59 a.m. HK)
China's property and construction industries contracted in the third quarter for the first time since the start of the pandemic, weighed by a slump in real estate.
Output in the real-estate industry, a mainstay of the economy as its activities supports sectors from furniture to commodities, shrank 1.6% from a year ago, according to a supplemental report on gross domestic product released Tuesday by the National Bureau of Statistics. That's the first contraction since the first quarter of 2020.
Evergrande Suspends Talks With Hopson: REDD (9:28 a.m. HK)
Evergrande's negotiations to sell its 51% stake in its property management unit Evergrande Property Services Group to Hopson Development Holdings have been suspended, according to REDD, citing two sources briefed on the matter.
The developers didn't secure support from the Guangdong government, REDD said, citing a third source. Evergrande and Hopson didn't immediately respond to requests for comment. Calls to Guangdong government's press office went unanswered.
China Begins Sale of Four-Part Dollar Bond (9:11 a.m. HK)
China is marketing a dollar bond sale in Hong Kong for the fifth straight year, as signs of strain emerge in the nation's credit market amid deepening concerns over the financial health of its developers. 
The ministry of finance said on Sept. 30 that it would sell a combined $4 billion of dollar bonds through a four-tranche deal, less than last year's $6 billion sale. 
China's Yields May Fall in 2022 on Slower Growth (2:10 p.m. NY)
While Chinese yields have recently climbed, they are likely to decline over the next couple of years due to slowing growth and anticipated easing from the People's Bank, according to Capital Economics' Oliver Allen.
"We forecast that the 10-year government bond yield in China will slip from just over 3% at present to 2.5% by the end of next year," Allen wrote in a research note Monday. 
While Capital Economics doesn't expect "widespread contagion to China's financial system from events surrounding Evergrande, we do think its economy will remain very weak, as construction activity slows substantially, and a shift in global consumption patterns weighs on demand for its exports," Allen wrote.
Evergrande dollar bond interest deadlines:
Dollar bonds 
Coupon due date

Amount

(million dollars)

EVERRE 8.25% due 2022
Sept. 23
83.53
EVERRE 9.5% due 2024
Sept. 29
45.17
EVERRE 9.5% due 2022
Oct. 11
68.88
EVERRE 10% due 2023
Oct. 11
42.5
EVERRE 10.5% due 2024
Oct. 11
36.75
TIANHL 13% due 2022
Nov. 6
41.93
TIANHL 13.75% due 2023
Nov. 6
40.56