Yuan Faces a 10% Tumble With Trade War Set to Worsen, BNY Says
(Bloomberg) -- The U.S. and China trade war is bound to worsen, sending the yuan slumping past 7 per dollar for the first time in a decade, according to BNY Mellon Investment Management.
The fund manager isn't optimistic about a quick-fix when U.S. President Donald Trump meets with his Chinese counterpart in Buenos Aires on Saturday. While the tete-a-tete may yield some kind of agreement, it's unlikely to resolve the longer-term geopolitical tensions between the two countries, said Shamik Dhar, chief economist at the $1.8 trillion asset manager.
"The natural response will be to let the renminbi fall in response to higher tariffs, and that means an initial five to 10 percent managed depreciation," London-based Dhar said in an interview in Singapore Wednesday. "Trade tensions will continue to intensify over time. The pressure on the renminbi to fall continues," he said, using another term for China's currency.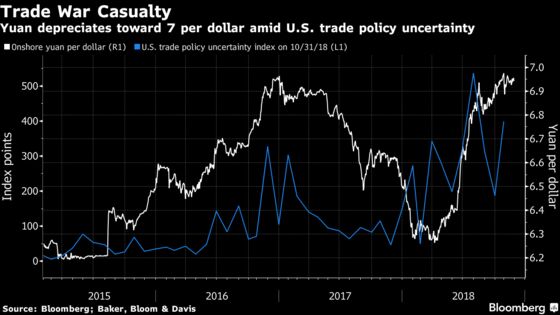 The yuan has already lost around 10 percent from its 2018 high, on concern rising U.S. tariffs will hurt the Chinese economy. A further 10 percent drop from Thursday afternoon's level of 6.9401 would take the currency past 7.7 per dollar.
Trade frictions are likely to persist because the U.S. administration is looking to reset its bilateral relationships with China in all sort of fields, said Dhar, a former economist at the U.K. Treasury and the Bank of England.
China may allow the yuan to fall in an orderly manner from early next year once it becomes clear there is little progress from the talks, he said. This will be a "very clear way" of demonstrating to the U.S. that China won't let American tariffs hurt its economy, Dhar said.