Yuan Bonds Seen as Trade War Winner by Funds on Stimulus Bet
(Bloomberg) -- Global funds are taking cover in defensive trades amid a widening U.S.-China rift, with yuan sovereign bonds emerging as the top pick in developing Asia.
Chinese debt are primed to gain as policy makers will likely unleash further stimulus to counter the fallout from higher American tariffs, according to Principal Global Investors and Aviva Investors. Other favored strategies include shorting currencies of export-reliant Asian economies such as South Korea's won and the Taiwan dollar, money managers said.
"The recent escalation tilts risks to the downside for already-sluggish growth across the economies of EM Asia," said Stuart Ritson, portfolio manager for emerging-market debt at Aviva Investors in Singapore. "Set against the backdrop of reduced investor risk appetite, some of the lower-yielding Asian bonds markets like China government bonds perform well."
A sudden deterioration in U.S.-China trade relations has sent investors scrambling for the safety of haven assets, after they gravitated to high-yielders early this year. Most developing Asian currencies were sold against the dollar and the yen in the past two weeks, and more losses may be in store after Washington escalated the fight Wednesday by curbing Huawei Technologies Co.'s access to the American market.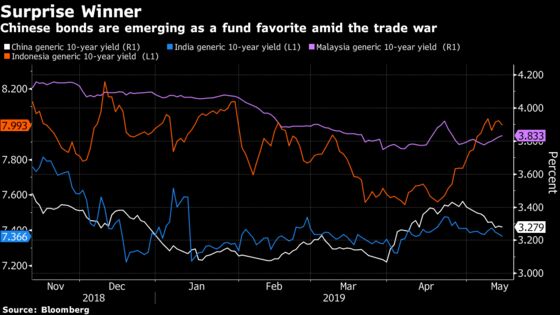 China's local-currency government bonds gained 0.6% this year, compared with a 1.1% decline for emerging Asian debt, Bloomberg Barclays indexes show. The yield on 10-year yuan securities fell 13 basis points in May, the second-biggest drop among developing Asian bond markets.
The nation's 10-year bond yield may test 3%, according to Societe Generale SA, which said China may conduct an "imminent" cut in reserve-requirement ratio. The yield dropped 1 basis point to 3.27% on Thursday.
Global funds are seeking shelter in Chinese bonds amid speculation the authorities are preparing further stimulus after rolling out almost 2 trillion yuan ($291 billion) of tax cuts in early March. Policy makers are seeking to engineer a soft landing for the world's second-largest economy following a series of weak prints on factory output and retail sales.
"The rising odds of stalled U.S.-China trade negotiations have made us less sanguine about risk markets," said Wan Howe Chung, head of Asian fixed income at Principal Global Investors in Singapore. "I would be long USD and long JPY which are seen as safe haven currencies. I would also like China onshore bonds given increased liquidity support and policy easing onshore against external risks."
Investors are pinning their hopes on Chinese bonds even after the offshore yuan fell almost 3% over the past month to approach 7 per dollar. The risk of further weakness may erode the appeal of China's assets, although analysts expect the central bank to step in to support the currency to prevent capital outflows and a sharper depreciation.
Not all money managers are opting for haven bids. BNP Paribas Asset Management favors Indonesian bonds, and views the recent weakness in the market as a chance to boost holdings.
"The ongoing sell-off in Indonesia local debt is not justified by fundamentals," said Jean-Charles Sambor, deputy head of emerging-market debt at BNP Paribas Asset in London. "The country has high real rates, a solid fiscal balance sheet and no major imbalances. These sudden outflows should provide some buying opportunities."
Sentiment toward Indonesian assets was bolstered after the nation's current-account deficit narrowed from a four-year high last quarter, and Bank Indonesia stepped in to stabilize onshore markets.
The yield on rupiah sovereign debt due in a decade jumped 20 basis points in April as trade tensions took a toll, and overseas investors sold $523 million of the nation's bonds in the first monthly outflow this year.
Here is a selection of views from portfolio managers and strategists interviewed by Bloomberg:
Edward Ng, a fixed-income portfolio manager at Nikko Asset Management Co. in Singapore:

"We are positioned defensively in EM Asian bonds amid the unpredictable nature of the trade talks. We had earlier trimmed the duration of countries with high sensitivity to risk appetite such as Indonesian bonds"
Asia's fundamentals remain strong and investor appetite will revive once the trade conflict is resolved and if the Federal Reserve remains patient on its tightening path; markets like Indonesia with high real yields will benefit
Mary Nicola, a Singapore-based G-10 FX and Asian fixed-income strategist at Eastspring Investments:

Lack of resolution to trade war will continue to hurt FX markets, although co. will look for opportunities to add to some positions
Remains tactical on EM Asian bonds and favors receiving China NDIRS with PBOC expected to keep rates low to boost growth
Higher-yielding bonds such as Indonesia will likely take a hit due to weak global sentiment
Wan at Principal Global:

Bearish on CNY as China is expected to tolerate a weaker currency in the face of external constraints; also recommends short FX that are most exposed in a worsening trade war such as Taiwan's dollar, Malaysian ringgit and South Korean won
Jason Daw, Societe Generale's head of emerging-market strategy in Singapore

Recommends receiving KRW 1y1y, with markets likely to price in a greater chance of a Bank of Korea rate cut given the economy's exposure to exports, especially to the global supply chain via shipments to China
If current tariffs stay in place, China's policy response could involve more RRR cuts and possibly lowering interest rates, putting downward pressure on Chinese yields

Manu George, director of fixed income at Schroder Investment Management Ltd. in Singapore:

Selected Asian local-currency bonds will benefit from China-U.S. tensions. Leaving out the currency effects versus USD, in local currency terms, a slowdown as a result of tariffs will benefit bonds
Marcus Wong, a strategist at CIMB Bank in Singapore:

If U.S.-China ties deteriorate further, the Thai baht may outperform other EM Asia FX as it's deemed to be semi safe-haven FX, provided there are no further domestic political uncertainties
Should the trade relations improve, the rupiah would be a key beneficiary as the currency's recent sell-off belies Indonesia's strong fundamentals and outlook