Yuan Bears Squeezed as Cost to Short Surges Most Since 2011
(Bloomberg) -- Betting against the yuan just got a whole lot more expensive.
The cost of bearish wagers on the Chinese currency, as reflected in the offshore yuan's 12-month forward points, soared the most since 2011 on Thursday, according to data compiled by Bloomberg. The move came amid speculation that China was restricting banks' ability to lend yuan offshore.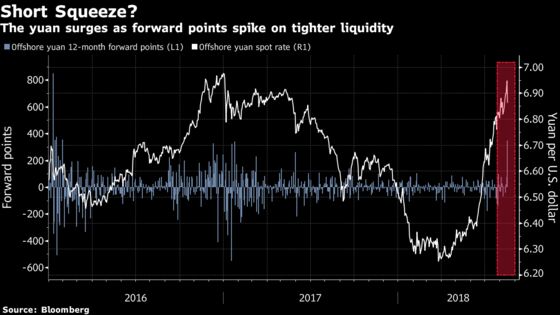 The yuan jumped 1.25 percent to 6.8615 a dollar in offshore trading at 11:34 a.m. in New York, adding to earlier gains that were fueled by a stronger-than-expected daily fixing from the central bank. News that Chinese and U.S. officials will engage in low-level trade talks later this month also contributed to positive market sentiment, even as Larry Kudlow, Trump's top economic aide, signaled the U.S. would stand firm and said Trump's determination on trade should not be "underestimated."
"Many offshore investors unwound their short yuan positions today," said Zhou Hao, senior emerging markets economist at Commerzbank AG in Singapore.
Chinese authorities have been trying to limit bets against the yuan after the currency depreciated more than 9 percent since March, approaching the closely watched level of 7 per dollar. While a weaker exchange rate has helped Chinese exporters weather the impact of U.S. President Donald Trump's tariffs, policy makers worry that a disorderly drop could trigger capital outflows and threaten China's financial stability.
As the yuan's slump has accelerated in recent weeks, the People's Bank of China has taken several steps to slow its drop. Two weeks ago, the central bank made it costlier to place short bets against the currency with forwards. And last week, the monetary authority urged big banks to avoid bearish momentum trades.
On Thursday, Reuters reported that the PBOC banned commercial banks from using interbank accounts to deposit or lend yuan offshore through the nation's free-trade zone channels. The PBOC didn't immediately respond to a faxed request for comment.
Downward pressure on the yuan has been growing on multiple fronts. Not only has the U.S. trade war hurt market sentiment, but weaker-than-estimated figures on Chinese fixed-asset investment and credit creation this week have fueled concern that the $12 trillion economy is already slowing. The PBOC has kept borrowing costs low even as the Federal Reserve tightens, raising the specter of capital outflows as the yield advantage for Chinese fixed-income securities shrinks.
When similar pressures were building in 2015 and 2016, Chinese authorities squeezed yuan bears by lifting offshore funding costs dramatically. They also spent billions in foreign-exchange reserves to buy the currency and clamped down on capital outflows.
While the government's response this time around has been much less extreme, policy makers have sent a clear message that they want to avoid disorderly swings in the exchange rate, according to Carie Li, an economist at OCBC Wing Hang Bank in Hong Kong.
"PBOC's bottom line is to prevent one-way yuan depreciation," Li said. "Investors probably have unwound short-yuan positions amid fear of further intervention."