Xi's Speech Gives No Hope for Stock Traders as Asia Markets Sink
(Bloomberg) -- Xi Jinping's speech marking the 40th anniversary of China's reform era was one that Asia's equity investors had their eyes on Tuesday. But his comments weren't what they were hoping for.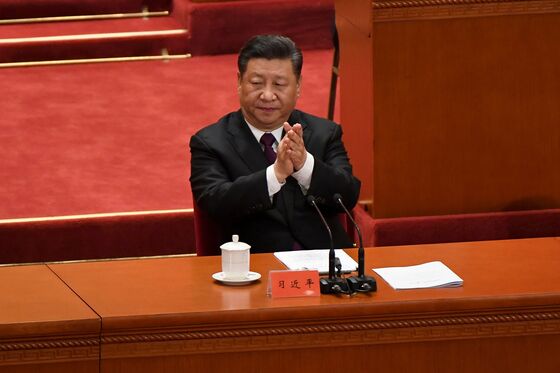 No new initiatives for reform measures were mentioned, and it ended up being a speech about what the nation's Communist Party had done so far. That was a disappointment for investors who were expecting to hear more about specific policies for further opening of China's economy.
Japan's Topix index closed at its lowest level since May 2017, sinking the most among the region's shares. Chinese and Hong Kong equities fell, and in Southeast Asia, several benchmark indexes including those of Singapore and the Philippines plunged by more than 1.3 percent as the U.S. stock carnage seeped into Asian markets. The S&P 500 Index closed at its lowest in 14 months on Monday.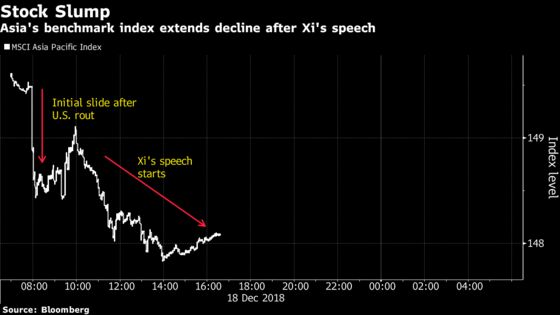 Expectations that Xi's speech would give stocks a boost (or at least, prevent a sell-off) were thwarted, and since "nothing special" was announced, Asian shares are following the overnight sell-off in the U.S., said said Castor Pang, head of research at Core Pacific-Yamaichi International HK.
Francis Lun, chief executive officer of Geo Securities, agreed. Investors were disappointed by the speech as they had been expecting some comments on economic stimulus or the further opening-up of the Chinese economy, he said. "But he didn't mention it. That's why A shares dropped 1 percent and also dragged down Hong Kong stocks."
But compared with the U.S., where the equity benchmark slid more than 2 percent, the MSCI Asia Pacific Index's 1 percent decline as of 4:39 p.m. in Hong Kong looked tame. And U.S. stock-index futures were still holding on to some gains Tuesday, despite S&P 500 contracts paring an advance of as much as 0.5 percent.
With nothing special announced in Xi's speech, investors are pivoting back to the interest-rate decisions expected this week. First up, the Federal Open Market Committee holds its final two-day meeting of 2018 and the result will be announced Dec. 19. in Washington. Then come the Bank of Japan and Bank of England. There's also the Central Economic Work Conference taking place this week that many will be keeping an eye on.
"This week could be a turning point for Asian equities, with the FOMC happening and investors focusing on how determined China is about rekindling its economy," said Lee Kyoung-min, a Seoul-based senior analyst with Daishin Securities Co.
Japan's Topix index down 2%; Nikkei 225 down 1.8%
Hong Kong's Hang Seng Index down 1%; Hang Seng China Enterprises down 1.2%; Shanghai Composite down 0.8%
Taiwan's Taiex index down 0.7%
South Korea's Kospi index down 0.4%; Kospi 200 down 0.4%
Australia's S&P/ASX 200 down 1.2%; New Zealand's S&P/NZX 50 down 0.7%
India's S&P BSE Sensex Index down 0.3%; NSE Nifty 50 down 0.3%
Singapore's Straits Times Index down 1.9%; Malaysia's KLCI down 0.2%; Philippine Stock Exchange down 1.3%; Jakarta Composite down 0.4%; Thailand's SET down 1.1%; Vietnam's VN Index down 0.7%