China to Beef Up Legal Tool Kit; Hong Kong Patriots: NPC Update
(Bloomberg) -- Beijing pledged to speed up legislation aimed at countering U.S. sanctions, as it seeks to narrow Washington's advantages in disputes after the Trump administration levied waves of penalties against China. Measures were announced by National People's Congress Standing Committee Chairman Li Zhanshu as part of his annual report to the Chinese legislature Monday. "We will upgrade our legal tool kit for meeting challenges and guarding against risks in order to oppose foreign sanctions, interference and long-arm jurisdiction."
Among other highlights on the fourth day of the NPC, Hong Kong Chief Executive Carrie Lam said she is unsure if upcoming legislative elections will be delayed again, as Chinese lawmakers work behind closed doors in Beijing to curb opposition candidates' influence over future votes. The election overhaul announced Friday by the NPC will require Hong Kong to enact "more than 20 pieces of principle and subsidiary legislation," Lam said Monday after returning from Beijing.
In a Q&A with Herman Hu, a delegate representing Hong Kong and head of Ryoden Development Ltd., said public actions and statements can be used to evaluate patriots. Chinese lawmakers are set to approve an election overhaul this week at the NPC.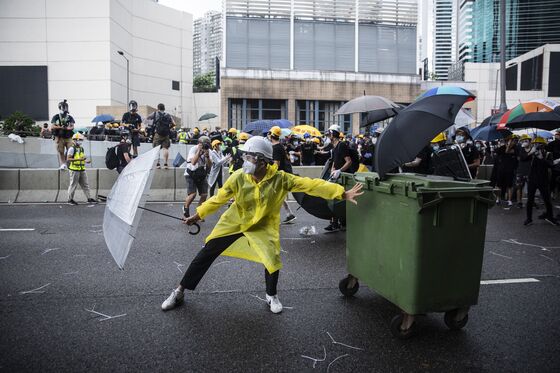 It was a grim day for the nation's stock markets on Monday, with the CSI 300 Index entering a correction amid concerns about liquidity conditions and lofty valuations in some of the recently favored stocks. The market is still assessing what to make of the targets and goals announced at the NPC and interpreting expected impact on shares, said Fu Lichun, co-founder at Shenzhen Yuntai Investment Management Co. "That has added to the persistent issue of high valuations and people may be selling on the news."
Click here for more coverage of this year's NPC
Full Reports from NPC: Work on Legislative Affairs; Top Court
A QuickTake explainer on the NPC
Bloomberg Intelligence reaction to GDP goal; more here
A look at China's green goals
Latest developments: (Time-stamps are local time in Beijing)
Upcoming Events: Group Discussions
Tuesday-Thursday morning: NPC delegates review work reports and legislative revisions in groups
Thursday, 3 p.m.: NPC closing session. Delegates will vote on work reports, 14th Five-Year Plan, and other legislative revisions including decision on revising Hong Kong's electoral system
To be confirmed: Thursday after NPC closes - Premier Li Keqiang to speak to reporters
Ex-China Securities Chief Warns Of Politicizing Market Issues (Monday 6:26 p.m.)
U.S. delisting of Chinese companies harms others as well as oneself, Xiao Gang, former chairman of the China Securities Regulatory Commission, said on the sidelines of the NPC meeting. Despite competition with the U.S, more Chinese companies are expected to list there, he said.
China's Local-Level Debt Risk Becoming a National Security Issue (Monday 5:38 p.m.)
Dealing with so-called hidden government debt at China's local levels is set to become a national security issue. The task of defusing risks associated with off-balance sheet borrowing by local governments was elevated to the level of "safeguarding overall national security," according to the finance ministry's draft budget report presented Friday at the NPC. "We will keep a close watch on the situation and strictly forbid any increase in hidden debt."
China Should Prevent 'Blind' Investment in Emerging Sectors (Monday 5:28 p.m.)
China should follow market-oriented rules in developing new industries including chips, Minister of Industry and Information Technology Xiao Yaqing said in a group interview. The country aims to build a more complete supply chain for the manufacturing sector, Xiao said.
China's R&D Spending to Reach $580b by 2025: NDRC Official (Monday 11:58 a.m.)
China's R&D spending will reach 3.76 trillion yuan by 2025 based on the average annual growth target of more than 7% outlined in the latest five-year plan, National Development and Reform Commission Vice Chairman Hu Zucai said at a briefing in Beijing on Monday.
China Aims to Match Economic Growth with Potential: NDRC Official (Monday 11:53 a.m.)
China still has a GDP target for the 14th five-year plan period, but the way how the target is expressed has changed, Hu Zucai, the deputy director of the NDRC, says at the briefing. Not setting a specific numeric target for GDP growth in the five-year plan leaves room to adjust in response to great uncertainties in the internal and external environment in the next 5 years. Hu said.
China Gives Nuclear Power a Fresh Push in Drive to Go Green (Monday 11:19 a.m.)
China is offering new backing for the development of nuclear power as a key tool in its drive to cut carbon emissions. The nation will promote the construction of coastal nuclear power plants and aims to have 70 gigawatts of generation capacity by 2025 from about 50 gigawatts at the end of last year, according to the latest five-year plan presented Friday to the NPC. That would equate to about 20 new reactors.
China Has Considered Virus, Recovery Situations in 2021 Targets (Monday 10:44 a.m.)
Chinese authorities took the economic recovery and virus situation into account when setting the nation's 2021 targets, said NDRC Vice Chairman Ning Jizhe. The nation's top economic planner also said at a briefing that China will roll out a five-year plan for new infrastructure this year and deepen hukou reform, including lowering requirements to obtain the residency certificates.