Hedge Funds Bridgewater, Winton Get Nod for China Expansions
(Bloomberg) -- Ray Dalio's Bridgewater Associates and David Harding's Winton won approvals to offer private securities funds to institutions and wealthy individuals in China, just as a market rout tests investor appetite for hedge-fund type offerings.
Wholly-owned Shanghai units of the firms were registered on June 29 as private securities fund managers, according to the Asset Management Association of China's website.
Some of the world's biggest money managers are plowing ahead with plans to benefit from China's historic financial market opening, even as concerns over an escalating trade war and tighter credit have set investors on edge. Bridgewater, which oversees about $160 billion of assets globally, and Winton, with $30 billion, are part of a wave of foreign asset managers targeting China's nearly $26 trillion in corporate and household local-currency savings to help offset shrinking fees and investor withdrawals in developed markets.
"Short-term developments" won't alter Bridgewater or Winton's commitments to China, said Peter Alexander, managing director of Shanghai-based consulting firm Z-Ben Advisors. They're examples of firms with long-term strategic plans in the nation, he said.
"With low penetration among global firms, those entering at an earlier stage will benefit by gaining the needed experience," Alexander said. "From my experience in China, two-plus decades, the only lessons that global firms learn about China are those lessons they learn through time on the ground."
Peers such as Man Group Plc, Fidelity International, UBS Asset Management and Singapore's Fullerton Fund Management have already gained access to the 2.5 trillion yuan ($380 billion) market, with Man becoming the first foreign hedge-fund firm to secure that status last year, according to information posted on the industry group's website.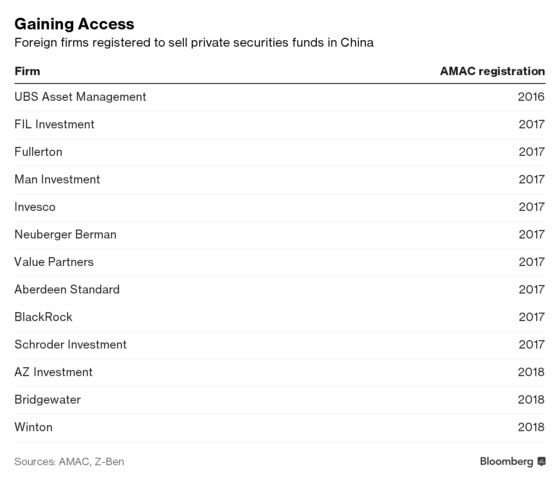 Bridgewater has managed money globally for Chinese institutional investors since 1993, and opened its first office outside of Westport, Connecticut, in Beijing in 2011. In 2016, it opened a second office in Shanghai, home to the first wholly owned China investment unit approved for a foreign hedge fund firm.
Winton began to research the Chinese market a decade ago and has been advising Chinese investors in the nation's futures markets for the past eight years. It set up a local research and investment team in 2012 and opened the Shanghai office in 2015, according to an emailed statement from the London-based firm Tuesday.
China opened the private securities fund market to international managers in June 2016. In May, the association for the first time offered an English version of the industry's qualifying exam. The tests are for staff including chairmen and presidents, as well as investment, research and trading heads.
Murray Steel, chief operating officer of Man's Asia unit, in May became one of the first foreign nationals to pass the English-language exam, he said. Several employees of Mirae Asset Global Investments (HK) Ltd. also passed, Pallase Tsang, a Hong Kong-based spokeswoman for the South Korean firm, said in June, declining to give further details.