Why Bother Worrying About Weaker Yuan, Says Longtime China Bull
(Bloomberg) -- There's little downside risk to betting on the yuan because Beijing won't let it drop much.
That's according to Andy Seaman, who has been bullish on the currency for about 12 years. The manager of Stratton Street Capital LLP's Renminbi Bond Fund said that even if the dollar climbs as investors seek a safe haven amid a worsening economy, China will take steps to support its currency.
"The renminbi is pretty much going to be stable or stronger in all situations," he said, using the official name of China's currency. "If it's stable under bad scenarios, and strong under good scenarios, that's an extremely attractive risk-reward for investors to hold."
The yuan is Asia's best performer this year, but has been flat against the greenback since late February, sending a gauge of price swings to the lowest in 22 months. The lack of volatility fits with Beijing's commitment to keep the currency stable during trade talks with the U.S., which could end with a deal that includes preventing the yuan from weakening too much, Seaman said in a phone interview on Tuesday.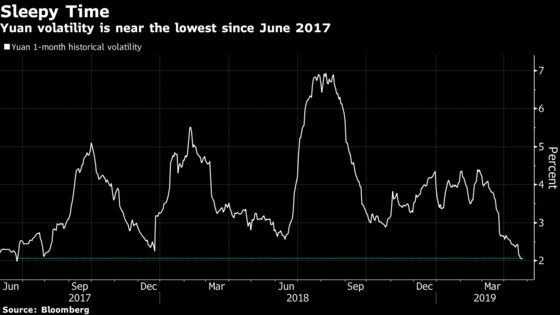 China's positions on foreign exchange purchases, often seen as an indication of intervention, declined 789 million yuan ($117 million) in the past two months, implying the central bank has bought currency to keep it from falling. Still, overall reserves have risen for five months, suggesting that intervention has been limited.
The yuan may even rise 7 percent to 6.25 a dollar this year if the greenback drops because the Federal Reserve refrains from raising rates, Seaman said. The last time the currency hit that level was in March 2018.
Seaman has had a bullish view of the yuan since 2007 but hasn't always been rewarded. The currency declined more than 5 percent against the dollar last year. As a result, his flagship bond fund -- which holds investment-grade dollar debt from issuers across Asia and hedges it in yuan -- was in the bottom third among peers in the past year. It has rebounded into the 87th percentile in 2019.
The London-based fund manager said that interest in holding the yuan has waned since 2012, when his fund had assets of $400 million. He now manages $50 million in funds using a yuan strategy. Still, he said that as Chinese stocks assume a bigger weighting in global indices and onshore bonds gain inclusion, international investors are returning to the market.
Foreign funds purchased 7.2 billion yuan of Chinese stocks and bonds in March, data compiled by Bloomberg show.
The yuan rose 0.16 percent to 6.7168 a dollar as of 5:02 p.m. in Shanghai.