Weibo Shares Spiral Lower After Fine From Chinese Regulator
(Bloomberg) -- China's Weibo Corp. slumped further below their Hong Kong listing price on Tuesday after regulators fined the Twitter-like website and reprimanded its executives over the site's content.  
The stock tumbled 9.6% to HK$219.80 at the close, which is 19% below its initial public offer price last week of HK$272.80. Shares of the firm have fallen four of the past five days since the debut.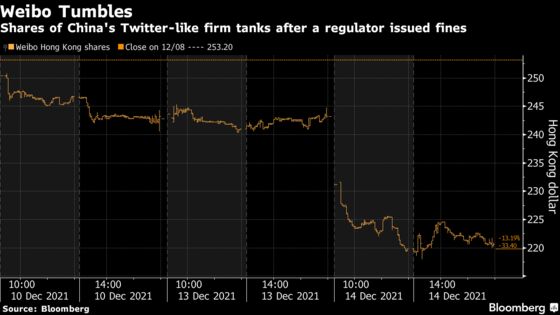 While the fine was only 3 million yuan ($470,000), investors are particularly sensitive to regulatory warnings for tech companies after the rolling crackdown on the sector this year.
The Cyberspace Administration of China didn't elaborate on the nature of the content but said the move was made in accordance with laws related to cybersecurity and protection of minors. The levy adds to 14.3 million yuan worth of penalties imposed this year through November, with 44 separate penalties, according to the regulator.
Weibo said in a post on its social network that it sincerely accepted the official criticism and will target soft pornographic content and malicious marketing.
Shares of other Chinese internet content platforms also fell, with Kuaishou Technology retreating 4.9% and Bilibili Inc. sliding 5.7% to close near a record low. Hong Kong's Hang Seng Tech Index fell for a third day.