Weakest Yuan Since 2008 Puts Spotlight on China Capital Outflows
(Bloomberg) -- How much further will China's currency fall after it touched the weakest level in a decade on Tuesday?
The answer may depend in large part on whether Beijing can keep capital outflows under control. Official figures released over the past few weeks suggest money is increasingly leaving China's borders, a reminder that motivated citizens and companies still have ways to get their cash out despite a tightening of capital controls after the country's shock devaluation in 2015.
While there's little to suggest a stampede for the exits is imminent, the risk increases with every tick lower in the yuan. Below are some of the key indicators investors are watching to gauge whether the recent trickle of outflows will turn into a flood.
Shrinking foreign-exchange reserves may be a sign of central bank intervention, capital outflows, or both. One important caveat: broad gains in the dollar sometimes reduce the value of other foreign currencies in China's stockpile, leading to declines in reported reserves that aren't a result of intervention. In September, reserves shrank the most since February to $3.09 trillion. The People's Bank of China will release October figures on Nov. 7.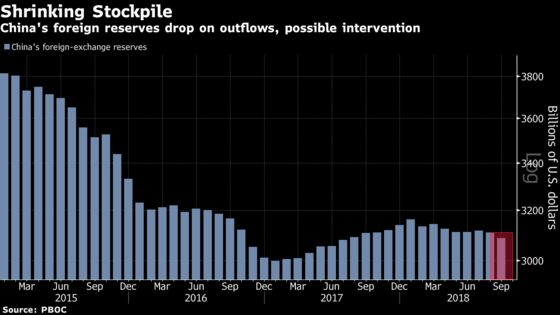 PBOC Positions for FX Purchases
This series shows the amount of overseas currencies the PBOC bought or sold against the yuan, another indicator of official intervention. When the numbers are falling, it suggests the central bank may be offloading foreign currencies. September's figure showed the biggest decline since January 2017. The next print will come around mid-November.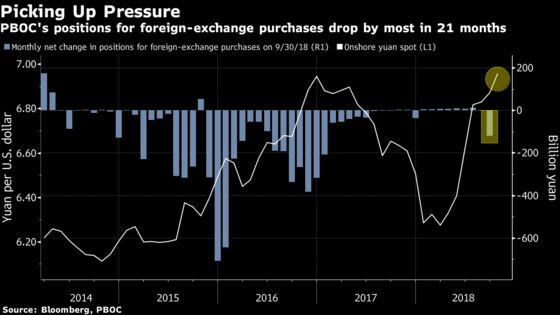 Banks' FX Settlement on Behalf of Clients
This is an indicator of individual and corporate demand for overseas currencies. When onshore banks' net foreign-exchange settlement for clients in the spot market is negative, it suggests banks sold more foreign currencies to customers than they did the yuan. In September, net foreign-currency sales were the biggest since December 2016. October figures will be released by the State Administration of Foreign Exchange on Nov. 19.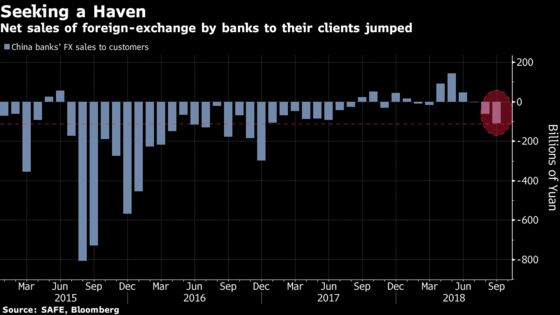 Cross-Border Fund Flows Via Yuan Payments
This has been a closely watched indicator since mid-2016, when economists flagged that Chinese investors were sending money overseas in yuan rather than in foreign currencies in an effort to skirt capital controls. Chinese lenders registered the most net outflows via cross-border yuan payments since July 2017 in September. The October figure is expected on Nov. 19.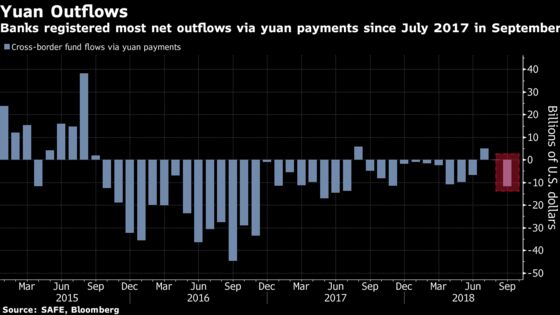 Foreign Buying of Chinese Bonds
This straightforward series, released monthly by China Central Depository & Clearing, reflects overseas investors' net purchases or sales of onshore bonds. Foreigners have been net buyers for 19 straight months, but they increased holdings at the slowest pace in six months in September.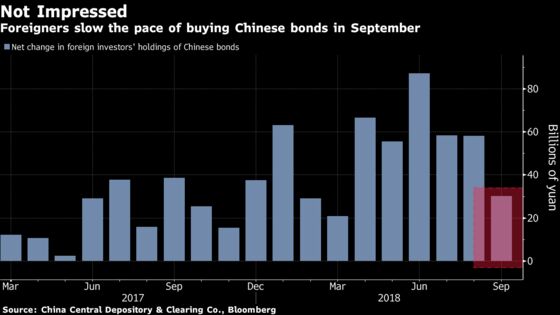 Published by the PBOC, the figure shows whether local investors have added or reduced foreign-exchange deposits at banks. An increase typically reflects stronger demand for overseas currencies. Aside from the exchange rate, investor interest in holding dollar deposits depends on relative interest rates and the availability of other investment options. Foreign-exchange deposits shrank for a third consecutive month in September.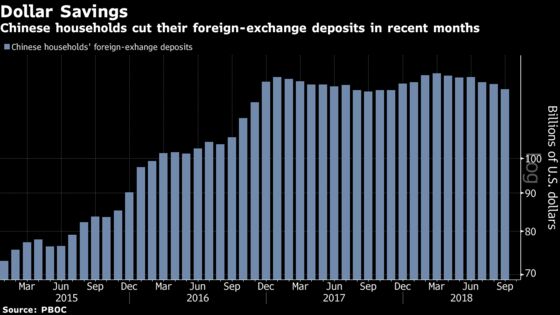 Yuan Deposits in Hong Kong
This is a gauge of Hong Kong investors' appetite for the yuan. An increase suggests they're more willing to hold the Chinese currency, a decision that can be influenced by the exchange rate and interest-rate differentials.
The borrowing costs of the offshore yuan could be influenced by the PBOC's plan to sell bills for the first time ever in Hong Kong next week. Last month, the stockpile dropped by 2.9 percent, the most since January 2017.
The onshore yuan declined 0.06 percent to 6.9719 per dollar as of 5:23 p.m. in Shanghai, while the offshore rate fell 0.08 percent.