VW Predicts Rising China Sales, Bucking a Shrinking Market
(Bloomberg) -- Volkswagen AG said it'll boost sales in China this year by adding new models that'll help avoid downward pull of a market that's expected to see its first annual decline in at least two decades.
The world's largest automotive group is "confident" of more growth in 2019, incoming China Chief Executive Officer Stephan Wollenstein said Monday at a briefing in Beijing. Sales at the group, which includes the luxury Audi brand, climbed about 20,000 units last year compared with the 4.2 million units it delivered in 2017.
Trade tensions between the U.S. and China as well as the car industry's unprecedented transformation toward automation and electrification have contributed to damp car demand. Unit sales in China dropped for a sixth straight month in November and are headed for the first full-year decline since at least the 1990s, intensifying pressure on automakers that have been counting on the world's biggest auto market to support growth.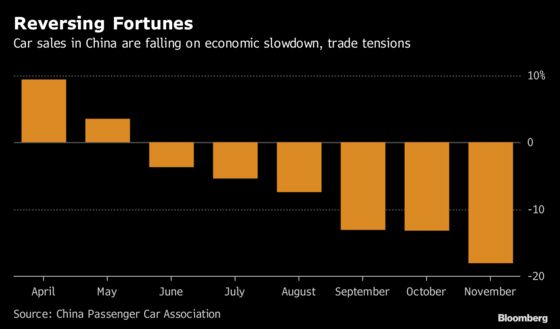 Volkswagen predicted China market sales to fall in the first half of 2019 from the same period a year earlier, said China head Jochem Heizmann, who will retire at the end of this year. The German manufacturer makes vehicles in China through three joint ventures, with FAW Group Co., SAIC Motor Corp. and Anhui Jianghuai Automobile Group Co.
Other highlights from the briefing, which was also attended by Volkswagen Group CEO Herbert Diess:
Volkswagen won't reduce its research and development capabilities in Germany even as it builds up R&D in China
In response to a question on whether China's car policy is working, Diess said: "So far we have no reason to question."
Volkswagen may be in a position to share more details on its commercial-vehicle plan in China in a couple of months