China Dollar Bond Default Tests Bank Guarantees for First Time
(Bloomberg) -- Investor faith in Chinese dollar bonds backed by banks is about to be tested after a default by one of the country's best known private conglomerates.
China Minsheng Investment Group Corp. said last week cross-default clauses have been triggered on dollar bonds worth $800 million. These include $300 million of debt that carries a standby letter of credit from China Construction Bank Corp. -- effectively a pledge to repay if the borrower can't.
So far investor confidence that banks will honor such an agreement is unshaken. While CMIG's dollar bonds due in August -- which aren't backed by a letter of credit -- traded at around 58 cents on the dollar, bonds with CCB's backing due 2020 were indicated at about 99 cents on the dollar Thursday.
But given the lack of precedent, investors should be watchful of how long a repayment could take, said Desmond How, head of fixed income at GaoTeng Global Asset Management. "The process of enforcement" could be "onerous and protracted," he said.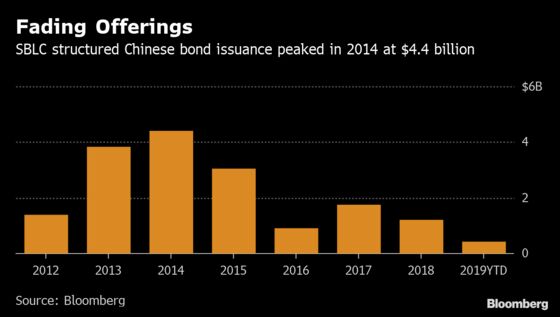 Other credit enhancers have failed to result in quick payment. In May last year, two Chinese issuers defaulted on dollar notes that had keepwell provisions -- a commitment to maintain an issuer's solvency but that stops short of a payment guarantee. The two cases have yet to be resolved.
CCB's media department didn't immediately reply to an email seeking comment. Calls to China Minsheng Investment's financing manager went unanswered.
Standby letters of credit were more popular a few years ago, peaking in 2014, before the current wave of defaults. CMIG sold its 2020 note in 2015. About $7.3 billion of outstanding Chinese dollar bonds are backed by such letters, accounting for about 90 percent of similar greenback bonds globally, according to data compiled by Bloomberg.
"Investors should really start to focus on the underlying credits as well as the banks that guarantee them because the borrower can default and it could create systemic risks to the banks," said Raymond Chia, head of credit research for Asia excluding Japan at Schroder Investment Management Ltd.