Where to Look for Treasure in Asia's Stock Market Wreck
(Bloomberg) -- The tech sell-off isn't something UBP Asset Management Asia Ltd.'s Michiel van Voorst is too worried about. What he's interested in: treasure hunting in the market wreck.
The chief investment officer for the region's equities sees opportunities to invest in companies trading at 6 to 7 times price-to-earnings ratios and around 5 percent dividend yields. That gives investors plenty of "margin for error" to cushion industry uncertainties. Supply-chain companies, such as producers and assemblers of mobile-phone parts, can be particularly interesting, he said. His firm manages $42.1 billion globally.
"You don't even need to have growth if it's only trading at 6 times earnings," van Voorst said. He declined to name specific stocks due to company policy, but said they could be found in Taiwan, South Korea and China. Particularly, he sees some Korean "leaders in many areas" as attractive, given that they trade at "mid-single digit" valuations with "clear shareholder-return policies in place."
All in all, he expects 2019 to be a good year for Asian stocks, which he says could rebound 15 percent to 20 percent: A bit of a recovery in A shares since mid-October, loosening measures from the Chinese authorities and early signs that fund flows are coming back to Asia may be indicators that the region has already bottomed.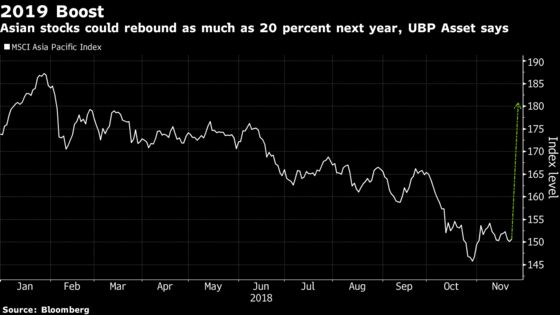 He still foresees uncertainties affecting the market, but picking shares of companies with strong cash flows that are generous enough to pay dividends and trade at cheap valuations should provide a "safety net."
Click here for a list of companies with estimated P/E ratios below 7 times and dividend yields of more than 5 percent.
Van Voorst's interest in high dividend payers is easy to understand: Members of the MSCI Asia Pacific Index that returned at least 40 percent of their profits in such payouts over the past 12 months slipped less than 9 percent on average this year, according to data compiled by Bloomberg based on company filings. That compares with a 13 percent slump in the regional gauge.
"Do I know for sure that things will be better? No, of course I don't know that," van Voorst said. But at least he can get some comfort from the dividends, he added. "If things start to improve, that's all upside."
While the supply-chain industry has seen some slowdown amid tech woes, that's mainly in the high-end segment, and emerging countries still provide huge markets for companies such as handset makers, he said. Moreover, investors shouldn't be too worried about diversification out of China amid the trade war as that will take some time to happen because the U.S. won't risk rising prices back home, according to him.
There are other themes van Voorst is keeping an eye on for next year in Asia:
Earnings growth: While it will slow down in the region, the underlying quality of increases "is not bad at all" as listed companies still have solid balance sheets.
Risk-reward: Barring a financial crisis, equity valuations have fallen to levels that have given investors good risk-reward historically.
Potential rebound: Sentiment has gone "extremely weak," and any improvement could ignite a quick rebound in Asian shares.
China: Stabilizing economic data in the country and progress in trade talks with the U.S. could be other catalysts propelling Asian equities higher.
Here is what other market pros are preparing for:
Aberdeen's Love for Risk Assets Unchanged on Valuation, Growth
UBS Says Emerging-Market Stocks Should Return Up to 8% in 2019
BlackRock Doesn't Expect Significant Growth Slowdown in China