U.S. to Quarantine Americans Returning From Hubei: Virus Update
(Bloomberg) -- China reported a spike in the number of coronavirus cases and deaths as the outbreak showed little signs of slowing, forcing more countries and companies to restrict travel to the mainland.
Australia said it would bar most travelers arriving from China, while the U.S. declared a public health emergency in response to the outbreak. The Trump administration ordered citizens returning from the Hubei province at the center of the outbreak be quarantined, while foreign nationals who have been in China recently will be denied entry.
China is making plans to stagger post-holiday travel to contain the spread of the virus as confirmed infections topped 11,700, and with millions of workers poised to leave their hometowns to return to work in bigger cities. In a meeting chaired by Premier Li Keqiang on Friday, leaders also urged for an "early resumption of the production of the badly needed medical supplies and daily necessities."
Bloomberg is tracking the outbreak here. Click here to view on terminal.
China recorded 2,102 new cases for Jan. 31, with 268 new severe cases. There have been 259 deaths so far.
Australia is latest country to limit arrivals from China, Spain reports first case
At least two-thirds of China's economy to stay shut next week
Virus Impact: Travel warnings, car output and more
See first images of how coronavirus replicates in cells here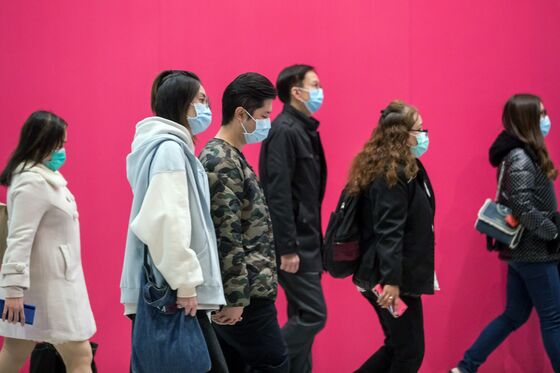 China Seeks EU's Help on Medical Supplies (3:20 p.m. HK)
China's Premier Li had a call with European Commission President Ursula Von Der Leyen on Saturday afternoon, asking the EU to facilitate China's urgent procurement of medical supplies from its member states through commercial channels, according to a statement on State Council's website.
Von Der Leyen said the EU is ready to help China to the best of its ability and use all possible resources, and will coordinate relevant member states to facilitate China's procurement of medical supplies, according to the statement.
Wuhan Communist Party chief Ma Guoqiang told state television he was regretful of delays that led to a wider outbreak of the virus. The impact would have been smaller if decisions were made more quickly, Ma said, adding that the government could have started closing roads out of Wuhan earlier. He said the National Health Commission was informed after local hospitals discovered in late December that normal antibiotics were not effective on some patients.
Wang Guangfa, a respiratory expert at Peking University First Hospital in Beijing who was infected by the virus after visiting Wuhan to inspect to coronavirus patients, told local media in reports published Saturday he had only limited information when he was in the city in late December. He had told media on Jan. 10 that the virus is "preventable and controllable," a comment criticized by many after the epidemic escalated. He too expressed regret for the comments.
Apple Shutters Stores (2:30 p.m. HK)
Apple Inc. said it will temporarily close all stores as well as offices and contact centers in mainland China through Feb. 9 "out of an abundance of caution and based on the latest advice from leading health experts." Its online store will remain open. The company had issued a revenue forecast that was wider than usual due to uncertainty surrounding the virus.
Australia Bars Entry to China Travellers (2:15 p.m. HK)
Australia will deny entry to anyone arriving from mainland China, except for Australian citizens, residents or their family members, and air crew, Prime Minister Scott Morrison said in Sydney on Saturday. It also warned against any travel to all of mainland China.
Australia's largest airline Qantas Airways Ltd. will suspend services to mainland China from Feb. 9, while Cebu Air Inc., the Philippines' largest budget carrier, said it will start halting all China flights from Feb. 2. The suspensions will be until March 29.
PBOC Vows to Maintain Ample Liquidity (1:45 p.m. HK)
Banks should not withdraw loans from companies affected by the virus, especially smaller firms, according to a joint statement from China's financial regulators including the central bank and the banking and insurance regulatory commission. Lenders should consider rolling over loans for severely-affected companies, they said.
Indonesia Evacuates Citizens (1:45 p.m. HK)
Indonesia will evacuate 245 Indonesians living in Wuhan and other towns in Hubei province, Foreign Minister Retno Marsudi said. They have undergone tests and been declared free of coronavirus, she said.
Thailand on Saturday said it's monitoring 274 possible coronavirus cases, up from 212 on Friday.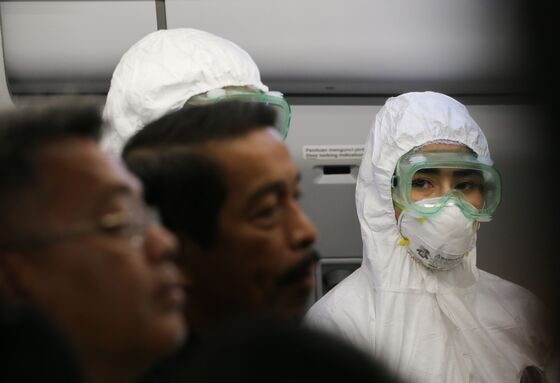 Abe Warns of Impact to Japan (11:40 a.m. HK)
Japanese Prime Minister Shinzo Abe asked the health ministry to be prepared to act more responsively to the virus, saying the outbreak "is having a big impact on the overall society and economy."
Vietnam Quarantines Chinese Workers (11:20 a.m. HK)
Vietnam reported the sixth confirmed infection in the country, a 25-year-old female hotel receptionist who had contact with two Chinese men who tested positive for the virus, according to the news website of the health ministry.
Authorities in the south-central province of Quang Ngai ordered industrial parks to place about 300 Chinese workers under a 14-day quarantine and test them for the virus, VnExpress news website reported.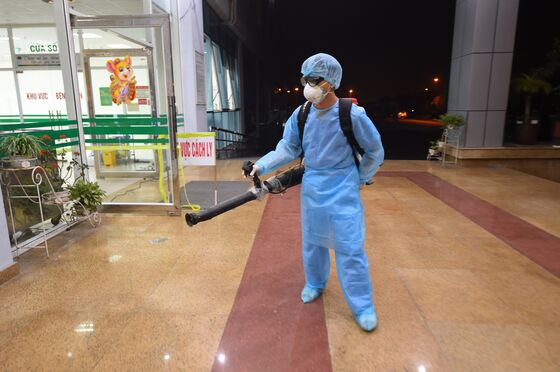 Hubei Residents in Hong Kong Hotels (10:20 a.m. HK)
Hong Kong's government has found 49 people from Hubei after searching about 500 hotels, and will send them to quarantine centers or help them leave the city, according to Sophia Chan, Hong Kong's secretary for food and health. About 30 of them have either left or plan to depart Hong Kong, she said.
Permission to Return (10:10 a.m. HK)
China will require those returning to Hubei to get approval from local prevention bureaus first, according to the Hubei government's official WeChat account.
South Korea Reports Another Case (8:45 a.m. HK)
South Korea confirmed another case of coronavirus, bringing the total there to 12.
The country evacuated 333 citizens from Wuhan in a second charter flight which landed in Seoul on Saturday, according to the health ministry. About seven of those on the flight showed symptoms associated with the virus and were sent to hospital, the report said.
China Releases New Data (8:00 a.m. HK)
China said the number of coronavirus cases rose to 11,791. Of those, 1,795 are severe. The country said 259 people have died from the illness.
There are 13 confirmed cases in Hong Kong, 10 in Taiwan and seven in Macau.
Spain's First Case (6:20 a.m. HK)
Spain confirmed a case of the coronavirus involving a patient in one of the Canary Islands. He was part of a group of five people who was in contact in Germany with a person diagnosed with the virus.
Germany reported a sixth infection from an outbreak that began at an auto-parts supplier near Munich. The new case involves a child who caught the virus from his or her father, who worked at the company, Bavarian health authorities said. The German cluster is significant because it's one of the biggest examples of human-to-human spread outside China.
China Plant Closures to Accelerate, IHS Says (6:12 a.m. HK)
IHS Markit expects the crisis will trigger a cascade of auto plant closings in China that lasts into mid-March and reduces output by more than 1.7 million cars -- a decline of 32%.
Expectations were already bleak as the year began, with IHS Markit predicting a 10% drop in first quarter production.
How the Virus Is Infecting the Global Economy (6:01 a.m. HK)
The potential hit in lost global growth could total $160 billion, according to Warwick McKibbin, a professor of economics at Australian National University. The effect of this outbreak could be three to four times larger than the blow from SARS.
U.S. Imposes Entry Limits (4:25 p.m. NY)
The Trump administration will put a temporary ban on foreign nationals who have visited China in the past 14 days from entering the U.S. and pose a risk of spreading the illness, unless they are immediate relatives of U.S. citizens or permanent residents. The measures take effect Feb. 2.
U.S. citizens who have been in Hubei province during the past two weeks will be subject to the quarantine, said Health and Human Services Secretary Alex Azar. Citizens returning from elsewhere in China will be subject to screening, and have to self-quarantine for two weeks while being monitored.
All U.S.-bound flights coming from China will be routed to one of seven airports in New York, Chicago, San Francisco, Seattle, Atlanta, Honolulu and Los Angeles. More drastic flight restrictions are not currently being considered.
U.S. Stocks Slump and Bonds Rally (4:00 p.m. NY)
The S&P 500 Index erased its 2020 gain and the Dow Jones Industrial Average dropped more than 600 points as traders remained on edge over the impact of the disease. A gauge of U.S. equity volatility spiked to an almost four-month high.
A New Wave of Flu Risks Patient Confusion (2:39 p.m. NY)
A new wave of influenza is picking up in the U.S., raising the risk that patients who get the seasonal illness may think they have coronavirus, which has almost identical symptoms early on in a patient's illness.
The CDC estimates that more than 19 million Americans have fallen ill with the flu so far this season, including 180,000 people who ended up in the hospital. About 10,000 Americans have died, including more than 60 children.
This season of flu began early in the U.S. After stalling, it's picked back up with a new strain of H1N1 influenza, according to a government survey of the illness.
CDC Puts Americans Returned From Wuhan in Quarantine (1:14 p.m. NY)
The government has put about 200 U.S. citizens repatriated from Wuhan under legal quarantine at March Air Reserve Base in Southern California. The group includes State Department personnel, family members, children and other Americans. It's the first time such a policy has been used in the U.S. since the 1960s, when a quarantine order was issued to stop the spread of smallpox.
The quarantine was implemented after one person wanted to leave.
The U.S. State Department is working to arrange additional flights for U.S. citizens still in Wuhan, according to an official with knowledge of the plans. Seats would be offered as they become available, an official said.
Delta, American Suspend Flights to China (11:20 a.m. NY)
Delta Air Lines Inc. and American Airlines Group Inc. will suspend all flights to China, becoming the first U.S. carriers to take such action.
Delta flights will cease from Feb. 6 through April 30, while American will halt flights starting today and running through March 27. European carriers including British Airways and Air France had already halted flights.
The Air Line Pilots Association secured agreements with United Airlines Holdings Inc. and Delta to allow pilots to decline to fly to China if they have concerns about traveling there, according to union representatives at both carriers. Late Thursday, the pilots union at American Airlines sued the carrier in an effort to halt its China flights and called on members to refuse to fly to the Asian country.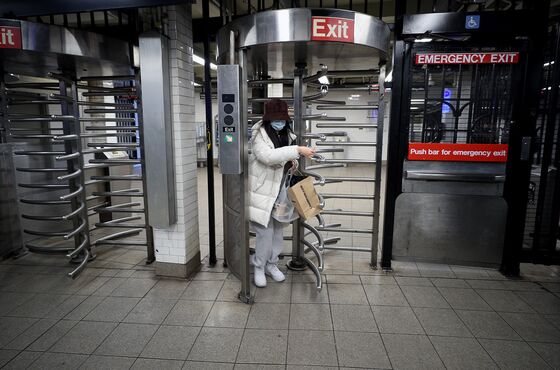 Chinese Official Criticizes U.S. Reaction (9:53 a.m. NY)
Chinese officials took issue with U.S. comments about the country's response to the coronavirus outbreak, and promised they would bring the infection under control.
"U.S. comments are inconsistent with the facts and inappropriate." Chinese Ministry of Foreign Affairs Spokeswoman Hua Chunying said in a statement posted online Friday. The World Health Organization "called on countries to avoid adopting travel bans. Yet shortly afterward, the U.S. went in the opposite direction, and started a very bad turn. It is so unkind."
China's ambassador to the United Nations, Chen Xu, said during a press conference in Geneva that the country had been transparent about the disease.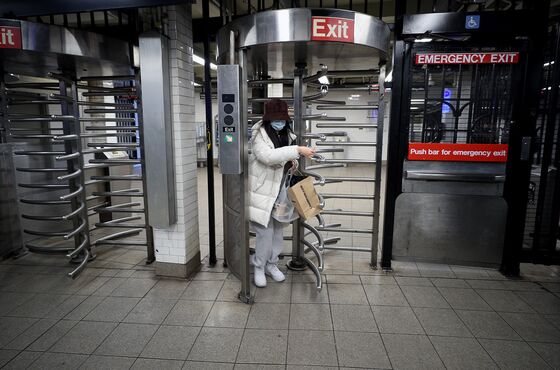 "We have conducted our business in an open and transparent manner with the outside world," he said.
Xu said that China would work with the World Health Organization to bring the disease under control, following a declaration by the WHO that the outbreak was an international emergency. The declaration will "not only coordinate global prevention control measures but enables us to mobilize international resources to respond to the epidemic," he said.