U.S. Stock Index Futures Drop on Outbreak Count Revision
(Bloomberg) -- U.S. stock index futures slid after the Chinese province at the center of the coronavirus epidemic reported a jump in new cases.
S&P 500 Index futures contracts expiring in March fell 0.9% as of 10:11 a.m. in London, after Hubei reported 14,840 new cases as it revised the method for counting infections. Contracts on the Dow Jones Industrial Average were 0.9% lower and those of the Nasdaq 100 dropped 1.1%.
In Europe, the Stoxx 600 Index fell 1.1%, with cyclical sectors, such as automakers and miners, pacing the declines. On a busy earnings day, Credit Suisse Group AG reported a worst-than-expected pretax loss at the investment bank unit, while Barclays Plc said British regulators are probing Chief Executive Officer Jes Staley's account of his ties to Jeffrey Epstein.
"Just when markets were getting comfortable with the idea that the COVID-19 infection increase was trending lower, the sudden jump in the number of new cases in Hubei has jolted them out of this sense of complacency," said Khoon Goh, head of Asia research at Australia & New Zealand Banking Group Ltd. "This could see case numbers rise in the coming days and dampen the recent risk-on mood."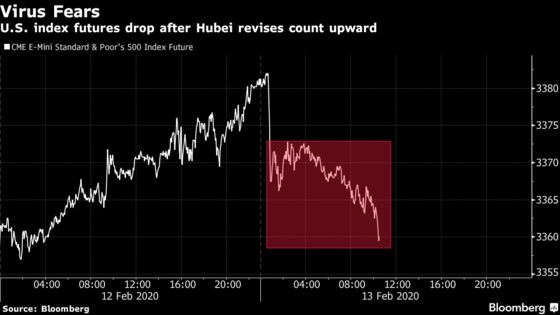 Two top Chinese officials at the center of the coronavirus outbreak have been replaced, state media said, in the biggest political fallout so far from an epidemic that has killed more than 1,300 people. Fatalities in Hubei climbed by 242, while the total number of cases in China hit 60,000.
The turn in U.S. index futures signaled an adjustment in positive sentiment that helped drive the underlying market to record highs on Wednesday. The S&P 500 Index gained for the third straight session, while the Dow Jones Industrial Average and Nasdaq Composite Index also hit new heights.
"The revised methodology does prompt the need for a relook into the state of dispersion of the coronavirus and, in turn, potentially call for prolonged precautionary measures practiced by the governments and private sectors alike," said Jingyi Pan, a market strategist at IG Asia. "This could suggest that the ongoing disruption to the various economies may sustain for longer, casting some shadows on the outlook and in turn driving the reaction this morning."