U.S. Firms Hurt at Local China Level Amid Tensions, AmCham Says
(Bloomberg) -- U.S. businesses suffer at the local level in China when friction between the two countries escalates, the head of the American Chamber of Commerce in China says.
"We feel that local officials are reacting to the levels of tension in the relationship and just taking the safer path, which is to offer preference to domestic industry," AmCham China Chairman Greg Gilligan told a briefing Tuesday to launch an annual white paper.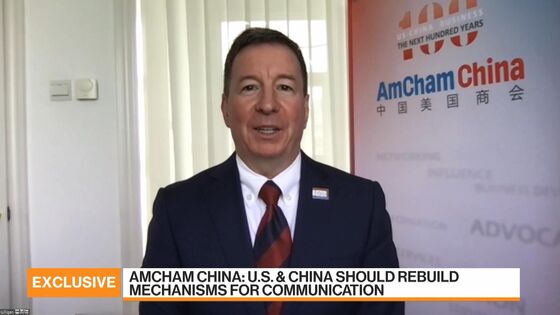 He added that implementation of written rules for international investors "particularly in the provinces and municipalities where our members do business" slows during periods of souring China-U.S. ties. The business organization said in the paper that both nations should reduce their "unhelpful rhetoric" and reopen lines of communication.
The Chinese government conducts procurement according to the law, Foreign Ministry spokeswoman Hua Chunying said at a regular press briefing in Beijing. "We never target any company or country or make restrictions on them unlike some countries that take a protectionist approach," she said.
The U.S. and China are at odds over a range of topics, from allegations of human rights abuses in the western Xinjiang region and Beijing tightening its political grip over Hong Kong to high-tech supply chains.
Some in China had been optimistic that the relationship with the U.S. would would improve under President Joe Biden, but the administration is expected to preserve limits on U.S. investments in certain Chinese companies imposed under former President Donald Trump.
Biden's trade chief, Katherine Tai, has vowed to build off the deal with China reached under Trump, while adding that the removal of tariffs would depend on the outcome of upcoming conversations with her counterparts.
The U.S. trade representative said she hadn't yet engaged with the Asian nation's top trade negotiators including Liu He, who led talks with the Trump administration, but expected to do so in the near term.
Gilligan said he didn't have specific information on the timing of any trade talks, but added: "We do know things are moving forward."
Washington and Beijing should "ring-fence issues of national security and identify guardrails to guide bilateral competition in other spheres," AmCham China added in its paper.
Gilligan said member companies were "rightfully concerned" about the prospect of consumer boycotts, adding: "They need to do scenario planning for the possibility of these kinds of challenges"
AmCham said in its paper that the Chinese government should allow foreign nationals to return to China for work after many have been stuck outside the country due to the pandemic
Chamber called on both China and the U.S. to negotiate to join the Comprehensive and Progressive Agreement for Trans-Pacific Partnership