Taiwan Markets Still Overperforming Even as U.S. and China Clash
(Bloomberg) -- It will take more than the current geopolitical tension between the U.S. and China to end the Taiwanese market's outperformance, if recent history is any guide.
While the clash between Beijing and Washington has flared anew over warming U.S. ties with the democratically-ruled island, its assets have been remarkably resilient. The benchmark equity index has advanced for three straight days, while the Taiwan dollar has risen marginally against the dollar through the U.S. clampdown on Huawei Technologies Co. and President's Tsai Ing-wen's inauguration.
A Bloomberg analysis of key conflicts in the past four years shows this is no surprise. Taiwanese assets barely budged in response to events leading up to Taiwan's 2016 presidential election, which prompted a relatively tepid reaction from Beijing. Both the Taiwan dollar and stocks were also steady after President Tsai stopped over in Denver in 2019, a move that was criticized in the People's Daily days after.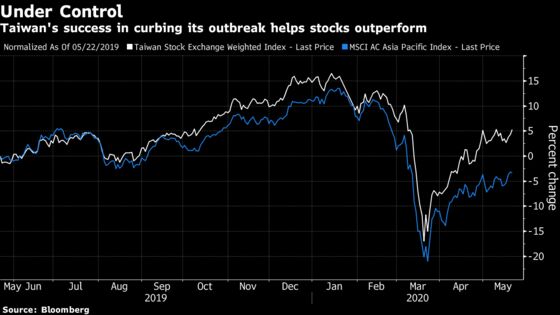 Early success in containing the virus outbreak and continued demand for its technology industry have helped Taiwan's currency become the best-performing emerging-market currency in the past three months. Local equities are also among the top three markets in the region.
To be sure, there is a point where market sentiment could shift. Looking further back, the presidency of Chen Shui-bian did break prior norms -- ending decades of Kuomintang rule. Consequently, events during his time had a much greater impact. In the months leading up to Chen's election in 2000, TWSE dropped 15%, versus a 2% decline in the MSCI measure for Asian stocks. Chen's very narrow 2004 victory, also saw Taiex fall 6.7% the Monday after the election.
Additionally, the renewed focus on Taiwan in U.S.-China relations comes as President Donald Trump has escalated his rhetoric against China over the coronavirus.
The U.S. "will likely continue to elevate the treatment of Taiwan in certain ways," said Susan Shirk, chair of the University of California San Diego School of Global Policy and Strategy's 21st Century China Center. "They have already been doing it bit-by-bit. This is highly provocative to Beijing."
NOTE: Simon Flint is an emerging-market strategist at Bloomberg News. The observations he makes are his own and not intended as investment advice