U.S., China Agree to Asia Defense Rules to Avoid Air Crashes
(Bloomberg) -- Defense chiefs from the U.S. and China agreed in principle to guidelines on encounters between warplanes, in the latest bid by Pacific nations to keep increased military activity from escalating into conflict.
U.S. Secretary of Defense James Mattis and seven other regional military chiefs, including China's General Wei Fenghe, gave broad endorsement to the rules in Singapore on Saturday, during an meeting hosted by the Association of Southeast Asian Nations. The non-binding guidelines had been formally adopted a day earlier by defense ministers from ASEAN's 10 member nations.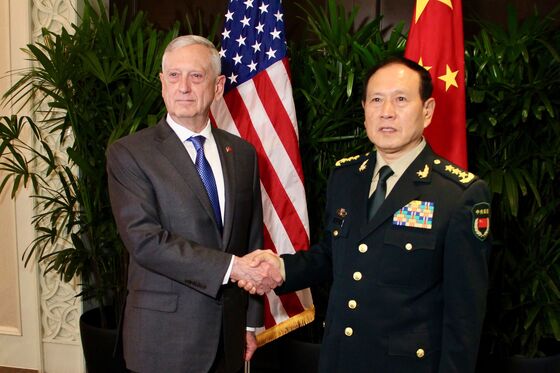 The document, which follows similar guidelines on naval encounters signed in 2014, urges military planes to establish communication with other aircraft, identify themselves and avoid maneuvers or signals that could provoke a response. "These guidelines will help reduce the likelihood of encounters or incidents spiraling into conflict in the event of a miscalculation," it said.
The 18-member ASEAN-Plus Eight Partners also include Australia, India, Japan, New Zealand, Russia and South Korea. The full grouping could formally adopt the air-encounter guidelines during next year's ASEAN meetings in Thailand.
The rules represent the latest attempt to manage a surge in military activity in the Western Pacific as China's extends its naval and air reach. The U.S. -- the region's dominant security power since World War II -- has stepped up its presence to assert free navigation rights in the South China Sea and other waters claimed by Beijing.
"Once a mishap occurs, there's a dynamic that ensues that you cannot control," Singaporean Defense Minister Ng Eng Hen, who led the meetings, told reporters Saturday. "We recognize that the price of any physical incident is one that is too high and unnecessary to either assert or prove your position."
Mattis has sought to play down military disputes with China during the trip, which included a 90-minute meeting Friday with Wei. While Wei reaffirmed Chinese concerns about the South China Sea and Taiwan, the two sides agreed to deepen trust and let military ties play a stabilizing role in the relationship, according to the country's defense ministry.
The U.S. and China have in recent years complained of tense midair encounters, with each side accusing the other of endangering its aircraft and personnel. The U.S. has also accused China of targeting its pilots with lasers, something specifically discouraged by the ASEAN guidelines.
The rules seek to build on the 2014 agreement signed by 21 nations on naval protocols, known as the Code of Unplanned Encounters at Sea, or CUES. Earlier this month, the U.S. accused China's navy of "unsafe and unprofessional" conduct after a Chinese destroyer maneuvered close to the bow of an American warship near a disputed South China Sea reef.
Ng said he told Wei that China needed a response to such "freedom-of-navigation operations" that wouldn't escalate tensions. "General Wei's general reply was that they are playing very close attention to it at the highest levels and we were reassured by that," Ng said.