China Firms' Bond Payment Plans Signal Shift In Policy Focus
(Bloomberg) -- Plans by two distressed Chinese companies to ease their imminent debt crisis are betraying a subtle shift in Beijing's delicate balancing act between combating financial risk and preserving stability as the coronavirus outbreak continues.
The proposed bond swap by a waste management firm and a privately negotiated repayment deal secured by a coal producer suggest policymakers are growing wary of the destabilizing impact that surging bond failures could have on an ailing private sector.
The two borrowers' seemingly different plans both in effect carry an intention to push back their immediate repayment obligations, an undesirable outcome for investors but something openly encouraged by regulators to dissolve or delay default risks.
"Due to the virus outbreak and a surge in maturity walls in the next two months, issuers may resort to various methods such as deadline extensions to address debt repayment difficulties," said Qi Sheng, chief fixed-income analyst at Founder Securities Co.
Beijing Sound Environmental Engineering Co., the waste management firm, said Monday it plans to sell a new bond worth up to 500 million yuan ($72 million) to exchange for an existing note that will come due March 6.
The company said it will issue the one-year note to replace its current 500 million yuan bond that carries a coupon of 6.5%. The new bond will have a coupon of 7.0% and will be puttable on Dec. 6, it said. The plan emerged after the company warned of repayment uncertainties due to tight liquidity in the wake of the virus outbreak.
Meantime, Zhongrong Xinda Group Co., a coal and chemicals producer, failed to wire funds to the Shanghai Clearing House to repay interest on a 1.5 billion yuan ($215 million) domestic bond that came due Monday.
The development came after the private firm, which is based in the eastern Shandong province, won approval from its creditors on Feb. 27 to bypass the clearing house and settle repayment of the bond directly with investors.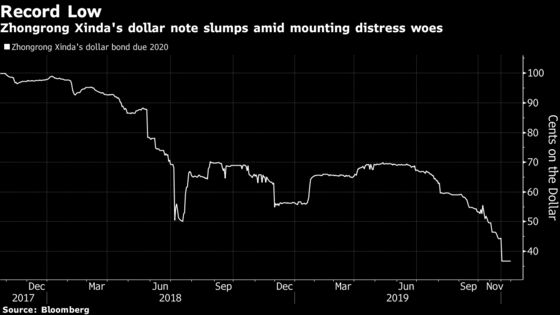 Despite endorsement from regulators, the two companies' bond plans are relatively novel practices in China's $4.5 trillion corporate bond market: market watchdogs hadn't explicitly promoted the use of bond swaps or private negotiations over repayment deadlines until late December, when Beijing unveiled a new policy roadmap for handling bond defaults.
"Regulators, which won't tolerate a sudden increase of credit defaults amid the epidemic, have few alternatives but to guide the companies to use such practices to delay the risk," said Qi at Founder Securities.
Pressured by a slowing economy and trade tensions, Chinese firms suffered a record 137.6 billion yuan worth of onshore bond defaults in 2019, the second year in a row, according to data compiled by Bloomberg.
The outlook is expected to worsen this year after a slew of recent Chinese economic indicators, including gauges of manufacturing activity, have painted a dismal picture for an economy battered by a devastating epidemic.
This would make life even tougher for private firms such as Zhongrong Xinda and Beijing Sound, which have limited access to the country's state-run banking system and other means of cheaper funding. These firms have been the driving force behind China's outburst of bond failures in the past few years.
To be sure, Beijing has shown that it remains broadly committed to its long-term goal of financial house cleaning, after pledging in late December to establish a new mechanism to handle bond failures more transparently and efficiently.
It has allowed more financially incurable borrowers known as the "zombie firms," including two prominent state-run companies and a commercial arm of a top university, to go under in recent months. But it also has demonstrated its customary fixation with economic and social stability by rescuing companies deemed "too big too fail," such as the heavily-indebted conglomerate HNA Group Co.
The plans by Beijing Sound and Zhongrong Xinda suggest the authorities are becoming extra careful in preventing debt woes from further crippling a private sector that generates the vast majority of jobs in China.
Beijing Sound said it will pay 20% of the new note's principal June 6 and pay another 30% of the principal on Sept. 6. The plan emerged after the company warned of repayment uncertainties due to tight liquidity in the wake of the coronavirus outbreak.
The National Association of Financial Market Institutional Investors, a regulator in China's interbank bond market, included bond swaps as one of the new methods to resolve bond payment risk in new rules published in December.
"Bond swaps can be a timely blood transfusion to borrowers if successfully conducted, which can benefit both issuers and investors," said Zhang Xu, an analyst with Everbright Securities.
Zhongrong Xinda's move also represents a rare deviation from the common practice of delivering bond repayment through official venues such as the clearing houses. Bypassing the latter would allow issuers to undertake debt restructuring without publicity that might affect their broader fundraising ability.