Trump Saves Kids, and Target, as China Levies Exclude Baby Goods
(Bloomberg) -- American baby showers just won a reprieve from an unlikely source: President Donald Trump.
The Trump administration excluded several big-ticket children's items including playpens, car booster seats and highchairs from the final list of $200 billion of Chinese goods set for tariffs. The eleventh-hour exclusion marks a partial reprieve for American families bracing for higher prices as the mid-term elections approach and a win for companies like Target Corp. trying to capture a bigger piece of the growing U.S. baby-goods industry.
A revised tariff list issued by Trump's administration late Monday excluded more than a dozen Made-in-China products aimed at children and infants, from swings and walkers to seats and bouncers. The decision to ring-fence children's equipment follows weeks of hearings and company petitions after the U.S. government proposed the list of targeted products in July.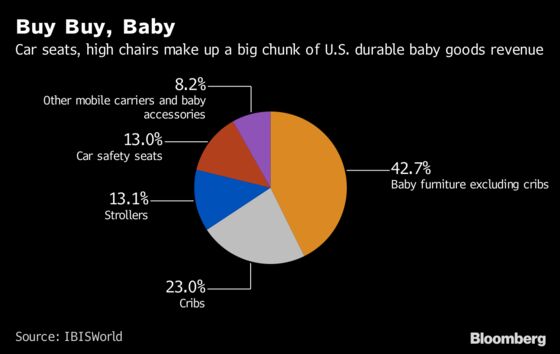 For the rest of the Chinese goods that didn't get exclusions, Trump plans to impose a 10 percent tariff starting next week before bumping it to 25 percent in 2019. That sets up a prolonged trade war between the world's two biggest economies. China quickly retaliated with plans to levy duties on $60 billion worth of U.S. goods. Trump's tariffs are likely to hit U.S. consumers as the prices of everyday goods from handbags to fridges rise in American shops.
The exclusions for some baby goods followed a concerted effort by companies involved in the growing sector. Revenue in the U.S. durable baby-goods industry is expected to expand an average of 1.7 percent annually through 2022 as consumers spend more on kids, according to a report from IBISWorld. By then, revenue will soar to $10.2 billion a year, prompting more big-box stores and online retailers like Amazon.com Inc. to try to grow their share of the lucrative segment.
In a Sept. 6 letter to U.S. Trade Representative Robert Lighthizer, retailer Target said it was concerned the proposed duties would further hurt consumers and urged Trump's administration to reconsider. The Minneapolis-based company highlighted high chairs for babies as well as car seats for infants -- which are required by law -- and said families would end up paying the price.
Graco Children's Products Inc., part of the baby division of Carl Icahn-backed Newell Brands Inc., told Lighthizer in a July 27 letter that it was "extremely concerned" that some baby products were in line for tariffs. The company warned higher prices might encourage some parents to buy second-hand goods instead, where they might unknowingly purchase items under recall.
"It will only make it more expensive for parents to keep their infants and children safe and comfortable while riding in automobiles, sleeping, eating, and playing," Newell's chief legal officer Bradford Turner said in the letter. "These are not high-technology, industry goods. In no way will imposing a 10 percent tariff on these goods incentivize China to change its acts, policies and practices."