Trump's Head-Snapping Reversals Shake Allies at Home and Abroad
(Bloomberg) -- Donald Trump slapped tariffs on China, then reconsidered. He yanked the U.S. from the Iran nuclear deal without a plan B. He ordered U.S. penalties on ZTE Corp. reversed to save Chinese jobs.
And on Thursday he canceled a landmark summit with North Korean leader Kim Jong Un as abruptly as he announced it in March.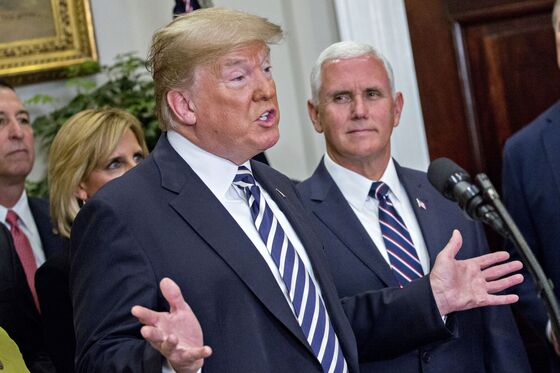 Trump has always led from the gut. But the president's recent head-snapping decisions, made without much consultation with allies overseas or in Congress, suggest a White House that is winging it on almost every major issue.
The president's activities have grown increasingly frenetic amid two developments: the departure of several top officials regarded as checks on his impulses and the expanding law enforcement investigations into Trump's campaign and his associates, including lawyer Michael Cohen. Trump has demonstrated a particular obsession with the idea that the Justice Department planted an informant in his campaign, perhaps at the behest of former President Barack Obama -- a conspiracy theory for which there is no evidence.
Experienced advisers including former National Security Adviser H.R. McMaster, National Economic Council director Gary Cohn and Secretary of State Rex Tillerson all exited the administration since February. Chief of Staff John Kelly has an uneasy relationship with the president and speculation persists that he too may depart.
There's no clear line between Trump's staff turmoil, his associates' legal troubles and his erratic policy making. And his administration contends that major decisions -- on North Korea, Iran, trade with China and others -- are founded on months-long deliberations. For example, a senior administration official said that Trump pulled out of the Singapore summit after a series of frustrations, including North Korea standing up U.S. negotiators who flew to the Southeast Asia city-state last week for an expected meeting to lay groundwork.
Yet Trump himself conveys the sense that every announcement is spur of the moment.
Less than four hours before the White House released Trump's letter to Kim canceling the summit, "Fox & Friends" broadcast an interview with the president -- taped the day before -- in which he said there was a "good chance" the meeting would happen.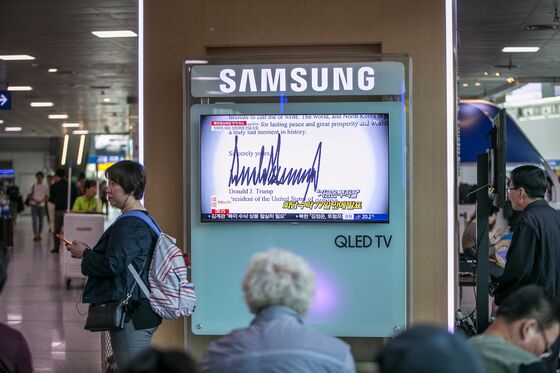 The letter's release was reminiscent of Trump's hasty decision to set up the summit in the first place. Rather than carefully coordinating and vetting an offer conveyed by a South Korean official to the president during an impromptu March 8 meeting in the Oval Office, Trump decided immediately to accept. He then made a beeline for the White House briefing room to tell any reporters who happened to be in earshot that a major announcement was imminent.
Trump's seat-of-the-pants approach to policy isn't confined to North Korea. The Europeans, Iranians, Palestinians, Syrians, the Chinese and others have been left flummoxed by the president in recent weeks. The president has held allies and adversaries alike in suspense on trade, the Iran nuclear deal, national security sanctions, the U.S. military presence in Syria and other issues.
"We'll see what happens" he has said about each one of those policies, a shoulder-shrugging presidential catchphrase.
A day before his North Korea announcement, Trump directed the Commerce Department to explore whether foreign-made automobiles represent a national security threat and should be subject to new tariffs -- a policy U.S. carmakers hadn't sought and that took Republicans in key auto-making states by surprise.
"It's damaging," said Julian Zelizer, a presidential historian at Princeton University. "This is when the kind of chaos and the instability through which he governs has very real consequences. It doesn't make the allies happy. It diminishes their trust of what the U.S. government is going to do. It will make all of the leaders less willing allies to work with the United States on anything of significance because they just don't know what's going to happen the following day or the following hour."
Trump's recent decisions sometimes appear to even take his own staff by surprise. Hours before the order on foreign car tariffs -- but after a presidential tweet promising good news for autoworkers -- Trump's top legislative liaison, Marc Short, said he expected the announcement to be related to China reducing tariffs on automobiles.
Trump's trade policies are a particular frustration for both his fellow Republicans and U.S. trade partners. The president's top economic officials are frequently in disagreement and have waged dueling public relations campaigns that seem to shift U.S. strategy daily.
After threatening China with tariffs on at least $50 billion worth of its U.S. exports, Trump retreated over the weekend and boasted of a framework agreement under which the Chinese promised to buy unspecified amounts of American farm products. But only days later, following criticism from many of his loyalists, the president expressed misgivings about the deal.
"In the end we will probably have to use a different structure in that this will be too hard to get done and to verify results after completion," Trump said Wednesday on Twitter.
He faced a similar backlash after ordering his administration to relax penalties against ZTE Corp., the Chinese telecommunications giant that committed "egregious" violations of U.S. sanctions against Iran and North Korea, according to Commerce Secretary Wilbur Ross. Again Trump reversed field, musing that perhaps the company should be forced to change its board of directors and pay a fine exceeding $1 billion, then delegating the decision back to Ross.
The highly anticipated summit with Kim was portrayed by the White House as an opportunity to rapidly reduce tensions with North Korea, stave off a military conflict that at times in 2017 seemed imminent, and eventually lead to the regime giving up its nuclear weapons.
It was to be a showcase for Trump's deal-making and diplomatic prowess. The president had openly entertained the idea that he could win the Nobel Peace Prize had the summit led to a peace agreement between North Korea, the U.S. and South Korea. The countries are technically still at war.
But his ambitions were overcome by his administration's turmoil and an apparent misunderstanding of the North Koreans.
Less than a week after agreeing to the summit, Trump fired his Secretary of State, Rex Tillerson, via tweet and brought on a new National Security Adviser, John Bolton, known for his hard-line positions toward U.S. adversaries including North Korea.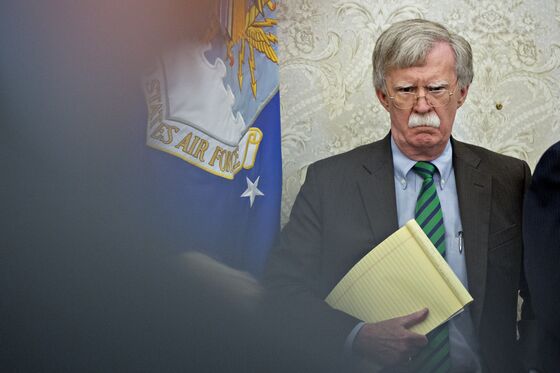 Bolton would prove to be a spoiler for the summit. He drew the ire of the North Korea government for saying that the country's nuclear disarmament should follow the "Libya model" embraced by dictator Moammar Qaddafi, who was later overthrown and killed in a U.S.-backed uprising.
Trump publicly rejected the "Libya model" and promised Kim would remain in control of his country, but the damage had been done. The North Korean regime is acutely aware of Qaddafi's history, and insisted that its country should be regarded not as seeking to develop nuclear weapons but as a nuclear power in its own right.
After Pence referenced Libya again in an interview with Fox News on Wednesday, the regime issued a blistering statement labeling him a "political dummy" and threatening the U.S. with nuclear war.
Trump's letter to Kim followed, dictated word-for-word by the president himself, the senior administration official. The president urged Kim to call him if he changes his mind.