Trump-Kim Meeting Shines a Light on Land of Asia's Fastest Market Surge
(Bloomberg) -- The Trump-Kim meeting in Hanoi is shining a spotlight on Vietnam, a market that, after some hiccups last year, is seeing renewed interest from stock investors.
Vietnam's shares have rallied more than any others in Asia this year outside of China and Hong Kong. The benchmark VN Index, comprised of 376 stocks, has rebounded 13 percent from a low in January. It rose as much as 0.7 percent Wednesday, while the regional MSCI Asia Pacific Index almost erased all of its 0.4 percent advance amid tension between India and Pakistan.
For stock investors, Vietnam has been a darling, with its gauge surging for six straight years -- including a 48 percent jump in 2017 -- before being hit by the global sell-off in 2018. Even then, its 9.3 percent drop was much smaller than the 17 percent slump in frontier and emerging-market gauges. Investors are still waiting to find out whether index provider MSCI Inc. will put Vietnam on the watch list for emerging-market designation this year.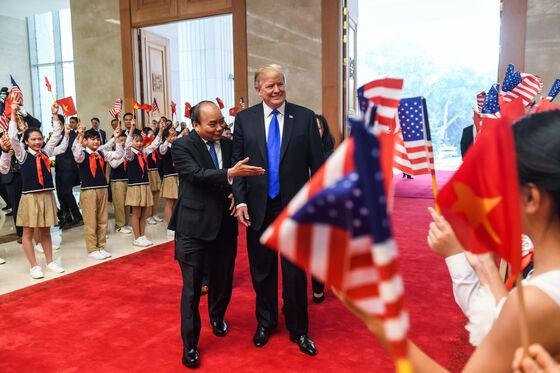 Thanks to an economy that's been growing at an annual rate surpassing 5 percent since 2000, Vietnam's equity market has surged more than seven-fold since 2012, beating all its Asian peers and reaching about $190 billion in value, near the 2018 record. With a flow of foreign direct investments, the economic expansion is forecast to reach 6.6 percent this year and 6.5 percent next, data compiled by Bloomberg show.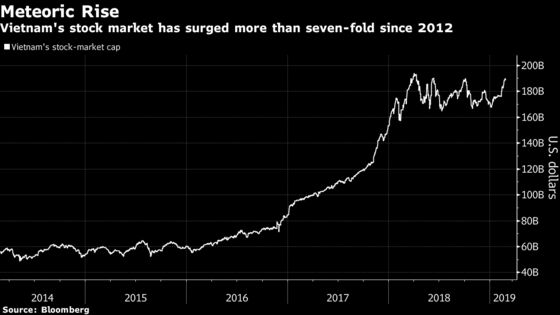 While expectations are low for what the discussions between U.S. President Donald Trump and North Korean leader Kim Jong Un will achieve in Hanoi, "this is an interesting event," said Dominic Scriven, the manager of the nation's biggest stock fund. "There will be more international press writing about Vietnam, so there will be a lot of attention."
Scriven, who helps oversee $2.75 billion as chairman of Dragon Capital in Ho Chi Minh City, says he's betting on more gains in Vietnamese stocks and has invested most of his cash into the equities. He expects earnings-per-share growth of 10 percent in 2019 amid a stable currency.
"We continue to remain positive on the equity market," he said in an interview in Hanoi, adding he doesn't find valuations expensive. What impacted equities last year -- the U.S.-China trade war and Federal Reserve tightening -- "shouldn't really affect Vietnam," he said.
He's planning to focus his investments on industries including retail, finance and technology, and will keep a close eye on initial public offerings as well as the government's divestment pipeline.
The VN Index trades at 15.6 times estimated earnings for the next 12 months, much lower than its peak valuation of 20 times before the 2018 rout. And foreigners are still around: they've invested $193 million net in the nation's shares since January, after buying almost $1.9 billion of stocks last year despite the sell-off and some restrictions to foreign ownership that the regulator is reviewing.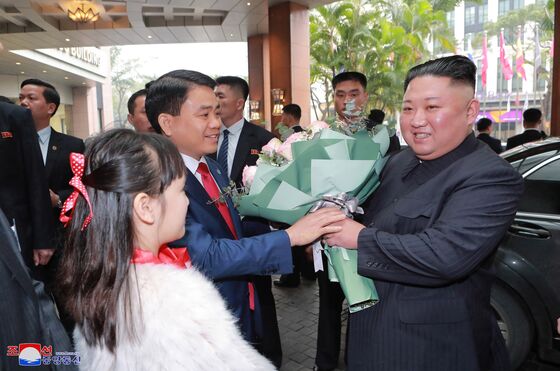 MSCI Asia Pacific Index little changed
Japan's Topix index up 0.2%; Nikkei 225 up 0.5%
Hong Kong's Hang Seng Index little changed; Hang Seng China Enterprises down 0.8%; Shanghai Composite up 0.4%; CSI 300 down 0.2%
Taiwan's Taiex index little changed
South Korea's Kospi index up 0.4%; Kospi 200 up 0.3%
Australia's S&P/ASX 200 up 0.4%; New Zealand's S&P/NZX 50 down 0.4%
India's S&P BSE Sensex Index little changed; NSE Nifty 50 little changed
Singapore's Straits Times Index down 0.3%; Malaysia's KLCI down 0.4%; Philippine Stock Exchange Index down 1.2%; Jakarta Composite down 0.5%; Thailand's SET little changed; Vietnam's VN Index up 0.3%
S&P 500 e-mini futures down 0.3% after index closed little changed in last session