There's Money in Trash. Chinese Companies Are Cashing In
(Bloomberg) -- There's money in trash, and Chinese companies are cashing in.
Dynagreen Environment Protection Group, which collects, stores and incinerates garbage, has surged almost 500 percent since its shares began trading in Shanghai on June 11, the best-performance among stocks listed in the city this year. It's among the waste specialists poised to cash in on China's carrot-and-stick approach to cope with the world's biggest trash flow.
The government said this month that households across the nation will, for the first time, have to pay for garbage disposal by 2020 and, separately, that limits on landfills will be tightened. Other recent initiatives include raising recycling quotas in 46 major cities, including Beijing and Shanghai.
"The reason why solid-waste management companies have been undervalued by the market is that their customer is the government, instead of citizens and industrial enterprises," said Zhengtao Qi, an analyst at China International Capital Corp. "The establishment of a market system for the industry by 2020, with individuals paying for waste disposal, will shorten the payment cycle by more than half."
About 100 billion yuan ($14.6 billion) of sanitation and classification contracts were signed in the first half of 2018, according to environment-consulting firm Huanjing Sinan. And the deals keep coming. Fujian Longma Environmental Sanitation Equipment Co. and Tus-Sound Environment Resources Co. both signed 30-year contracts each worth more than 900 million yuan for services this month.
"Revised laws and follow-up implementation mean that the solid-waste market is only going to expand," Zhu Haibin, an analyst at Essence Securities Co., wrote in a report published earlier this month. "The greatest potential is in sectors like garbage incineration and hazardous waste disposal, along with garbage classification and the expansion of household waste management from urban to rural areas."
About 41 percent of solid waste in China was incinerated in 2016, according the National Bureau of Statistics. New policies specify that the nationwide average reach 50 percent by 2020, which creates an opportunity for companies able to invest in facilities, as the profit margin on incineration is much higher than for trash separation or sanitation control, CICC's Qi said.
China currently has about 50 publicly traded waste-management companies, more than a dozen with market values exceeding $1 billion, led by Tus-Sound, GEM Co. and Dynagreen. Nationwide, fixed-asset investment in recycling and disposal of waste rose 23 percent last year from 2016, to 169 billion yuan.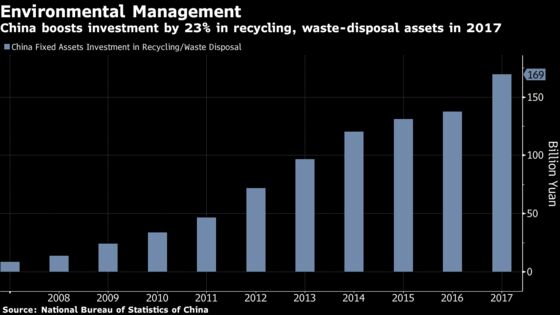 Tus-Sound has 17 "buy" and only one "sell" recommendation, according to analysts surveyed by Bloomberg. The consensus 12-month target price forecasts a 24 percent gain. As for Dynagreen, Qi said the company will be "very competitive" in the waste management industry in the future, as it already ranks sixth nationally in incineration volume and has built-in connections because a state-controlled fund is the company's biggest shareholder.
To be sure, China's waste-management industry is not without its challenges.
In June 2016, the construction of a garbage incineration project in the central Chinese province of Hubei was halted after residents in the city where it was to be located took to the streets to protest. More than 10,000 demonstrated for two days against the plant on concerns that it would cause severe pollution, the Global Times newspaper reported at the time.
It was only after local officials staged a multi-month campaign to ease those concerns that construction resumed in May 2017, with the plant only beginning operations in April this year, according to a report by The Paper. That was almost four years after construction first began.