China's Trade Chief Returns to Trump's Oval Stage With Eyes on Deal
Chinese Vice Premier Liu He looks within reach of securing a short-term win for Beijing in getting the U.S. to agree to ease up on tariffs. But he'll have one last gauntlet to run later Friday: the Oval Office with President Donald Trump.
The storied office space of American presidents in the West Wing of the White House has for its current occupant provided a multitude of colorful situations, including the times when trade is the topic.
Just this February, with Liu watching on in the press-filled Oval, Trump disagreed with U.S. Trade Representative Robert Lighthizer's description of a "memorandum of understanding" as a legally binding contract. Lighthizer, a lawyer, tried to turn the odd moment into a humorous one, saying "from now on we're not going to use the term 'memorandum of understanding.' We're going to use the term 'trade agreement.'"
For Liu, it'll be at least his fourth public appearance in the presidential lair this year. The last time, in April, he was subjected to a nearly 20-minute mini press conference at which he sat patiently by as Trump and his trade team praised Liu and all their progress. A month later the U.S. escalated the dispute with more tariffs and the near-deal fell apart.
And after his February meeting in Trump's work space, Liu was criticized online and by nationalist commentators who compared him to to a 19th-century official who signed a treaty with Japan ceding Taiwan.
So will Liu find some redemption after more than a year of mostly fruitless effort? Seems possible, but that will depend largely on Trump.
The world's two largest economies do appear close to a deal on noncontroversial matters. China wants a U.S. tariff ceasefire and an easing of American restrictions on Huawei. In return, Washington is seeking pledges from Beijing to buy more agricultural commodities, refrain from currency manipulation and open domestic industries to more foreign ownership.
Saved for a later date will be the bigger issues that Trump campaigned for and the reasons he started a trade war in the first place: U.S. accusations of intellectual-property theft, forced technology transfer and complaints about Chinese industrial subsidies.
The English-language newspaper China Daily said Liu left Thursday "with a smile." What really matters next is whether he's still grinning after the Friday afternoon show in the Oval.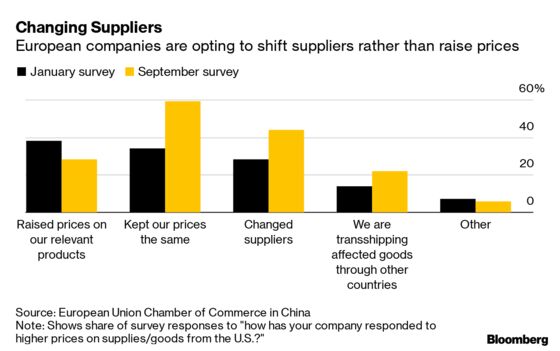 European companies operating in China are increasingly choosing to reshuffle supply chains rather than shoulder the pain from higher tariffs.
Brexit optimism | There's $106 billion between Corbyn and a no-deal U.S. withdrawal from the European Union. 
Trade war fallout | Japan's economy is losing momentum as 2020 approaches.
Oct. 14: China trade balance for September
Oct. 15: U.S. to raise tariffs on Chinese imports