After Fed and Trade News, Spotlight on Indonesia: Taking Stock
(Bloomberg) -- A sleepy start to Thursday's market briefly got a reason to bounce as headlines hit on renewed optimism for progress on U.S.-China trade talks. The gains didn't last, though.
After Asia's benchmark gauge climbed as much as 0.5 percent and U.S. equity-index futures extended their advance on reports the U.S. and China are working on multiple memorandums of understanding that would form the basis of a final trade deal, things were back to square one by 3:07 p.m. in Hong Kong. The Shanghai Composite Index, which rallied as much as 1.2 percent, returned to red territory as coal tensions intensified between China and Australia.
This comes after the Federal Reserve's minutes overnight, which were a bit of a head scratcher and did little for stock markets across Asia. And while regional investors might still be assessing their impact, particularly the influence it will have on dollar-sensitive emerging markets in the region, there's one country with a central-bank rate decision Thursday that might be more decisive: Indonesia.
Bank Indonesia is expected to keep its key lending rate at 6 percent for a third straight month, according to all 33 economists surveyed by Bloomberg. That would extend a pause in the country's tightening cycle after six hikes last year to combat losses in the rupiah sparked by Fed tightening.
For equity investors, the currency stabilization was key to get back into the market. The Jakarta Composite Index has rebounded 16 percent from a low in July, coming about 2 percent away from a fresh record earlier this month. While the rally stumbled last week, the gauge is now close to recovering all of its losses.
"As long as the rupiah remains under control, I think they will keep the policy rate the same," said Chandra Pasaribu, head of research at Yuanta Securities in Jakarta. "The main priority for the central bank right now is to maintain investors' confidence, ensuring the momentum of foreign flows into the equities and bond market."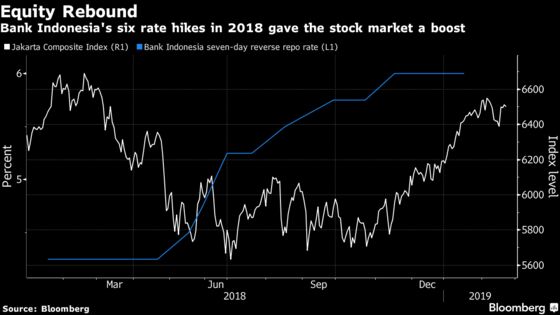 For its part, the Jakarta Composite Index was little changed Thursday and down 0.2 percent this month, a far cry from its searing 5.5 percent rally in January that was the best since December 2017. Overseas investors have sold $225 million worth of Indonesian shares in in February, a reversal from inflows of $964 million in January, the most since April 2017.
Credit Suisse Group AG is among those already shifting toward the exit, downgrading Indonesia's equities last week. London-based analysts led by Alexander Redman encouraged investors to sell "before the market enters a phase of underperformance" triggered by factors including an overbought currency and stock market, a liquidity squeeze and deteriorating economic growth.
While Taye Shim, the head of equities capital market at PT Mirae Asset Sekuritas Indonesia, doesn't expect a surprise in the central-bank decision Thursday, he does see the need for catalysts to drive the market higher.
"The market is in desperate need of positive catalysts," Shim said. It's "sitting on the fence to see how the U.S.-China trade dispute is going to get resolved."
Indonesia's economy remains under pressure from the discord between the two nations. Data this month showed exports fell 4.7 percent in January as the trade gap widened more than forecast, and its current-account deficit for 2018 swelled to the highest in four years.
While a top emerging-markets asset manager said Indonesia's central bank should signal interest-rate cuts to draw more foreign money, investors will have to wait until later Thursday for the verdict.
MSCI Asia Pacific Index up 0.3%
Japan's Topix index up 0.1%; Nikkei 225 up 0.3%
Hong Kong's Hang Seng Index little changed; Hang Seng China Enterprises up 0.7%; Shanghai Composite up 0.4%; CSI 300 up 0.4%
Taiwan's Taiex index little changed
South Korea's Kospi index little changed; Kospi 200 little changed
Australia's S&P/ASX 200 up 0.8%; New Zealand's S&P/NZX 50 up 0.8%
India's S&P BSE Sensex Index up 1.1%; NSE Nifty 50 up 1.2%
Singapore's Straits Times Index little changed; Malaysia's KLCI down 0.2%; Philippine Stock Exchange Index down 0.5%; Jakarta Composite little changed; Thailand's SET little changed; Vietnam's VN Index up 0.5%
S&P 500 e-mini futures up 0.2% after index closed up 0.2% in last session