Top Buddhist Monk Accused in China's Growing MeToo Movement
(Bloomberg) -- The MeToo movement, which was slow to arrive in China, is gaining ground in the world's most-populous country with one of the most-senior Buddhist leaders the latest high-profile person to be accused of sexual harassment.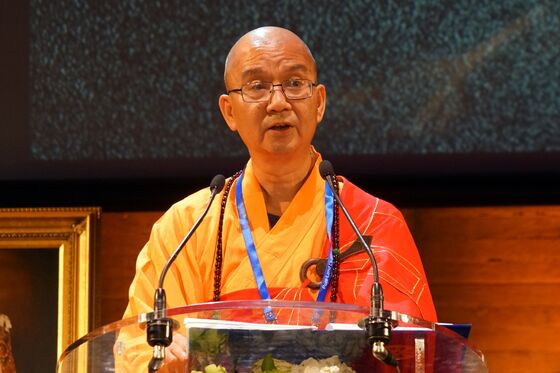 Master Xuecheng, president of the Buddhist Association of China and abbot of the Longquan Monastery in Beijing, has been accused of coercing nuns to have sex with him. The allegations have circulated on Chinese social media in the form of a report by two monks who became whistle blowers after a nun confided in them. China's State Administration for Religious Affairs, a government body, said Thursday it had begun investigating the accusations.
Xuecheng -- who is also a member of a body that consults China's parliament on legislation -- has denied the allegations. The abbot posted a statement from Longquan Monastery on his Weibo social media account Wednesday that said the whistle blowers forged material, distorted facts and spread false information. The temple has also asked authorities to look into the matter, it said.
MeToo first emerged in China in January, months after allegations of sexual harassment against Hollywood film producer Harvey Weinstein ignited what has become a watershed moment for women's rights. Allegations against a Beijing college professor hit social media and other academics, environmentalists and journalist have been accused. But after initially allowing discourse, authorities culled hundreds of posts featuring the #MeToo hashtag and phrases like "anti-sexual harassment" were blocked, according to the New York Times.
The movement has taken on new prominence in China, however, after a woman in late July accused a well-known host on China Central Television of harassing her when she interned at the state broadcaster. Her allegations generated intense debate and discussion on China's Weibo and WeChat social-media platforms.
In the U.S., where the MeToo movement started, many powerful men in media and entertainment have lost their jobs over the past year over allegations of sexual misconduct, including Weinstein, Pixar animation boss John Lasseter and broadcaster Charlie Rose.