China's Yuan Is a G-10 Currency to HSBC's New FX Research Chief
(Bloomberg) -- The yuan is now one of the most actively traded currencies in the world and should be included in the top tier of foreign-exchange as China opens its capital markets to the world.
That's the view of HSBC Holdings Plc's Paul Mackel, who says the classic Group-of-10 FX label -- which includes Scandinavian currencies in addition to behemoths like the dollar, euro and yen -- is "outdated and misguided."
The Chinese renminbi, or RMB as it is also known, now ranks eighth in terms of trading volume and "is increasingly influencing how other currencies are moving," said Mackel, who was this week named as the bank's global head of FX research. "If one does not have a view on the RMB, then they are missing the bigger picture."
Daily average trading volume in the yuan stood at about $285 billion in April 2019, according to the Bank for International Settlements' triennial survey. In China itself, daily volume for the so-called onshore yuan climbed to $45 billion on Nov. 16, the highest since December 2018, according to data compiled by China Foreign Exchange Trade System.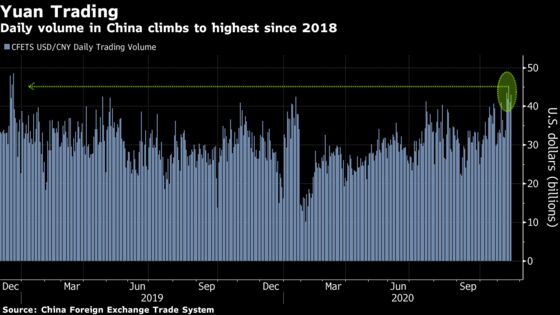 The value of the currency has also surged, with the onshore rate strengthening to 6.5395 per dollar on Wednesday, a level unseen since 2018. It has appreciated more than 8% over the past six months, the most in Asia after the South Korean won.
Investors are increasingly focused on the currency as China has led peers in emerging from the Covid-19 pandemic and is expected to be the only major economy that expands this year. The country also expects to double gross domestic product by 2035.
"Some may argue that China's exchange rate regime is not 'floating' enough" for the currency to be considered on par with G-10 peers, said Mackel, the former head of emerging-markets FX research at HSBC who replaced David Bloom as the bank's top currency strategist globally. "We beg to differ, as this looks past how the currency has slowly become more market determined in recent years and how reforms will only do so further."