Asia's Stock Rally Coming Down to the Wire in Whipsaw Week
(Bloomberg) -- Today's rally across Asian stock markets has put the regional benchmark index in the green for the week. Barely.
The MSCI Asia Pacific Index climbed 0.6 percent as of 4:52 p.m in Hong Kong on Wednesday. Its two-day rally has helped erase losses in the first two days of the week, with it now up 0.2 percent since Monday. Whether or not it will stay that way depends on no surprises till the close... and what happens in the next 24 hours or so.
So far on Thursday, things have been looking up:
Chinese importers have purchased 1.5 million to 2 million metric tons of American soy, marking the nation's first significant purchase of U.S. soy since the trade war. according to the U.S. Soybean Export Council.
On the technology front, China is mulling the delay of some targets in its strategy to dominate high-end technologies, which is viewed as a step to ease trade tensions with America.
Chinese stocks jumped as investors bet next week's economic policy meeting will signal further easing, spurring gains in property developers to infrastructure companies
The National Development and Reform Commission will focus on supporting bond issuance by Chinese companies with a sound credit record and major contribution to the local economy or industrial upgrade, according to the top economic planner.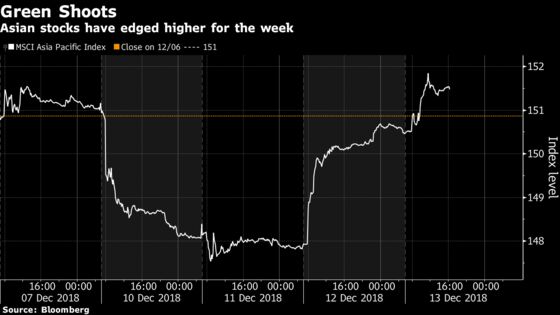 But there are still reasons to be cautious. Canada said a second person has been questioned by Chinese authorities and the former has since lost contact with him, further heightening tensions between the two countries. Huawei Technologies Co. froze orders from a Japan supplier after its chief financial officer was arrested in Canada.
While stock traders have cheered the easing trade conflict this week, Trump administration officials on Wednesday called for more "fundamental structural changes" from China and hoped Beijing would agree on timelines, deadlines and enforceable actions to balance trade and open their markets to foreign companies. And don't forget the increase in a key measure of U.S. inflation, reinforcing expectations that the Federal Reserve will raise interest rates next week.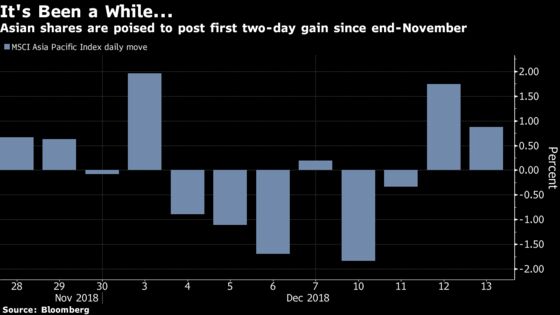 Indian equities extended a rally as investors bet that slower-than-estimated inflation will enable the new central bank governor to reverse an interest-rate increase cycle.
And in Southeast Asia, Philippines equities advanced for a third day. The country's central bank left its benchmark interest rate unchanged for the first time in six meetings as inflationary pressures eased and the peso strengthened.
Macau casinos surged as analysts pointed to a positive growth trend for gross gaming revenue.
Hengan International fell again Thursday when it resumed trading after a brief suspension prompted by a critical report from short seller Bonitas Research.
Takeda Pharmaceutical rallied, posting its biggest gain since February 2016. Short interest in the stock climbed to above 28 percent of its free float as of Tuesday, according to data compiled by IHS Markit.
Japan's Topix index up 0.6%; Nikkei 225 up 1%
Hong Kong's Hang Seng Index up 1.3%; Hang Seng China Enterprises up 1.3%; Shanghai Composite up 1.2%
Taiwan's Taiex index up 0.4%
South Korea's Kospi index up 0.6%; Kospi 200 up 0.4%
Australia's S&P/ASX 200 up 0.1%; New Zealand's S&P/NZX 50 up 0.6%
Singapore's Straits Times Index up 0.3%; Malaysia's KLCI up 0.8%; Philippine Stock Exchange up 0.5%; Jakarta Composite up 1%; Thailand's SET down 1%; Vietnam's VN Index down 0.1%
India's S&P BSE Sensex Index up 0.3%; NSE Nifty 50 up 0.3%