The Telecom Player Sidelined in China's $32 Billion 5G Rollout
(Bloomberg) -- China's $32 billion vision to wire the country for ultra-fast fifth-generation technology has helped propel Fiberhome Telecommunication Technologies Co. in past months. Now investors say its stock has outpaced its prospects.
From Nokia Oyj to Ericsson AB, vendors are preparing for the advent of 5G -- particularly in China, the world's biggest mobile arena. Yet the country's third-largest supplier may get shunted aside by bigger rivals Huawei Technologies Co. and ZTE Corp., as Beijing accelerates a plan to build a state-of-the-art network by 2020 that can power autonomous cars and smart cities.
Fiberhome has gained 29 percent in the past three months, lifted in part also by hopes that a U.S. blockade on ZTE would boost longer-term demand for homegrown technology and steer business its way. That made Fiberhome the fifth-biggest gainer on the CSI 300 index of Shanghai and Shenzhen-listed stocks over the period. But ZTE has rapidly recovered, and Fiberhome's reliance on lower-value optical pipes and gear for much of its revenue -- as China moves to an advanced wireless future -- means its stock now looks pricier than its peers.
Goldman Sachs' Chinese joint venture partner this month became the lone brokerage to rate Fiberhome a Sell, arguing the bulk of carriers' expenditure in coming years will shift from fixed cables to wireless equipment such as base stations. That pivot could take Fiberhome's annual revenue growth to 10 percent by 2020 from 20-plus percent in each of the past three years, Tina Hou, an analyst with Beijing Gao Hua Securities Co., wrote in a Sept. 11 report.
"Antenna usage in 5G networks is much higher, roughly double," said Li Bo, a Shanghai-based analyst with the Windsor Fund. "Optical fiber would be just a commodity, sort of like the cement and steel for base stations."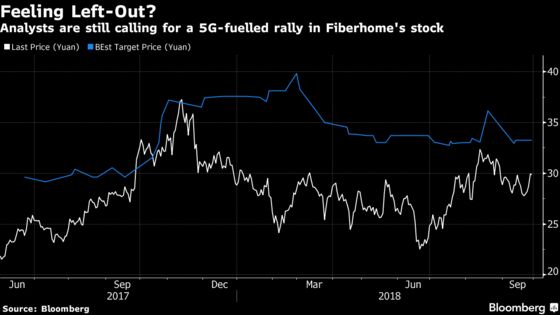 Fiberhome said in its 2017 annual report that China's 5G rollout would drive new opportunities, and that it would upgrade its expertise in preparation. State-owned carriers such as China Mobile Ltd. could spend more than 220 billion yuan ($32 billion) on 5G equipment by 2020, when Beijing aims to commercialize the technology, according to the China Academy of Information and Communications Technology. While 5G has many limitations, carriers can beam data straight to home receivers and offer a cord-cutting option for households that've relied on cable to get broadband service.
Shanghai-listed Fiberhome is trading at 27 times its two-year blended earnings estimate, about 44 percent above the industry's average. Its historical multiple of 39 surpasses the 27.5 it commanded in 2014: a banner year for Fiberhome thanks to a state-driven project to use optical-fiber to link Chinese families to faster internet.
"I'm considering moving to cut holdings because it's too expensive," said Chih-kang Hsu, a fund manager at Hua Nan Investment Trust. Hsu reckons a trailing PE of 25 would be more reasonable for Fiberhome.
Investors had expected a government freeze on ZTE's American purchases to divert business to Fiberhome, but that moratorium proved short-lived and the Chinese networking giant is back up to full speed. Fiberhome grew its net income a mediocre 5 percent during the second quarter, when ZTE was shut down. That extended a bad run for Fiberhome, whose profit fell short of analysts' estimates in 10 of the 12 most recent quarters.
"Consensus hasn't factored in an optical investment retreat by telcos," Hou wrote. "We see Fiberhome as a structural loser in the upcoming 5G capex cycle, with a tough challenge to defend its market share."