Messed-Up Math in Hong Kong's Roaring Office Property Market
(Bloomberg) -- Hong Kong's gleaming office towers may be some of the world's worst investments, judged by their rental yields compared with government bonds. The buyers that matter most don't really care.
Chinese investors with an insatiable appetite for trophy assets have continued to stoke the prices of Hong Kong skyscrapers to stratospheric levels, pushing the yields from office rents to the lowest in more than 30 years. The former British colony is the only major market in the world where the rental return is lower than the 10-year U.S. Treasury bond.
"It shows investors don't really do this math," said David Ji, head of research and consultancy for Greater China at property firm Knight Frank LLP. "There are a group of people who don't care," he said, adding that some may view the market differently.
Investors from China have been a formidable force in Hong Kong's office market, accounting for more than half of the big-ticket deals since 2015. Even capital controls may not be an impediment to would-be buyers, especially those who already have money offshore.
A unit of China Taiping Insurance Group bought a newly-built office tower in the North Point district this year for what the South China Morning Post reported was a record for the area. A consortium of Chinese and Hong Kong investors paid $5.2 billion for a 73-story tower called The Center, in the biggest ever office deal.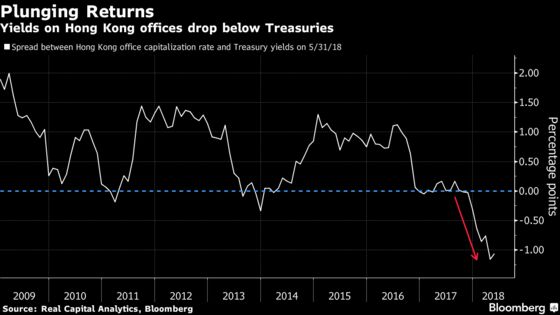 Yields are among the world's lowest despite rents being sky-high, with Hong Kong rated the most expensive office market, ahead of London's West End, by CBRE Group Inc.
Among the 13 big office building purchases since 2015 in Hong Kong -- each valued at over HK$5 billion ($640 million) -- seven of the buyers were from China, compared with six from Hong Kong, according to CBRE. Chinese investment in commercial property in the city increased 147 percent in the first half of 2018 from a year earlier, compared to declines in the U.S., U.K., Australia and Southeast Asia, the property company said.
"If a business occupier wants to secure quality space for the long term, you have to pay a premium, which is going to explain why yields look so low," said Simon Smith, who heads Savills Research & Consultancy. "End-users tend to overpay a bit to secure space for the next 20-30 years, because availability is such an issue in Hong Kong."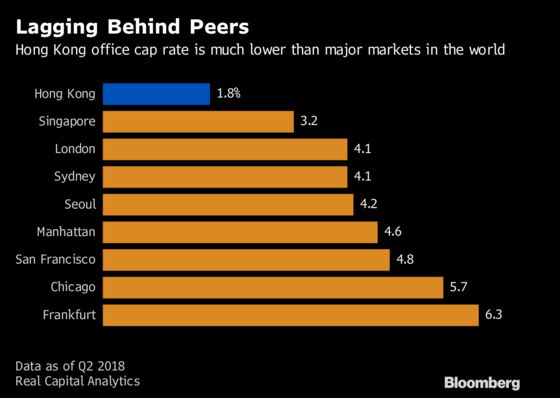 Some local investors are selling. Li Ka-shing's CK Asset Holdings Ltd., which sold The Center, is buying overseas assets including UBS Group AG.'s headquarters in London.
Hong Kong investors are likely to keep favoring properties in high-yielding cities such as London as they diversify against the risk of a potential price correction at home, according to Patrick Wong, of Bloomberg Intelligence. Buyers "have mostly been mainland investors who simply want to park some money in a familiar city to diversify their risks, and don't care about the return as much, which further drives down the yield," he said.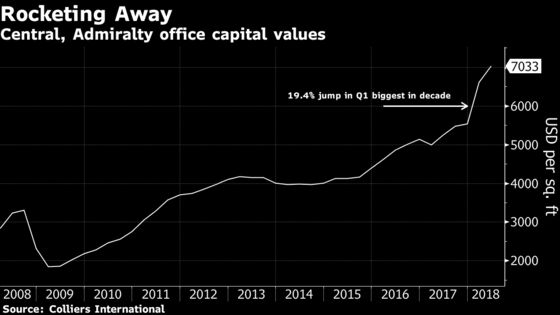 So how does this party play out? Some think we may be at a turning point. JPMorgan Chase & Co. said yields have very likely reached the bottom and will start to climb because rents will rise faster than building values. Some think an external shock may be needed before property prices plunge and yields jump.
"Eventually economic gravity kicks in, or, as is more common in Hong Kong, some external event upsets the apple cart," said Smith, of Savills. "The Hong Kong market traditionally doesn't really bleed out -- it falls steeply or it keeps going up."