The Economics of China's End to Family Size Curbs in Four Charts
(Bloomberg) -- China's shift toward ending limits on the number of children a family can have is a step toward addressing fundamental weaknesses in the world's second-largest economy.
If China morphs from being the engine for global growth to a society with a shrinking workforce, lower consumption and higher costs for elderly care, then that will be felt around the world. Concerns that the global economy is entering a period of permanently slower growth due to aging in major economies will look more like reality when China's driving the trend.
These four charts show the reasons why, after roughly four decades, policy makers are finally moving to scrap population policies that spurred countless abortions, skewed the sex ratio to men, and left the nation with a shrinking workforce.
Read More: Our economists explain why more children is bad for growth
History shows that increased wealth and higher levels of education as economies develop make it almost impossible to prevent birth rates from falling -- regardless of government policies. Singapore's 1980s campaign to incentivize families to have three or more children spurred a brief uptick in the birth rate before it declined further.
High living costs, long work hours and surging child-care and education costs mean many couples choose not to have more children -- even though their chances of survival are much higher than before.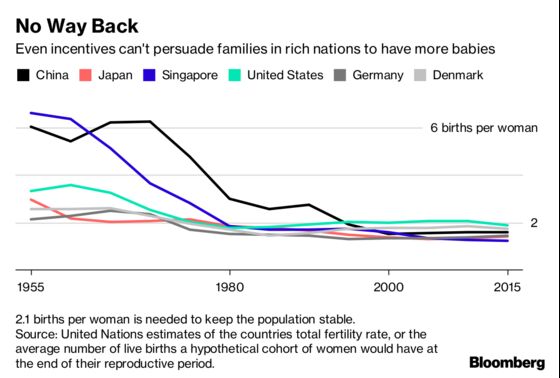 "The number of births will continue to go down year after year for the next decade, as it is mostly determined by the size of cohorts born about 23-30 years ago," said Cai Yong, an associate professor of sociology at the University of North Carolina, Chapel Hill. "No matter what fertility policy China is going to come up with, it won't change the country's overall population trajectory."
Plunging Workforce, Surging Elderly
China's working-age population -- ages 15 to 64 -- is set to plunge by 439 million by the end of the century -- more than the entire population of the European Union, according to United Nations data. It will fall 133 million by 2040, more than the population of Japan today. The workforce began shrinking in 2012, and will drop to 555 million by the end of the century, almost halving from 2015.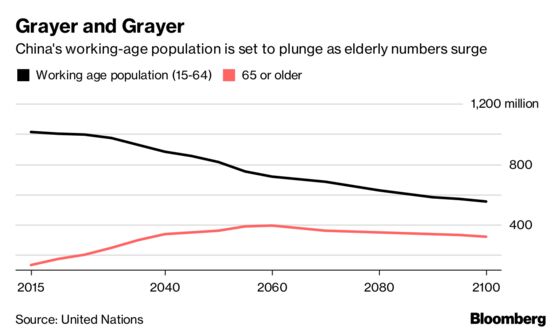 China's one-child policy created an imbalance in the gender ratio, skewing it more to males. That creates an additional barrier to raising the birth rate as men struggle to find a partner. The ratio of men to women stands at about 1.063, higher than 0.98 in the U.S. and a global average of 1.018.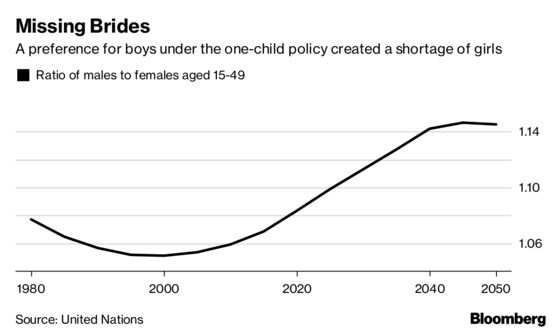 China's dependency ratio -- the number of children and elderly taken care of by the working-age population -- will more than double to 76.5 in 2055 from 37.7 in 2015, putting a huge burden on workers.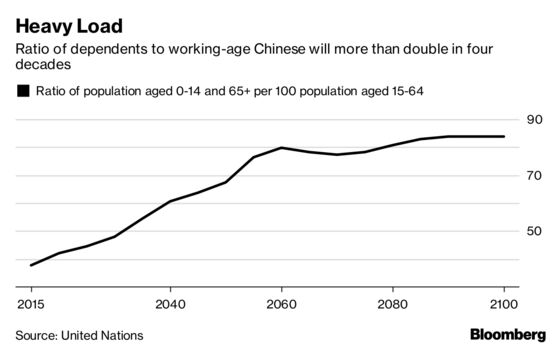 Altogether, these factors "will create increasing fiscal pressures in terms of rising health care and social security costs, as well as eroding China's long-term potential GDP growth rate as the size of the working age population gradually declines," says Rajiv Biswas, chief Asia-Pacific economist at IHS Markit in Singapore.