The Commodity Boom Is Starting to Push Battery Prices Higher
(Bloomberg) -- The world's biggest battery market is showing the strain of surging commodity prices.
Chinese manufacturer Gotion High-tech Co. sent a letter to customers in mid-October seeking to adjust battery prices, citing a jump in the cost of cathode materials and electrolyte to copper and aluminum foil. The company said it "has tried its best to reduce the cost impacts but with little effect." 
Gotion's move underscores a key hurdle the world faces in its transition to cleaner, greener energy sources. Electric-vehicle sales have soared as companies were able to make batteries at ever-lower prices. But historic rallies across a raft of commodities threaten to reverse that trend, and risk slowing the switch away from fossil fuels if the cost of everything from rechargeable cars to wind turbines keeps rising.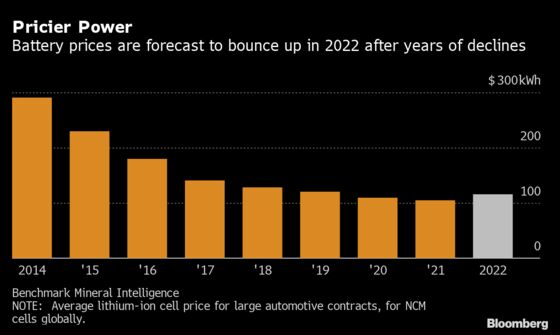 "Several of the material markets are going to face structural issues as they attempt to ramp supply to meet battery demand growth," said Andrew Miller, chief operating officer at Benchmark Mineral Intelligence. "As a result, periods of sustained higher pricing will put strain on efforts to reduce battery cell pricing."
Electric cars are expected to start costing the same as gas vehicles once battery packs reach $100 per kilowatt-hour, with BloombergNEF estimating they had fallen to about to about $137/kWh last year. But the rising prices in China add weight to expectations that the trend of year-on-year declines seen over the past decade may stall. About 40% of the cost of a battery is tied to commodities that have rallied, analyst James Frith said in September.
Still, Gotion -- the biggest battery maker in China behind industry behemoth Contemporary Amperex Technology Co. and BYD Co. -- said in a written response to Bloomberg News that its "customers understood our need to implement the battery price hike as our cost pressure on raw materials accelerates." 
For strategic clients, the company said it was focused on building stable working relationships through long-term contracts, with price increases potentially smaller than those for general customers, and negotiations taking longer.
BYD will raise the prices of its battery products by at least 20% from this month due to cost inflation, Caixin reported last week, citing a company letter to its clients. A spokesperson for the company declined to comment. A representative for CATL declined to comment immediately.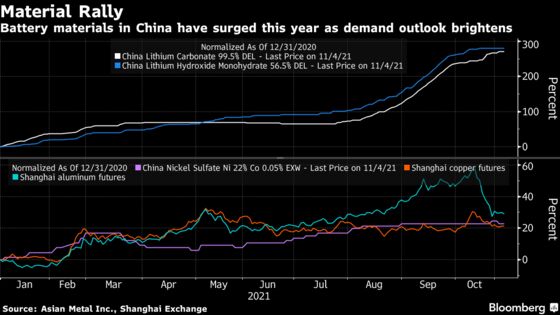 Raw materials are making up a larger proportion of the overall cost of a battery cell after manufacturers were able to scale production and improve manufacturing and technology, BMI's Miller said. Chinese lithium carbonate prices have more than tripled this year, while cobalt has climbed, and copper and nickel remain near historic highs. 
It's not just car buyers that may feel the pinch. Wind turbine maker Vestas Wind Systems A/S said this week it's cutting its profit outlook for the year on higher costs as well as supply chain snarls, while commodity inflation has also stoked concerns about the outlook for economic growth.