Tech Titan Takes $9.2 Billion Rollercoaster Ride in China
(Bloomberg) -- Zhou Hongyi made a savvy move this year when he shifted his company listing to Shanghai from New York. The February switch added $12 billion overnight to his fortune.
The 48-year-old chairman of 360 Security Technology Inc. has since experienced the downside of listing in China, after stocks tumbled on concerns about a U.S. trade war and a slowing economy. The Chinese tycoon's net worth has shrunk by $9.2 billion as shares of the online security software developer plunged more than 60 percent.
Zhou isn't exactly hurting. He's worth more than $4 billion, according to the Bloomberg Billionaires Index, and is still better off than when his company was listed in New York.
He told reporters a year ago that aligning himself with China's national interest was among the reasons he moved the listing to his homeland, where the Communist Party has been tightening the country's "cybersecurity sovereignty." He also benefited from richer tech valuations in China. That gap has shrunk, but it's still wider than the U.S.
What's more, his fortune may take another jump as 360 Finance Inc., a financial arm of 360 Group, plans to raise up to $200 million in an initial public offering in New York. A company owned by Zhou's two children is the largest shareholder of the unit, according to the prospectus.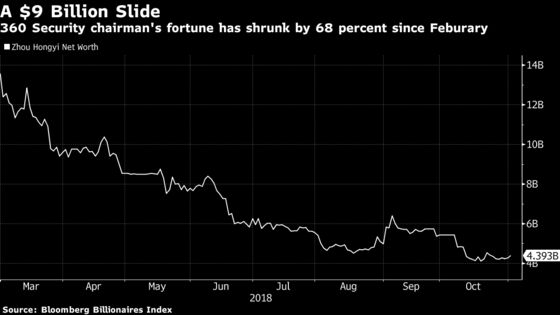 Zhou's also doing better than other Chinese magnates. The 36 Chinese billionaires on the Bloomberg index have lost $74 billion this year as of Thursday. Pony Ma of Tencent Holdings Ltd. has lost the most with a $12 billion plunge. China Evergrande Group's Hui Ka Yan, the Chinese mogul who gained the most last year, is also down almost $8 billion since January.