Taiwan's Central Bank Plays Down Concern Over Manipulator Tag
(Bloomberg) -- Follow Bloomberg on LINE messenger for all the business news and analysis you need.
The huge increase in Taiwan's foreign-exchange interventions could lead to it being labeled a currency manipulator by the U.S., the island's central bank governor said Thursday, but he insisted the designation is unlikely to have any immediate negative impact on the export-dependent economy.
"It's possible that Taiwan may be listed as a manipulator," Governor Yang Chin-long told lawmakers in Taipei as he delivered a report Thursday. However, Yang argued that the U.S. criteria for labeling another economy a currency manipulator are no longer suitable as the global economy has changed over the past year.
Yang argued that Taiwan's high trade surplus with the U.S., one of the U.S. Treasury's three currency-manipulation criteria, is due to strong demand from American companies for semiconductors, rather than any perceived unfair advantage Taiwan gained from its currency intervention.
"If they want to reduce our trade surplus with them, then we could just stop selling them our chips," he joked to lawmakers. "But they need them!"
Taiwan stepped up its intervention in markets in the second half of last year as it tried to stop the local dollar from strengthening on the back of the booming economy and trade. Although being listed as a manipulator by the U.S. has no immediate or specific consequences, Yang said the central bank will discuss its interventions and trade surplus with Treasury officials.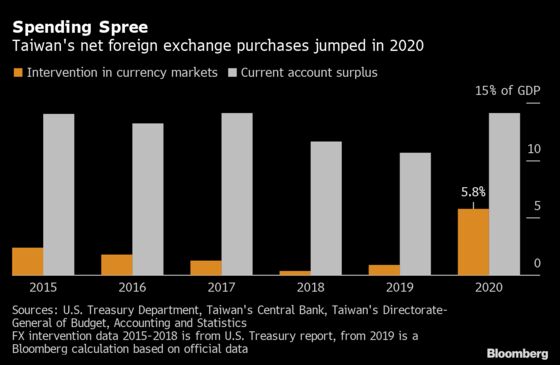 The central bank's net currency purchases surged more than 600% to $39.1 billion last year, according to the report Yang delivered to lawmakers. That equals 5.8% of the island's gross domestic product, according to Bloomberg calculations, well above the Treasury's 2% threshold. In 2019, the central bank reported net purchases of $5.5 billion.
Yang noted that capital inflows had slowed since mid-January. The central bank reported conducting what it calls currency "smoothing" operations in January but not in February, according to earlier statements.
Read more
Taiwan's Supercharged Economy Puts Central Bank in a Bind
The Treasury Department has three criteria for listing an economy as a currency manipulator: a current-account surplus equivalent to 2% of GDP, a bilateral trade surplus of at least $20 billion and "persistent, one-sided" foreign-exchange interventions worth at least 2% of GDP.
Taiwan was added to the currency watch list in the latest U.S. report in December but wasn't listed a currency manipulator. The U.S. Treasury cited the "persistently large" current account surplus of 10.9% of GDP in the year to June and a $25 billion trade surplus with the U.S. as reasons for being added to the watchlist.
Taiwan's position in all three categories declined last year, with its current-account surplus widening to 14.1% of GDP and its trade surplus with U.S. reaching $29.9 billion. Being designated a currency manipulator requires the U.S. to engage with the perceived offender to address the imbalance.